Weather forecasts.
When we are sailing we generally have access to three forms of weather forecast; Text; for example the shipping forecast in the UK or the high seas forecast. What it is called depends where in the world we are and will often be split into coastal or offshore forecasts. They typically cover reasonably small areas when near land but on ocean passages the areas covered can be huge. Delivered to yachts by radio or navtex, and via inmarsat C for GMDSS. Example
 AREA FORECASTS FOR THE NEXT 24 HOURS

 SOLE
 NORTHEAST 5 OR 6, OCCASIONALLY 4 LATER. SLIGHT OR MODERATE
 OCCASIONALLY ROUGH. OCCASIONAL RAIN. GOOD OCCASIONALLY POOR

 SHANNON
 NORTH 5 OR 6, BACKING NORTHWEST 3 OR 4. SLIGHT OR MODERATE,
 OCCASIONALLY ROUGH. FAIR. GOOD

 ROCKALL BAILEY
 WEST VEERING NORTH 5 TO 7, BECOMING CYCLONIC FOR A TIME. ROUGH OR
 VERY ROUGH. SQUALLY SHOWERS. GOOD

 FAEROES
 NORTH OR NORTHWEST 5 TO 7, PERHAPS GALE 8 LATER, BECOMING CYCLONIC
 LATER. ROUGH OR VERY ROUGH. SQUALLY SHOWERS. GOOD

Synoptic and forecast charts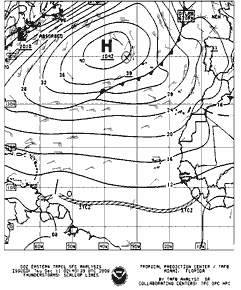 Synoptic and forecast charts cover large areas and are very useful for the big picture. With a certain level of skill and experience a vast amount of information is contained in the charts but they do need a level of knowledge to interpret. Delivered via weatherfax, e mail, or internet.
Grip Data
Grib files are computer files that contain a large amount of meteorological data although only wind speed, direction, pressure, and rainfall are normally used at sea. These variables can be overlaid on electronic charts or a grib viewer. The area covered can be selected but as these are purely computer generated they need some interpretation to get the best out of them. They look as if they are very accurate with precise values but this can be misleading. Delivered via e mail or direct from the internet. Courtesy of Expedition Software.
For successful ocean crossing it is preferable to use a combination of the three. The synoptic charts give us the big picture whilst the wind for the next few hours can be estimated from the Grib files. However although the grib files give a tremendous amount of information there is no forecaster input to the information and a lot can be missed. This is where a proper forecast is an advantage as it will contain a large amount of information hence the text or voice forecast still plays its part.