About this page
Marine weather forecasts around the UK and western Europe are summarised on this page.
---
Related pages
The MCA/064 pagegives details of all HMCG forecast schedules.
On this page -
---
The MCA, HMCG in particular, are proactive in the implementation of UK MSI services to coastal mariners. They are always willing to discuss with users and to consider suggestions and criticisms.
---
UK HMCG procedures.
The content and schedules of the broadcasts of MSI on VHF are as agreed by the RYA after much discussion with associations, clubs and individual members. The salient features of these broadcasts are -
Weather forecasts are broadcast every three hours from 0710.

New inshore waters 24 hour forecasts plus new 24 hour outlooks are issued every 6 hours from 0710

Intermediate forecasts are repeats of the previous broadcast.

Strong Wind Warnings are issued on receipt from the Met Office if the wind in an inshore forecast area is expected to exceed force 6 and it was not forecast in the last Inshore Forecast. Warnings are repeated in the next broadcast or incorporated into the next new inshore forecast.

Broadcasts are grouped around the coast so that, apart from Belfast, forecasts are broadcast within about 1 hour of the start of the cycle.

Inshore waters forecasts are broadcast on NAVTEX 490 kHz.

Sea Area outlooks for 3 to 5 days are broadcast on NAVTEX 518 kHz.

There is a short call on Ch 16 to announce broadcasts. Schedules of HMCG broacasts will be found on another page of this site.
Inshore waters areas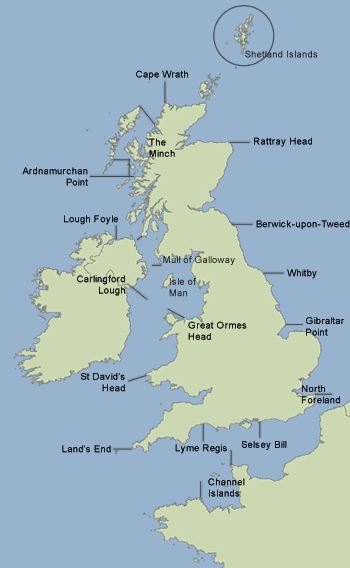 Acknowledgement to the Met Office.
1 Cape Wrath to Rattray Head including Orkney;
2 Rattray Head to Berwick upon Tweed;
3 Berwick upon Tweed to Whitby;
4 Whitby to the Gibraltar Point;
5 Gibraltar Point to North Foreland;
6 North Foreland to Selsey Bill;
7 Selsey Bill to Lyme Regis;
8 Lyme Regis to Lands End including the Isles of Scilly;
9 Lands End to St Davids Head including the Bristol Channel;
10 St Davids Head to Great Orme Head;
11 Great Orme Head to the Mull of Galloway;
12 Isle of Man (Prepard by the IOM Met Service);
13 Lough Foyle to Carlingford Lough;
14 Mull of Galloway to Mull of Kintyre including the Firth of Clyde and North Channel;
15 Mull of Kintyre to Ardnamurchan Point;
16 The Minch, from South Uist and Rum in the south to Butt of Lewis and Lochinver in the north - Area 2 on the chartlet below
17 Ardnamurchan Point to Cape (Wrath, excluding the Minch - Area 1 on the chart let below)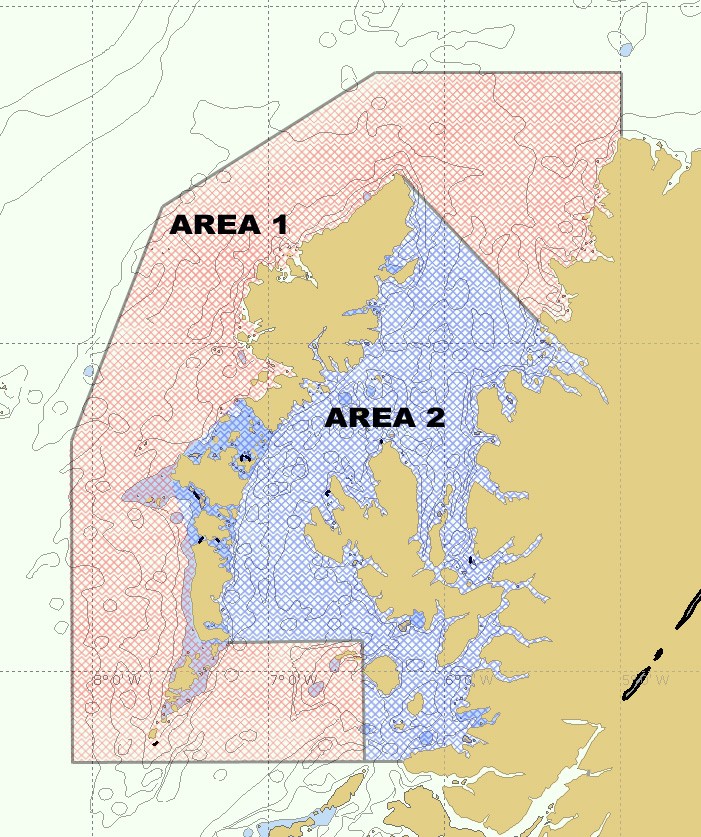 18 Shetland Isles within 60 miles of Lerwick
19 Channel Isles prepared by the Jersey Met Office. This is available on the Niton 490 kHz NAVTEX broadcast but not on VHF.
Summary
The UK HMCG VHF weather broadcasts have been developed in consultation with users. In parallel, the Met Office website provides a useful back-up service, as does the BBC site and the Internet in general. If there are problems, sailors are invited to channel their comments, criticisms and suggestion through the RYA.
---
---