Additions or corrections to places and names will be welcome.
About this page
Yachts clubs and other organisations maintain automatic weather sites and put their data on-line. Some are listed here. As part of an international initiative, the Met Office collects and puts data on a Weather Observatoons Website, (WOW) This site is run jointly with the Royal Meteorological Society and the Department for Education.
---
Related page
---
On this page -
I have listed those unofficial sites known to me that provide constantly updated weather observations. As with all weather data these should be used with care, slightly more so than with observations from "official sites" listed on my page of weather actuals on the Internet. Official sites are regularly maintained and the data monitored. I do not know about the level of such checks for the observations listed below.
Two particularly blatant examples came from Froward Point in 2011. The lowest temperature was listed as an impoosible -39.5 deg C on 17th June; the greatest daily rainfall was recorded as an equally unbelievable 998 mm on 13 December. Although neither would have been relevant to sailors, these do indicate the potential for nonsense from unmonitored automatic weather stations. Caveat emptor.
The format, ease of use and clarity varies greatly from place to place. I can give no assurance regarding accuracy or reliability of these stations. This is very much an "As is," page.
---
NOTE
Some of these links require Flash Drive and will not be available on an iPad or iPhone.
---
WOW – UK and worldwide
The WOW website provides data worldwide although at time of writing, this was largely European and, particularly, UK based. Go to the site and sign in.
After that, simply select an area of interest, click on a location and a dropdown panel gives the latest data. An example of an area looks like this –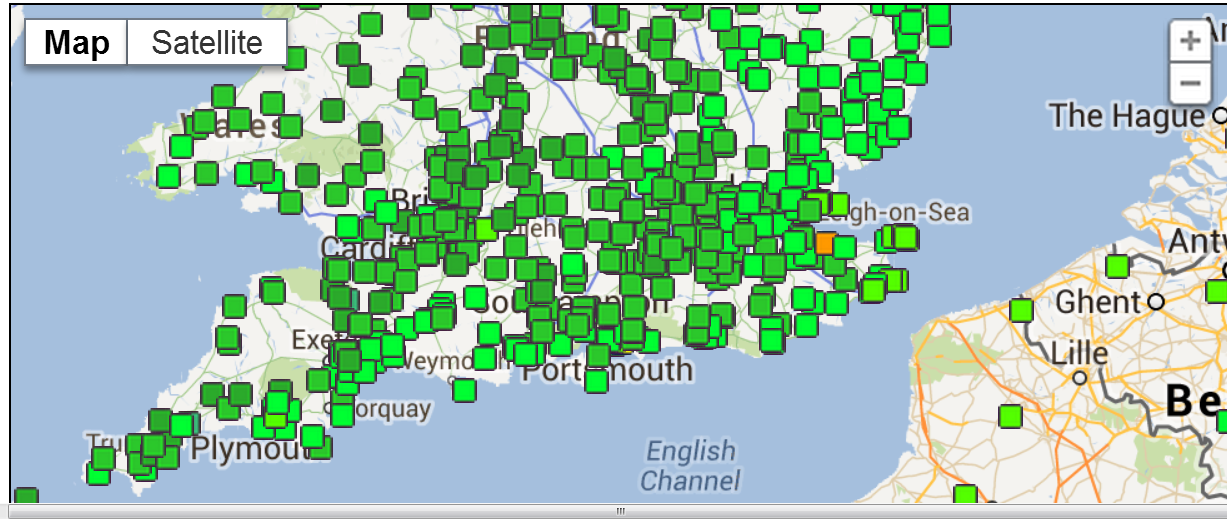 Clicking on a location, Felixstowe in this case, gives this display –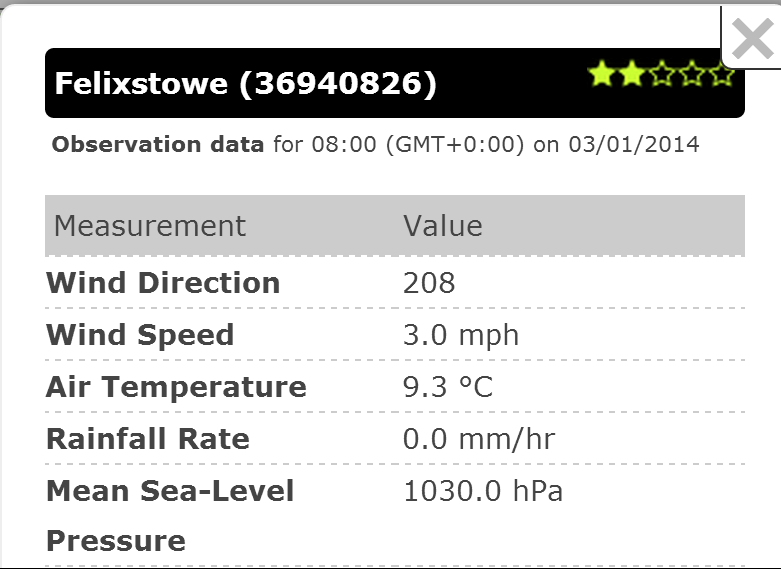 The same format is used for all locations.
---
British Isles
A selection of the WOW location reports can be found here:-

---
Western Coast and Islands of Scotland
Eoropie - N tip Lewis Needs Flash Drive
Eye Peninsula (Point), Isle of Lewis
Ardmair Point - Ullapool
Carbost, Isle of Skye
Staffin Isle of Skye
Elgol, Skye
Rhu
Portpatrick

---
East and North of Scotland and Northern Isles
Flawton croft, Shetland
Sella Ness
Foula
Fair Isle Needs Flash Drive
Scrabster
St Fergus, N of Peterhead
Colleston, S of Peterhead
Elie Harbour - Fife
Pettycur Bay, ~ 4 miles S of Kircaldy
Edrom Nursery. Nr Eyemouth
Borders (Milfield) Gliding Club, 55:35:25 North
Letham Shank, Berwick-on-Tweed

---
Ireland
Holywood
Bangor Needs Flash Drive
Loughlinstown, Co Dublin
Ashford Co. Wicklow
Ballinascarthy, Clonakilty, West Cork
Mizen Head, West Cork

---
Northweat England
Isle of Man/Rona
Bolton-le-Sands
Rossall point, NCI Fleetwood
Hilbre Island
Birkenhead
Ormskirk Needs Flash Drive
Merseyside Needs Flash Drive

---
Wales and the Bristol Channell
Prestatyn
Colwyn Bay Needs Flash Drive
Deganwy Needs Flash Drive
Conwy Needs Flash Drive
Pentraeth, Anglesey
BangorNeeds Flash Drive
Abersoch
Mumbles
Milford Docks
MilfordHaven
Pembroke
Llanelli Needs Flash Drive
Nells Poin, Nr Barry
Penarth Needs Flash Drive
Flatholm Island
Cardiff Barrage
Cardiff Bay
Bristol corinthian
Portishead Quay Needs Flash Drive
Bude
New Quay (Cornwall) Needs Flash Drive
St Ives
Perranporth

---
Southwest England
Land's End
St Mawes
St Mawes NCI
Fowey
Polruan
Rame Head, NCI
Plymouth University
Prawle Point, Needs Flash Drive
Froward Point, Dartmouth entrance Needs Flash Drive
Higher Brixham Needs Flash Drive
Paignton
Torbay, NCI
Dawlish, West of Exe eentrance
Exe Estuary Needs Flash Drive
Exemouth NCI Needs Flash Drive
Dawlish
Teignmouth
Sidmouth
Rodwell Weather, Weymouth
Chessel Weather - Bournemouth
Portland Harbour Needs Flash Drive

---
Central Southern England

St Albans Head, NCI
Poole Harbour Needs Flash Drive
Lymington Needs Flash Drive
Hurst Castle Needs Flash Drive
Yarmouth
Newport
Brighstone
Lee-on-Solent
Bramblemet
Hill Head
Cowes Needs Flash Drive
Gosport
Highcliffe
Warsash
Sotonmet
Marchwood YC
Stokes Bay
Cambermet
Chimet
Seaview YC Needs Flash Drive
Freshwater Bay

---
Southeast England
Littlehampton
Worthing Needs Flash Drive
Shoreham Needs Flash Drive Needs Flash Drive
Lydd Aero Club
Dymchurch
Folkestone

---
Channel Islands
St Peter port, Guernsey
Rocquaine , SW Guernsey
Sark Bec de Nez
Trinity, N Coast of Jersey
Babord, St Clement, Jersey

---
East coast of England
Broadstairs
Herne Bay
Sheppey Needs Flash Drive
Island YC Needs Flash Drive
Thorpe Bay Needs Flash Drive
Burnham onCrouch
West Mersea YC Needs Flash Drive
Clacton-on-Sea Needs Flash Drive
Walton and Frint Lifeboat station Needs Flash Drive
Brightlingsea Needs Flash Drive
Blackwater Needs Flash Drive
Harwich port No times are shown.
Felixstowe Ferry Needs Flash Drive
Slaughden Sailing Club
Southwold
Lowestoft, R Norfolk & Suffolk YC Needs Flash Drive
or
R Norfolk & Suffolk YC
Cromer
Ashcroft Primary School, Nr N Walsham
Mundesley, NCI Needs Flash Drive
Hunstanton
Heacham YC Needs Flash Drive
Grimsby
Hollym Airfield, just N of Spurn Head
Scarborough
Bridlington Needs Flash Drive
Whitby
Redcar
Tees and Hartlepool YC
South ShieldsNeeds Flash Drive

---
Return to Weather actuals on the Internet
---
Return to Home page