Updating
This site has been Updated in the spring of 2017. Hopefully all external links are live but advice to the contrary is always welcome. Also, hopefully, every page has been spell-checked.
Introduction to Frank's Weather Site
Weather determines where we sail to, when we sail there and if we sail at all. This site is a guide to marine weather forecasts and how to use them. Understanding marine weather forecasts and about weather at sea are both essential to safety of vessels and their crews, especially those of sailing yachts and leisure motor boats.
Over the years, when I have seen a need, I have added other pages that might be of interest - including the vexed issue of climate change.
---
Really heavy weather sailing!!!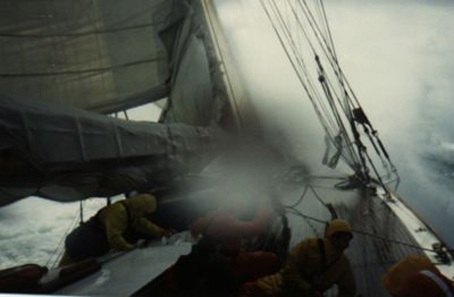 ---
The links below and always visible in the Left Hand Sidebar. They will take you to the various areas of this site.
---
| | |
| --- | --- |
| | GMDSS (Global Maritime Distress and Safety System) services are available worldwide via VHF, NAVTEX, INMARSAT and SSB radio. These pages relate to Europe, the eastern North Atlantic, the Baltic and Mediterranean. |
| | The Internet is an alternative source of forecasts and a provider of information not covered by the GMDSS. However, it is not an operational service. It will not always be available or it may have high communications costs. |
| | An increasingly used weather resource, often misunderstood. These pages will help |
| | Forecasts and weather in European areas and the Atlantic. |
| | Getting marine weather forecasts is only the start; understanding and knowing the terminology and how best to use forecasts are the real problems. |
| | Weather prediction, limitations, the data used, and observing the weather. |
| | Much of our weather is often rather small scale. Some of these pages challenge conventional wisdom. |
| | For many, the BBC Radio 4 shipping forecast is all they ever use but there are many other forecasts available - given the right communications and knowledge. |
| | The issues, the arguments, the experts. |
| | Beaufort Scale, Meteorological History. I find these pages interesting - and hope that you may do also. |
| | Coriolis, Formation of pressure differences, why air moves, heating and cooling of the air. The importance of Latent heat. |
| | National Weather Services, other sites, Clubs and Associations, Commercial links. |
| | This site applies my long and wide experience in meteorology and sailing to help others to whom weather forecasts, and marine weather forecasts in particular, are mysteries. |
---
This page is, effectively a sitemap. Starting from here every page is accessible using no more than two mouse clicks.
---
Can't find what you want? Try the site search facility -- on the banner head, bottom right
---
---