About this page
Weather forecast sources in the Baltic; based largely on the experience of others. hope that it will be updated from time to time - but this can only be done if there is input from those who sail in the area.
other
---
Related pages
On this page -
---
Introduction and acknowledgements
Having no personal direct experience in the area, I had a useful start from the Cruising Association Baltic Section. In addition I have used other sources - mainly ALRS Vol 3(1) and the Internet. The CA Baltic section has much to offer to anyone cruising the area.
Public service radio
I am giving no details of specific Public Radio Service broadcasts mainly because schedules are always subject to change. However, there is a fair degree of commonality between German, Danish, Norwegian and Swedish. It can be worthwhile being aware of broadcasts from these countries and those Finnish stations that broadcast in Swedish. For those not good linguists a recorder and dictionaries will be useful.
In the S and SW Baltic the meteorological services provided by German public radio services are so good that they are regarded as essential listening. They give a (sometimes too) detailed synopsis followed by shipping forecasts for the appropriate North Sea and Baltic sea areas, all at easy dictation speed. They are in German but, even with no previous knowledge of German, and after a little effort and experience, they are quite easy to understand. They are particularly useful when in Danish waters when out of range of Swedish coastal stations.
Digital Radio Norwegian public service radio is now entirely digital Denmark intends to be entirely digital late in 2017. In Sweden, the transition to full digital radio is on hold (Spring 2017) The CA Baltic Group makes the latest known information available to members.
Marine Weather Radio Services
In keeping with WMO guidelines, there is a common set of Baltic sea area names in the various languages are at Appendix 1. Approaching the Baltic, Norway uses a set of areas that differ from both those used in the North Sea and Baltic.
A catch-all source of information about GMDSS forecasts is the WMO GMDSS publication. Unfortunately, this is likely to be out of date and the following local sources should be more reliable.
Germany
The DWD has produced a good source of details of Weather forecast and Warning services covering Germany, Denmark, Netherlands, Sweden and Poland. This includes GMDSS sources as well as public service radio. At the time of this revision, February 2017, it was up to date.
Denmark
Lyngby Radio broadcasts, in Danish and English on MF/SSB1,734 kHz (Blåvand), 2,586 kHz (Rønne) and on VHF Blåvand, Ch 07. Gale warnings are issued on receipt after an announcement on 2187.5 kHz and Ch 16 with repeats on 2 182 kHz and Ch16. Forecasts will be provided on request.
Norway, Sweden, Finland
A comprehensive source of broadcasts on public service and marine radio is at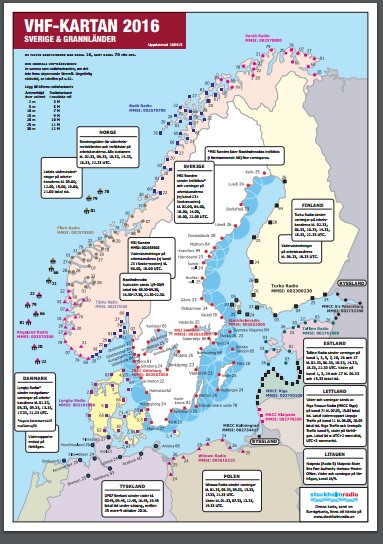 . There is no English version but, with a little care, details of broadcasts can be deciphered. A similar source, specifically for Swedish VHF stations is at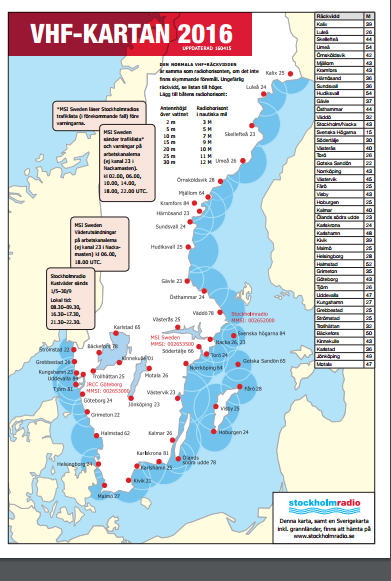 .
Other resourses include the Turku Radio schedule.
Stockholm Radio operates from the Norwegian border in Skagerrak, up to the Finnish border in the northern Bay of Bothnia - including the sea around the island of Gotland as well as the lakes Vänern, Vättern, Mälaren and Hjälmaren. Forecasts are usually about three minutes late but sometimes a little later due to operational problems. They are usually preceded by the Morse letters SDJ repeated for a minute or so.You may have to use the scan function on your VHF to see if some other channel gives better reception than the nearest shown on the charts above.
Coast Radio announcers differ in their fluency, confidence and flow. In Swedish, quite distinct dialect variations can be distinguished. (e.g. morning can be spoken as formiddan, formiddag or formiddagen)
For other countries see the DWD on-line publication mentioned above.
NOTES
Forecast and actual wind speeds in the area are quite often given in metres/second. A sufficiently accurate conversion to knots is to multiply by 2 ie 10 m/s = 20 kn or, for a good approximation, divide m/s by 2 to get the Beaufort force.
As ever, translations from one language to another may not always be accurate. It is always worthwhile learning enough of the weather vocabulary to listen to the originals.
NAVTEX
For offshore waters NAVTEX is the main source of MSI. Coverage in the Baltic is good.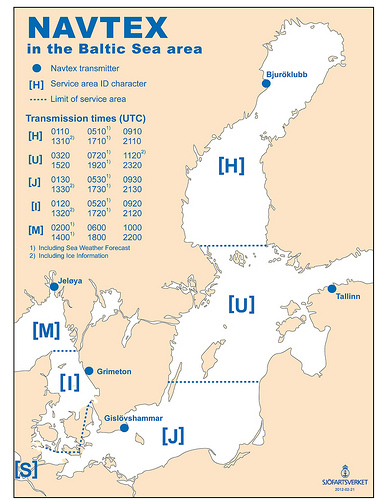 Texts of GMDSS broadcasts on NAVTEX and INMARSAT - C can be found at WMO/IMO GMDSS page. Station details are -
METAREA I – Baltic subarea

Station

kHz

Times (UTC

Content

Sea Areas

Jeloya

 (M)


518

0200/1400

N/A

Skagerrak and surrounding areas

Stockholm (Bjuröklubb) (H)

518

0910/1310/1710/2110



Sea Area Forecasts for next 24 hours



Baltic Sea Areas 1-15

Stockholm (Gislovshammar ) (J)

518

0930/1330/1730/2130

Stockholm (Grimeton) (I)

518

0830.1230/1630/2030

Tallinn (U)

518

0720/1120/1520/1920

Hamburg (L)

490

0150/1750

Warnings and forecasts




German Baltic coasts

0950

Warnings
RadioFax and Radioteletype
The Deutscher Wetterdienst has accepted the responsibility to provide both RadioFax and Radioteletype services for the area under the GMDSS. The RN Northwood Radiofax service is usually available but is subject to operational demands and should not be relied upon. Full schedules are available on the Internet. See my Radiofax and Radioteletype pages
Northwood charts are updated twice daily These are for two days to five days ahead and include wind vectors, usually only those exceeding 25 kn. The wind vectors show the wind direction with feathers" giving speed. One long feather = 10 kn, one short feather = 5 kn. SW 20 kn and N 25 kn would be as shown here.

Radiote;etype broadcasts from Hamburg (Pinnenburg) imclude 5-day forecasts (wind and sea state at 12 hour intervals) and 3-day forecasts at 6-hourly intervals. Other outputs are sea state at 6 hourly intervals, sea area and coastal forecasts for the next 24 hours and actual reports from a small selection of stations..
The 3 and 5 day forecasts are direct output from the German numerical weather prediction model. Most forecasts are repeated on one or other of the programmes so that reception should be possible even if you have to have more than one go. For those with no German, Tief = Low, Hoch = High. The first two letters of the days of the week from Sunday on are SO, MO, DI, MI, DO, FR, SA. Germans run words together so that Suedostziehend = moving south - eastwards.
Internet
Many GMDSS forecasts are now available on the Internet. These include charts from the UK Met Office and other centres, some of the RTTY services from Offenbach, many GMDSS text forecasts.
Access to the Internet is not nearly ubiquitous and it is sensible to have a fall-back such as GPRS, satellite telephone or HF/SSB radio. With each, use of email is possible and need not be expensive.
Text retrieval services give low cost access to texts off web pages. This is a useful facility when the texts are embedded in a page with logos and other gimmicks that are costly to download over a cell phone.
INMARSAT - C and Mini M. can also be used for sending and receiving email as can satellite telephone and, when near the coast, GSM and GPRS phones
GMDSS products
At no charge apart from communications, many GMDSS texts are available from my NW European and Baltic forecast page. For those who like to see actual reports, there are several links at my Actuals page.
I have a page of the latest UK synoptic charts. Using email, the same charts are available in compressed form using the MailASail Chart Responder.
For planning purposes, useful services are the DWD 3-day forecasts for the North Sea and Baltic. These give forecast winds at relatively small number of grid points taken from the DWD numerical weather prediction model.
GRIB files
Tablet apps are easy to use and with the data being saved for later viewing offline. With a laptop the totally free XyGrib is an easy to use service. In the Baltic it may be better to use their Mercator's projection facility. If using email, the Saildocs service provides the same data which can be viewed on the cheap and cheerful Viewfax or the yGrib viewer. Using XyGrib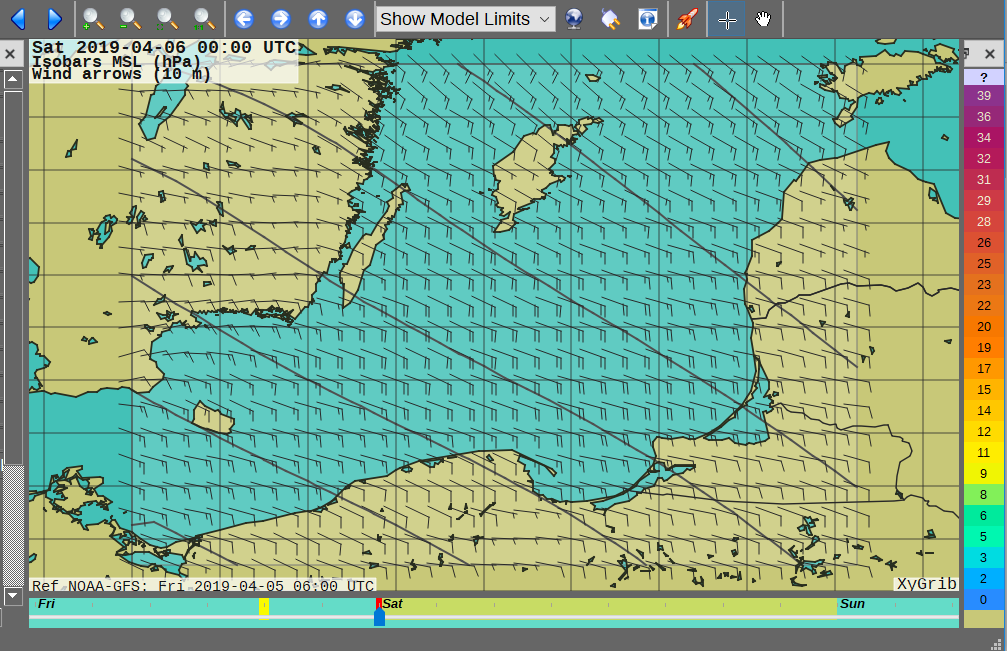 Using Viewfax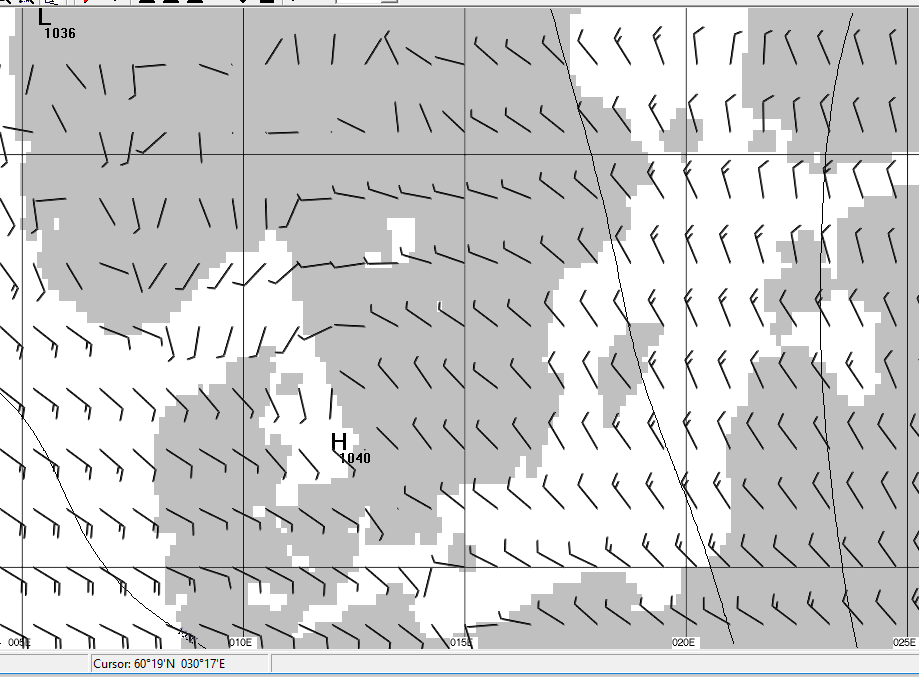 Using a Tabet app – PocketGrib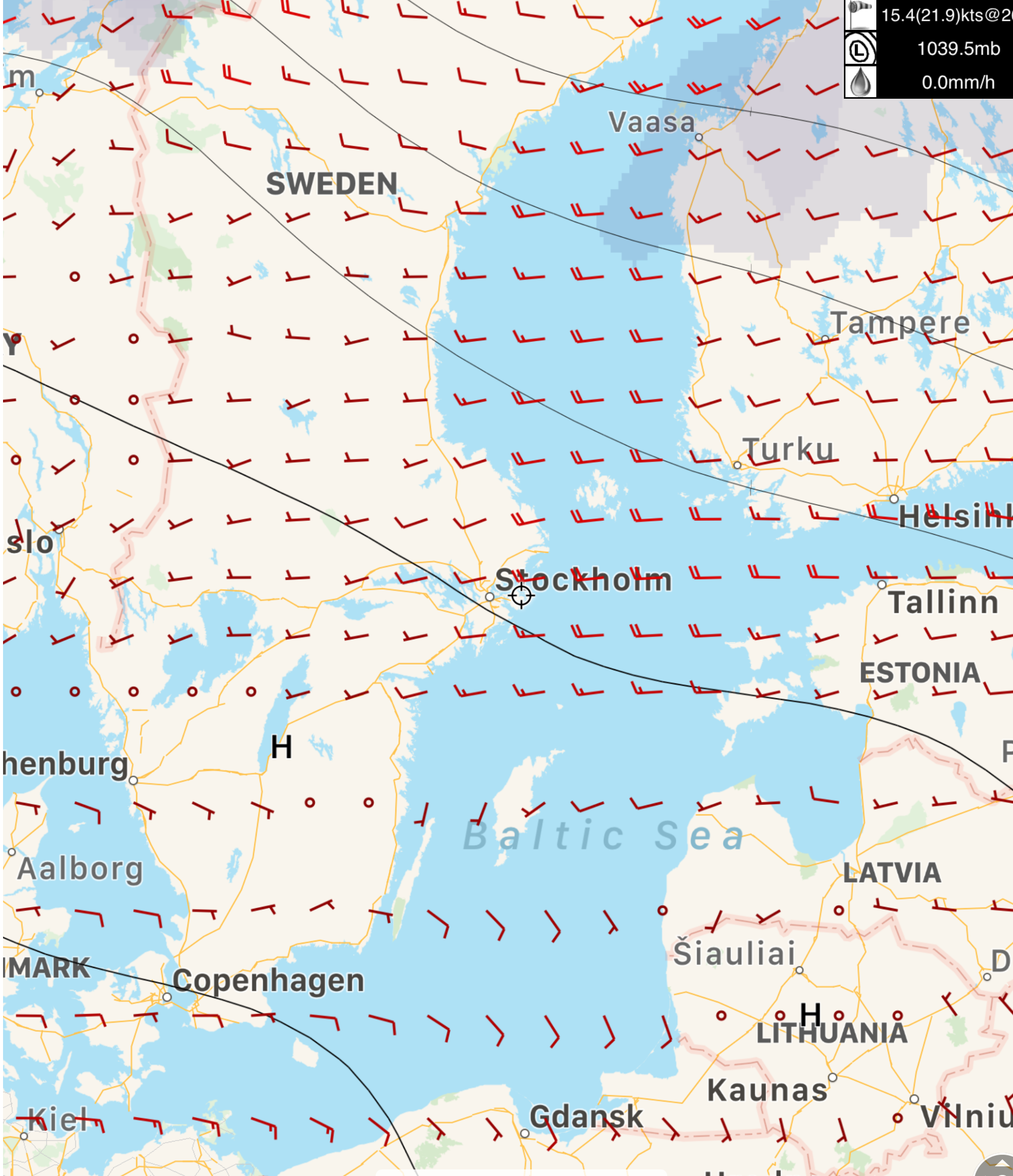 With Saildocs, one email can "order" forecasts for as long as you wish. For an area the size of the Baltic, 8 "charts" like these for a three day period at 6-hourly intervals will asbout 60 kb.
Web page presentations of vector winds forecast using GRIB can be obtained from a variety of sources. www.passageweather.com gives GRIB output for the approaches to the Baltic. The data are identical to the various GRIB apps.
Limited area, fine scale numerical forecasts are available from the Danish Met Service site which has clickable links to the HIRLAM meso-scale forecast model.
Another display of HIRLAM output is at the Norwegian yr,no site. A Polish university provides forecasts using the UK Computer model (UM) at the very fine grid length of 4 km for 48 hours and from the US Weather Research Forecast model. The sea area covered is rather small and this may not be easy to use.
HAM Radio and HF email
Other pages of this site discuss these services which are unlikely to be of interest to most Baltic sailors. For more information than I have go, to the SailMail home pages.
Marina Offices
Many marinas and harbour offices display forecasts from varying sources. These may be the National Met Service, private Met firms, the Internet etc. The quality may, therefore be somewhat uneven and forecasts from the different sources may not tally. As ever, the sailor is faced with conflicting advice and has to make a judgement based on experience. Because of my background I generally prefer the National Met Service versions.
WARNING a general warning for all forecasts, but particularly those posted in marinas and elsewhere, is to check the date and time of issue. I have often seen out of date forecasts being studied carefully by yachtsmen. Marina staff sometimes seem unaware that a forecast issued three days ago for today will be less reliable than one issued today.
Telephone Services
The Marine Rescue Service provides automatic forecasts at local call rates in Swedish currently on 0771 535 400. You must provide the area of interest by speaking it in answer to an initial question.
You should give this in the form used in the Swedish language forecasts (e.g. Mälaren or Landsort till Haraldskär)
The response is in two parts. the Synopsis followed by four sets of wind direction and strength predictions covering the next 24 hours for the area you have selected.
The synopsis may be difficult to grasp but the second part is in the same format as the usual VHF coastal forecasts. Wind speeds are in metres/sec..
A good service in Finland is the SMS service. For 56 cents (Euro) you can get a four hourly forecast of wind speed and direction (in English) for two days out. You simply send an SMS to 16161 with the text SEA xx, where xx is an area number. The area numbers are printed in the chart packs.
Note that this service only works to local mobiles (not UK ones)
Appendix 1 - - Sea Area Names
| | | | | |
| --- | --- | --- | --- | --- |
| | English | German | Danish | 8Swedish |
| | German Bight | Deutsche Bucht | Tyskebugt | Tyska Bukten |
| | SW North Sea | Südwestliche.Nordsee. | - - | - - |
| 1 | Bay of Bothnia | Bottenwiek | - - | Bottenviken |
| 2 | The Quark | Norra Kvarken | - - | Norra Kvarken |
| 3 | Sea of Bothnia | Bottensee | - - | Bottenhavet |
| 4 | Sea of Åland & Åland Archipelago | Åland - See und Åland Inseln | - - | Ålands hav och Skärgårdshavet |
| 5 | Gulf of Finland | Finnischer Meerbusen | - - | Finska viken |
| 6 | Gulf of Riga | Rigaischer Meerbusen | - - | Rigabukten |
| 7 | Northern Baltic | Nordliche Ostsee | - - | Norra Östersjön |
| 8 | Central Baltic | Zentrale Ostsee | - - | Mellersta Östersjön |
| 9 | South - eastern Baltic | Sudostliche Ost | Sydostlige Ost | Sydöstra Östersjön |
| 10 | Southern Baltic | Sudliche Ostsee or Boddengewasser Ost | Ostersoen omkring Bornholm | Södra Östersjön |
| 11 | Western Baltic | Westliche Ostsee | Vestlige Osterso | Sydvästra Östersjön |
| 12 | The Belts and the Sound | Belte und Sund | Baelthavet og sundet | Öresund och Bälten |
| 13 | Kattegat | Kattegatt | Kattegatt | Kattegatt |
| 14 | Skagerrak | Skagerrak | Skagerrak | Skagerrak |
| 15 | Lake Vänern | | | Lake Vänern |
The Numbers are as in ALRS Vol 3(1). (note that Danish forecasts list these CLOCKWISE)
Appendix 2 - Swedish coastal areas
An area is defined as being between the following (though Round Gotland and Vänern are individual areas). In forecasts they are usually read clockwise. Sometimes two or more areas added together ("och" or "sammt"). ( but check for current forecasts in Kustregistret)
Swedish Shipping Forecast Areas

Swedish Coastal Weather Forecast Areas

English language Broadcast 09.30/21.30 .

Swedish Forecasts at 0833/1633

Swedish Forecasts at 0833/1633

Swedish Forecasts at 0900 and 1700

1. Bay of Bothnia

2 The Quark

3. Sea of Bothnia

4. Sea of Åland and Åland Archipelago

5. Gulf of Finland

6. Gulf of Riga

7. Northern Baltic

8. Central Baltic

9. Southeast Baltic

10. Southern Baltic

11. Southwest Baltic

12. The Sound and the Belts

13. Kattegat

14. Skagerrak

1. Haparanda - Bjuröklubben

2. Bjuröklubb - Skagsudde

3. Skagsudde - Kuggören

4. Kuggören - Örskär

5. Örskär - Söderarm

6. Söderarm - Sandhamn

7. Sandhamn - Landsort

8. Gotland Farvattern

9. Landsort - Haraldskär

10. Haraldskär - Oskarshamn

11. Oskarshamn - Utklippan

12. Mälaren 13. Hjalmär

14. Utklippan - Hanö

15. Hanö - Sandhammaren

16. Sandhammaren - Falsterbo

17. Falsterbo - Hallans Vädero

18. Hallans Vädero - Nidingen

19. Nidingen - Mäseskär

21. Mäseskär - Nordkoster

22.Vänern

23. Vättern
Appendix 3. Swedish Terminology, numbers and format of Forecasts
Kväll : Evening'''

Förmiddag : Morning

Eftermiddag: Afternoon'''

Syd : South

Dygnets högsta vindhastighet : Highest wind during day.

Kuling Varning : Storm Warning

Gällande Varningar : Gale Warnings

Väst : West

Ost : East

Nord : North

Vridande Varying

Mellan : Mostly

Sjöväder : Sea area weather

Kustprognoser : Coastal Weather Forecast (same areas as above)

Observationer : Weather Observations (these are broken down by area and then locations within that area)

Broöppningstider : Bridge opening times. (Names will tie up with those on the Charts)
| | | |
| --- | --- | --- |
| 1 En En 2 Två Tvowe 3 Tre Tray 4 Fyra Fear-ah 5 Fem Femme 6 Sex Sex 7 Sju Sju 8 Åtta Oh-ta 9 Nio Knee-oh 10 Tio Tea-oh 11 Elva El-vah 12 Tolv Tolve 13 Tretton Treht-on 14 Fjorton Fyourt-on | 15 Femton Femme-ton 16 Sexton Sex-ton 17 Sjutton Shu-ton 18 Arton Art-ton 19 Nitton Knee-ton 20 Tjugo Shoe-go 21 Tjugoen Shoe-go-en 22 Tjugotvå Shoe-go-tvow 23 Tjugotre Shoe-go-tray 24 Tjugofyra Shoe-go-fear-ah 25 Tjugofem Shoe-go-femme 26 Tjugosex Shoe-go-sex 27 Tjugosju Shoe-go-whoo | 28 Tjugoåtta Shoe-go-oh-ta 29 Tjugonio Shoe-go-knee-oh 30 Trettio Treh-tea 31 Trettioen Treh-tea-en 40 Fyrtio Fear-tea 41 Fyrtioen Fear-tea-en 50 Femtio Femme-tea 60 Sextio Sex-tea 70 Sjuttio Whoo-tea 80 Åttio Oh-tea 90 Nittio Knee-tea 100 Hundra Hun-dra |
Appendix 4. Swedish forecast format
Preamble

Each forecast begins with a greeting, next comes an overall synopsis, which is too variable to describe here. Unfortunately this section now contains visibility and rain information.

Main part:

Usually a coastal region is indicated (e.g. Landsort till Utklippan) Each length of coast is described by its ends

time period förmiddag wind direction öst wind speed fem till nio meter per sekund

This is repeated for the other three time periods followed by :- Risk of wind over 10 metres/sec. 40% Risk för medelvind över tio meter per sekund är fyrtio procent Probability (sannolikhet) of average wind over 10 metres/second is 40%

The main words used are :-

Morning, afternoon, ................ förmiddag, eftermiddag,

evening, night ............................................... kväll, natt

North, south, east, west ................. nord, syd öst, väst

Winds speeds in metres/sec ....................

Visibility ............................................................... sikt

Good, moderate, poor ..................... god, måttlig, dålig

Mist, fog ..................................................... dis, dimma

Weather .............................................................. väder

Rain ..................................................................... regn

The probability of wind over 10 metres/sec. is expressed as a percentage.

Several expressions can be used :- ingen ........................................................no chance sannolikhet .................................................. probability
---
Postscript
Swedish sailors recommend membership of Sjöräddningssällskapet, a marine rescue organisation which offers a lot of different services to members. These include towing when engine fails, help with fuel, phone service for all possible advice that might be needed at sea such as medical, engine- or rig-related problems. Membership is 800 SEK a year which sounds like a good insurance which could save worry and expenditure.
---
---