On this page
A straightforward, day to day account of what we have done during the current year's cruise. What we found may help others.
---
Why the Baleares
After two years with some considerable travelling, this was intended to be a relatively relaxed year with much anchoring and swimming around the Baleares. All advice was to visit the Islands before mid-July at the latest after which they are reputed to become very busy and expensive. We decided to try it and see.
But, first, there were the small matters of fitting out, anti fouling, cleaning and polishing topsides etc and then a re-rig booked at Jávea with Cap Prim, Seldén agents through the good offices of Blaumar Náutica the main Agent and Distributor for Seldén in Spain. Both were good and very helpful.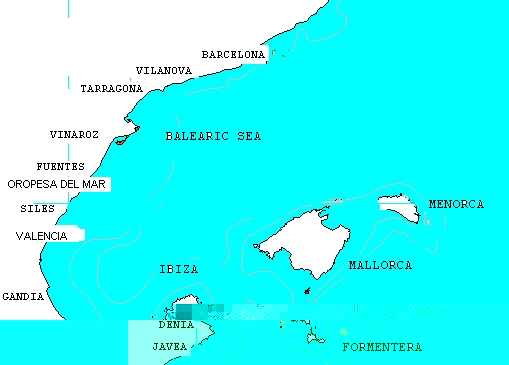 Date

Log

Miles

In
Port

Anchor or Buoy Nights

Eur
per
Night

Total Eur

April 22 - 25

At Barcelona for fitting out, buying antifoul etc. Security improved since last year with manned gate to pontoon area as well as the previous gates to each pontoon.

One of our acquisitions this year is a World Space (digital satellite) Radio. WSR is a non-profit making organisation aimed at developing countries. We got BBC World service (West African version), CNN, music programmes and the World Cup commentaries - live. The Classic music programme, Maestro, is a meatier Classic FM. Interestingly, the aerial is not very directionally sensitive and reception is very impressive as long as we did not swing too much at anchor. We kept up to date with the latest happenings in Nigeria, Madagascar as well as the UK and world news. The radio also has better sound on short wave than the HF/SSB boat radio.

3

14

42

April 26
To Vilanova

SW-W 3 or less. Part sailed part motored.

25

1

14

14

April 27- May 2
Ashore

On the hard at Varadero Vilanova - Mihail Pawlovsky is the manager and operator of the 100 tonne hoist. Five nights berth ashore, lift out and in, water, electricity, hire of power washer - Eur 548 total cost. (Eur 420 for lift out/in, cost of power wash etc, Eur 128 for cost of being ashore). Toilet facilities still basic, but he lends us his key to private loo.

Antifouled, cleaned and polished topsides, etc etc.

5

128

May 2-4
At Vilanova

Vilanova marina. Club has stopped allowing non-club members to use the restaurant, except for the Tapas bar. Good meals at restaurant Icaro - for Eur 12 at weekends and Eur 9 weekdays for four courses, wine, water, bread, coffee.

Met our Spanish friends, Margarita and Jaime. They also intend visiting the Baleares. Perhaps we will met up.

3

14

42

May 5
To Tarragona.

Wind l/v. Motored all way. Main slammed over on a roll, shackle on mainsheet track broke. Abandoned idea of going further in case we need to visit chandlers.

At Tarragona took fitting apart, can use a shackle in spares box as temporary fix. Just as well since no chance of replacing either traveller or the broken part..

22

1

9

9

May 6 - 10
At bis

Very windy and forecast to go SW, on the nose cloudy with some rain. Stayed stormbound at Tarragona. Come to sunny Spain.

Tarragona good and cheap. DIY washing machine, fairly rare in Spain. Good shopping not too far away, excellent market.

Decided to try to replace traveller (in Jávea through Blaumar Náutica when having re-rig). Must get part number from Rutgerson

4

9

36

May 11
To Vinaròz

Forecast NW 3-5 but with sea breezes developing and so it turned out. Left 0700 with NW, increased to one reef. Then died, came back 3-4. Approaching dreaded Ebro Delta, the sea breeze came in with a massive wind shift from NW to S. Short tack out to sea as the wind settled down then back to lay Vinaròz.

Between Tarragona and Cabo Tortosa tower (NE of the Ebro Delta) we logged 25.1 against about 27.5 NM charted. Perhaps the NE gales had produced a wind driven current.

52

1

15

15

May 12
At bis

Vinaròz is a pleasant town. Club marina very laid back, Much work in progress on frontage and new pontoon(s). Showers very good. Good market in town and small but good supermarket alongside. Larger Champion in other direction.

1

15

15

May 13
To Puerto de las Fuentes

About to depart around 1100 when sea fog rolled in. Probably due to combination of cold water from the Ebro and moister air mass. Fog cleared just enough to depart at 1410. Wind too light to go further than Puerto de las Fuentes.

Control tower shaped like a yacht's sails. Disappointing and over-expensive otherwise. Soulless resort village.

17

1

28

28

May 14
To Siles

Left Fuentes just past 0900. Wind a brisk NE, took in one reef with a boomed out Genoa. The wind decreased slowly and, eventually became a spinnaker run. Got to Siles at 1845.

41

2

7

14

May 15
At bis

Siles was very quiet, almost a ghost town with many apartment blocks empty. The beach is glorious and enhanced by the preservation of the sand dunes by fencing. This has resulted in a proliferation of wild flowers and small birds despite the nearby buildings and people. The morning was foggy - probably due to fresh water from the nearby river.

Siles is still in liquidation and very cheap. For facilities at least bas good as Fuentes, it is cheaper by a factor of nearly four.

Received email from Lindsay Chivers (Aquila of Colne, CA friend) to say he is in Vinaròz on the next pontoon to where we were. We just missed each other.

May 16
To Gandia

Another misty start and motoring until the wind increased enough to give a light, shy spinnaker reach. The wind headed and it became a fine reach finally dying away about 10 miles short of Gandia. Gandia unchanged since 2000. Showers still good although in need of a little tlc.

40

1

23

23

May 17
To Dénia and May 18/19
At bis

Gandia to Dénia was a gentle run with boomed out Genoa. English was used on the VHF and the marineros have more English than previously. The marina is still in the course of development. Superb shower rooms, but everything else still to be finished off. A little disorganised in the Office, one Spanish/German/English/French speaking lady doing all the work.

Plans are to build a small clubhouse with accommodation and a restaurant, but this is on a 2 year time scale.

15

3

15

45

May 20
To Jávea
May 21 - 23
At bis

To Jávea for the re-rig. Met by Cap Prim. Found Blaumar Náutica (José Garreta).

Re rig went well. Cap Prim very helpful and willing/able to answer all queries with minimal English (and our minimal Spanish).

Mainsheet traveller due to arrive Monday (25 May).

6

4

24

96

May 24
To Dénia

May 25 /26
At bis


Back to Dénia.

Saw Savannah Star arrive, met Lindesay and Margaret Rudd-Clarke in their HR 42. They kindly took us back to Jávea to collect the new traveller for the main. Installed successfully (and easily).

7

3

15

45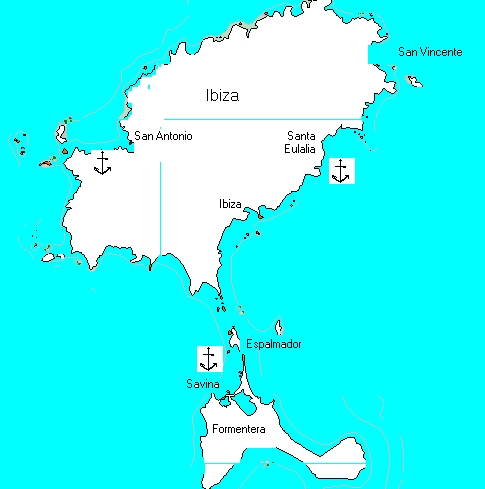 [ NOTE - on these schematic charts I have omitted words such as Cala, Porto]
Date

Log

Miles

In
Port

Anchor or Buoy Nights

Eur
per
Night

Total Eur

May 27
To Isla Ibiza

Mainly motoring in wind varying from zero to NNW F2. Increased when approaching anchorage at Cala Bassa in Bahia de San Antonio.

52

1

May 28
To San Antonio

May 29 at bis.

Motored across to San Antonio. Very touristy, pervasive smell of fish or burgers and chips, somewhat scruffy. But excellent meal at Yacht Club - the starter would have been a reasonable main course.

Crashed the laptop. Marina electrics were two phase - my RCD tripped, could not fix machine. Disaster.

Heard British yacht on VHF calling marina - "I need a berth" no such word as please or even por favor which are de rigeur in this area.. Christened them "Ayneeda".

2

2

22

44

May 30
To Espalmador

May 31
At bis

A good sail from San Antonio to Puerto de Espalmador. Had 6 attempts before anchor set satisfactorily, tried CQR but caught in net twice. Tried Fortress twice, did not hold. Then CQR again and set. Later we saw boats dragging in F5-6.

Delightful, almost Caribbean anchorage. Spent the evening and next day lazily. Very windy at night.

Had second night at anchorage.

25

2

June 1
To Sabina

June 2
At Sabina

A short sail to Puerto de Sabina. Although touristy, it was as unspoilt as San Antonio was awful. Somewhat expensive, Eur 25 a night plus water, electricity and VAT became Eur 35 in early June. In July/August it would need an overdraft (about 2½ times as much)..

2

2

35

70

June 3
Around Formentera

A short sail to Cala Sahona, a lovely anchorage for lunch and first swims of the season. After lunch, back to another anchorage just east of Sabina having found only rock in an "anchorage" just W of the port. A cloudy, bright day but strong SW-W winds forecast.

10

1

June 4
To Ibiza

June 5
At bis

Windy - F5/6. A glowering day, quite cold. Ran under Genoa to Ibiza. A somewhat soulless and very expensive marina. Still chilly, we wore trousers for a short walk.

Took ferry to old town in the afternoon. Very enjoyable apart from it being rather cool and having a heavy and prolonged shower.

Met CA member Nautonier (Chris and Pauline Johnson) last seen in Dénia.

10

2

39

78

June 6
To Santa Eulalia via San Vicente

A brisk sail in a NW F4-5. Genoa only at first, then reefed main past Santa Eulalia to Cala San Vicente. Sheltered from swell between NE - N - SW but rather windy as wind funnelled through valley. Good anchoring in sand.

Spoke too soon. In the late afternoon the wind switched to S, straight into the bay. Boats were swinging in all directions. As a matter of prudence we decided to leave and motor up wind back to Santa Eulalia. A bay downwind might have seemed more sensible but the forecast was for a strong NW.

26

June 7 and 8
At bis.

Stayed at Santa Eulalia. A very well run but expensive marina with a pleasant town preferable to Ibiza or San Antonio by far. It would have been less but drawing 2m they had to put us in a 12m berth - and were charged accordingly Good shopping and an excellent market. Very good but expensive washerette at the marina.

Met Becket, Sabre 28, fans of my website. Fame at last.

3

40

120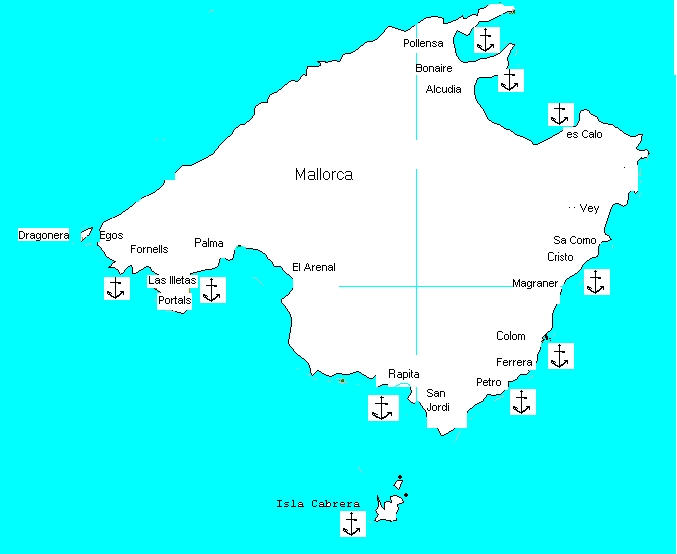 Date

Log

Miles

In
Port

Anchor or Buoy Nights

Eur
per
Night

Total Eur

June 9
To Mallorca, Cala Portals

NW wind forecast for today F5 decreasing, then going light on Tuesday and E thereafter. Decided to go while the going was good to Mallorca. Set course for Cala Portals in Bahia de Palma. Had a good crossing, despite an unpleasant swell. Took in a reef for about an hour but had to motor the last 10 M as the wind dropped and the swell would have made it difficult to handle the spinnaker. A little worryingly, there was some slackening of the forward lowers.

Cala Portals rather beautiful and not too many other yachts. But, like all of the Bahia (we were told) much rolling due to swell and other vessels.

55

1

June 10
To Palma

Part sailed to Palma mainly to get permit for Cabrera. Real Club Náutico Marina surprisingly not expensive. Learned that they would be full last two weeks of July because of Regattas - and expensive.

Permit may take 3 days. Hopefully, Wednesday morning. Only 50 boats allowed at any one time.

Marina very large, it was a fair hike just to get out onto the road. However, good produce market nearby and a small supermarket for the heavy items. Larger supermarket another street or two back.

Problem with lowers may either be not enough initial tension or a little slackening. Must try to contact rigger to see what tension he applied.

8

2

21

42

June 11
At bis.

Pass for Cabrera arrived, but for only one night - June 14. Possible that we might get another night in case of a cancellation.

June 12
To Ensenada de Rápita

June 13
At bis

Wind forecast NE 2-4. Leaving harbour wind was S, on the nose but gradually lifted around the bay so that we sailed out with no tacking. A gentle sail, finally a motor to Ensenada de Rápita - just S of Isla Gabina. A delightful anchorage in an E wind, very blue water.

Had second day doing very little.

2

June 14
To Isla Cabrera

Sailed across to Cabrera, did a circuit of the group of islands finally getting to the mooring for Spanish lunchtime. Beautifully quiet and unspoilt. That was until some rather drunken, noisy Spanish motor boaters began a shouted conversation around midnight.

Not many boats arrived on the 14th.

19

1

June 15
To Ensenada de Rápita

Left the mooring around noon. Few boats arrived. Sailed back to Ensenada de Rápita, just N of I Gabina this time. Water even more blue than previously. Many other boats there but most went by nightfall. Very quiet.

We saw few boats going to Cabrera and wondered how many actually turned up of the 50 that had booked. The wind would have been on the nose from Palma and it is likely that a few could have been deterred. Another time, we might consider hanging on and trying to get on the spot permission for another night.

11

1

June 16
To Rápita

June 17
At bis

Went ashore to see the beach, mostly dressed, a few topless and a few bottomless as well. Needing food, water and some washing, went to the Club Náutico de Rápita. First shock was the cost more than twice than at the Club at Palma. Second was that the showers were as cold (or warm) as the sea.

2

2

45

90

June 18
Ensenada de Rápita

Washed, provisioned. Very poor shopping in vicinity. Would need car or bikes to get better. Discovered that we had filled our tanks with brackish water on the pontoon. Refuelled, filled up with good water at fuel berth. Returned to Ensenada de Rápita anchorages.

2

1

June 18
To Porto Petro

Beat past Punta de Salinas up to Porto Petro. Good anchorage opposite town and port. Very pleasant but wondered what it would be like in high season. Anchoring would become very friendly. CQR failed to hold after two tries. Fortress did the job. We are realising the truth about tales of yachts dragging anchors in the Med. With considerable rolling, used the flopper stopper.

22

1

June 19
To Cala Ferrera

Looked at Cala Llonga but decided against staying - anchoring room reduced by buoyed off areas. Went on to Cala Ferrera, touristy, some building in progress but good anchoring, good swimming. Limited provisioning

3

1

June 20
To Porto Colom

June 21
At bis

A short beat in a NE F2-3 to Porto Colom. The area SW of the harbour is now full of visitors buoys. A slightly odd town that seems to make no special concessions to visitors. The buoys were supposed to be Eur 3 a night but collection seems to be haphazard. We did not pay. The buoys are being taken with "gypsy" types who see it as a cheap touch. This spoils it for the real travellers. Eur 10 a night would be acceptable and deter the rag tag type.

5

2

June 22
To Porto Cristo
anchorage

A short sail to the quiet unspoilt Calas Magraner and Barquetas for swims and intending to stay the night. The swell was marginal for a night stop although with the flopper stopper it would have been OK. However, we decided to go a further short sail to Porto Cristo to anchor in the approach. Although apparently well sheltered, we rolled badly during the night and also had wash from other vessels. Magraner would have been better.

7

1

June 23
To Porto Cristo marina

Intending to go into the marina at Porto Cristo, we went first to another virtually unspoilt Cala, Morlanda where we had a lazy day swimming before retracing our wake to Porto Cristo.

The marinero was very helpful, the price moderate (for Mallorca) and just under half that at Rápita for much better facilities. There was even a DIY washerette and use of the swimming pool included.. Food shopping is a problem although there is a large (reportedly good) supermarket a longish walk away.

4

4

27

108

June 24/25/26
At bis.

Washing and shopping.

Having had smells in the loo, and the holding tank been slow to empty, the inevitable dawned - time to clean the plumbing. All the pipes were heavily calcified and the whole job took most of the day. After which the swimming pool was very welcome.

After discussions with Blaumar Náutica and Seldén Sweden, we decided to tighten all the shrouds by one turn each. It seems that there is some difference of opinion between the Spanish riggers and Seldén Sweden about tension of the cap shrouds. However, some slackening of the rig is normal after about 2 or 3 weeks sailing. We will see.

June 27
To Cala es Caló

The weather seemed right to get a little further N before stronger winds confine us to port. Cala es Caló was the choice, in the Bahia de Alcúdia, where we thought we would have shelter from the strengthening SE winds. We did initially but had to move as the wind became more S and very strong coming over the cliffs. About ¼ M further S seemed OK at first, until the wind became really strong, with vicious gusts. An anchor watch was set.

The wind died shortly before midnight. However, it came back in from the N just before dawn and very rolly. A lovely and unspoilt anchorage. We just should not have been there at that time.

20

1

June 28
To Puerto de Alcúdia

A short Genoa only passage to Puerto de Alcúdia. Touristy but not unpleasantly so. Marina excellent, marineros very helpful.

Judging by lee shroud tension at 20° heel, we have improved the rig. We have yet to see the forward lowers in a blow with full main,

9

3

25

75

June 29/30
At bis.

DWD 5 days forecast suggests NE gales next Monday to Wednesday. Pollensa visitors berths are very exposed in that direction. Bonaire has poor shopping. Decided to stay at Alcúdia. Good local food shopping, several good chandlers.

Today is the festival of San Pedro. We saw our biggest fleet of small boats accompany the fishing fleet to see in the early evening. After some fairly loud music, this was followed by a firework display at 0130! This rivalled even San Sebastian. Some fairly quiet music followed. These Spanish are tough people.

The DWD forecast has changed out of all recognition. Have decided to wait and see if tomorrow is the same and, then, probably go round to Pollensa on Tuesday (July 2).

July 1
Cala de Alcanada

Anchored just E of Alcúdia - Cala de Alcanada. Very pleasant anchorage with mostly good holding - with a little patience.

2

1

July 2
To Baia de Pollensa

Round to the Baia de Pollensa. Looked at two "recommended" Calas Engossaubas and Murta. These were very small and the NE swell was coming round the corner. With some boats already in place, decided not for us. Cala Enfeliu is as tiny as the book says. Cala Formentor is a picturesque as reported. The drawback here was that it is now full of buoys - no anchoring allowed. We were charged Eur 23 for the night. Subsequently we learned that this was only from June 1 to Sept. 30 and, probably, not legal. How are the unsuspecting visitors to know?

We saw some arriving after 1700 and who were still there in the morning at 1000 and had still not been asked to pay.

9

1

23

23

July 3
To Bonaire

Went round the corner to anchor off Pollensa for lunch. The wind increased to a F5/6. We heard Ayneeda calling much as before. Toujours la politesse! Decided to cross to Bonaire, a relatively small marina with an anchorage outside sheltered from the SW. Got in the harbour which is having extensive work to repair the very severe damage in the abnormal storm last November (2001)

8

2

33

66

July 4
At bis.

Strong winds. Stayed at Bonaire, went into Alcúdia by bus. In supermarket, St Miguel beer was Eur 37, at the supermarket at Bonaire Eur 51, at the mini-rmarket at Puerto de Alcúdia it was Eur 71! Bonaire was very pleasant and laid back. Local supermarket is quite good apart from no fresh meat.

July 5
To Cala Alcanada

July 6
At bis.

Lunch and swim stop at Cala del Pinar. Then back into Baia de Alcúdia to the Cala Alcanada anchorage. This was a windy sail with the diurnal increase up to top F5 bottom 6.

Swimming and lazing.

12

1

July 7
To Alcúdia

Swimming then into Puerto Alcúdia (again) for shopping, watering, washing.

2

1

35

35

July 8
To Cala Alcanada

Returned to Cala Alcanada

2

1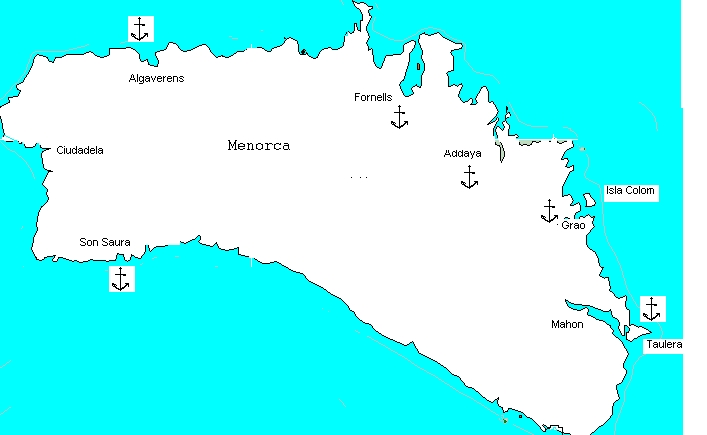 <
Date

Log

Miles

In
Port

Anchor or Buoy Nights

Eur
per
Night

Total Eur

July 9
To Menorca (Cala Son Saura)

To Menorca, Cala Son Saura. Started with SW-W light wind, spinnaker run, became too light, had to motor. Wind came back from N, light wind reach. Then motored last 8 miles or so.

Lovely Cala, unspoilt, good holding, good swimming. But, had a very uncomfortable night - wind was expected to go to NW. Instead it went to and stayed SW and increased to F4/5 putting us and others onto a lee shore with a very unpleasant swell coming into the bay. Set anchor watch from midnight until 3 AM

35

1

July 10
To Cala Taulera

Still very rough in the Cala. Left for slow sail along coast. Struck by lack of interesting/picturesque coast compared with Mallorca. Although there were many rather nice Calas they were often developed and, probably, prone to swell.

Anchored in Cala Taulera (approaches to Puerto de Mahón). Virtually a landlocked lake. As quiet as the grave after Cala Son Saura. Met Nautonier again.

Interestingly, there was a preponderance of British boats at anchor, some 12 or so at one time plus a solitary Dutchman. No Germans, but there were a few French yachts for one night. On Mallorca German boats had predominated.

25

1

June 11
At bis.

Almost lost the dinghy. We went ashore, pulled the dinghy up the beach, did not make fast - no tide, of course. However, a large vessel leaving Mahón caused a surge in our Cala. A nearby yachtsman saved us a long swim to the far side of the Cala.

French boats began arriving in force, start of les grandes vacances? Still few Germans.

1

July 12
To Mahón
Marina d'Hivernada

Into Mahón, no berths on the public quay nor the Islas (floating pontoons, off shore, in squares with water and electricity). Room on buoys and one pontoon with no facilities. Went up the bay to Port d'Hivernada - a marina a longish walk from the town near the commercial wharf. Reasonably quiet. Very expensive, dearest to date. Very poor loos.

Mahón is the most attractive town that we have seen on the Islands. The crypt of the church of Santa Maria houses a Spar supermarket that has everything except fresh produce. An excellent fish market is close by and all other produce is in the cloisters.. A marvellous example of serendipity.

4

1

50

50

July 13
Back to Cala Taulera

A rubbernecking morning in Mahón, odd jobs on the boat then back to Cala Taulera through the Canal de Alfonso XIII, all of 200 m long with 3 m depth. Warning of F6 winds today and tomorrow. As if to make the point, the afternoon became cloudy with some thundery rain.

The night was very windy - up to F7 in this well protected Cala with much rain.

3

1

July 14
At bis

Brighter but still (even more) windy. It became wet and cold. That anchor chain that makes us a little bow heavy is a great reassurance. Continued windy (up to F7) through the night.

1

July 15
At bis

Day started dull, wet but little wind. Brightened mid afternoon but quite windy in spells.

1

July 16
To Mahón and Cala Gran

Motored to a buoy off Mahón for shopping etc. Took on water on a water pontoon operated by 50 cent coins.

After lunch had a slow sail and some motoring to Cala Grao some 5 or 6 miles north of the entrance to Mahón. A pleasant anchorage sheltered by Isla Colom. A fair amount of swell during the early part of the night.

13

1

July 17
To Cala de Addaya

To Cala de Addaya, a beat to windward. Very pleasant and quiet Cala with a somewhat tricky entrance. Some buoys missing. Once inside, another virtually land locked Cala. Great shelter but you must get there before the storm

13

1

July 18
Back to Mahón via Cala Pudenta

Sailed round to Cala Pudenta intending to go round to Fornells for the night. Mid afternoon tried to start engine. Starter did not engage, had to sail off the anchor. Anchor winch (manual) and me up to the job. Decided to go east about Menorca with option for Mahón or back to Alcúdia. Wind died, lucky to get tow from Spanish flagged, English owned motor boat to Mahón, buoy No 6.

1

8

8

July 19
At Mahón

Telephone 215 SA (now Sunseeker), Volvo agents. Hopes to be able to do next Monday. A bit tight to meet Curt at Alcúdia as planned. However, engineer came early afternoon to ascertain problem. After much checking and umming/arring realised problem was engine battery switch had been knocked slightly and was only making partial contact, enough to show engine panel lights and activate solenoid but not enough to engage starter motor!! Oh, dear!

Met Becket and Nautonier again..

1

8

July 20
At bis.

Shopped, got on floating island pontoons for enough time to wash clothes, shower and water, then back to buoy. Lunch at Minerva restaurant - fixed menu, 5 courses plus wine, bread, water, coffee for Eur 18 each. Very good. Met CA boat Dulcinea, Bob Bingham.. Also Golden Fleece, Roger Lunn. another CA boat.

1

8

July 21
To Cala de Fornells

A gentle sail round to Cala de Fornells. No problems until we came to anchor. First, as the pilot says, holding is poor. On our third attempt (with the Fortress) we snagged on a very heavy rope, possibly ground tackle from an old fish farm.. Eventually we lifted it nearly to the surface and then cut the offending rope. A very beautiful Cala.

1

July 22
Back to Alcúdia

Day started badly with enforced sea water impeller change. A frustrating sail back to Alcúdia to meet Curt (arriving Palma airport Wednesday). The promised NE 3/4 was a variable N sometimes 3 sometimes less. The wind got up approaching the Bahia de Alcúdia for an exciting dead run just F5 but it died and even headed.

50

3

35

105

July 23/24
At bis.

At Alcúdia. Washing, shopping, odd job day, meeting Curt, etc.

July 25
Cala Alcanada...

Out to anchorage at Cala Alcanada. Checked log found OK. Under reading on passage simply due to growth even though it seemed to spin OK. Due to wind and swell, intended going to anchorage near Alcúdia marina and to Menorca tomorrow. Starter motor failed again.

1

July 26
To Alcúdia anchorage

Sailed off anchor again (practice makes perfect), back to anchorage by Alcúdia marina. Engineer came out, then another. Agreed that it was starter motor and not battery switch. Removed motor for servicing.

1

July 27
At bis.

After combined effort of engineer and electrician, finally diagnosed problem as partly carbon brush problem with motor, partly engine switch not making good contact and poor contact of engine battery +ve terminal. Cost about Eur 300 for labour plus another Eur 18 for two more battery switches. Work done by Náutica Mahón - very helpful indeed. They provide a CA Boatman service.

1

July 28
To Son Saura

Motored all the way with zero wind back to Menorca - Cala Son Saura (again). It just seemed to be the obvious anchorage. This Cala, like many, seems to attract swell like a magnet, particularly at night.

38

1

July 29
To Cala Taulera

A spinnaker run most of the way from Son Saura to Cala Taulera, outside Mahón.

Log is behaving erratically. Despite cleaning, it slightly over read from Alcúdia to Son Saura and under read from Son Saura to Cala Taulera. Unless there is enough current to affect significantly the log.

25

1

July 30
Into Mahón

Into Mahón to pontoon island, Clementina. Water on pontoons, electricity is low current only ie battery charging but not water heaters..

3

1

18

18

July 31
To Cala Addaya

Provisioning. Then to Cala de Addaya (again). A brisk sail in a NNE F4/5, one tack. Then cleared Cabo Favaratix. Entrance to Addaya interesting indication of what it would be like in a strong wind.

Met yacht Nathape, Amel 52, Nathalie & Hans Peter Wehrli. By mistake they had photographed us on their digital camera (instead of friends). They very kindly gave us a disc of the photos and others of Addaya...

21

1

Aug. 1
At Addaya

At Addaya. A dull chilly day, swam.. Went for short walk. One reasonable small Spar with pre-packed but fresh meat.. A nice quiet, laid back place.

1

Aug. 2
To Cala de Fornells

To Cala de Fornells, again. This time anchored south of Isla Sargantana. Good holding. But had to move - the area south of the island and east of a yellow buoy is a prohibited for anchoring. Apparently, it is a "sea grass prairie". Moved to just north of Salinas Vellas. Good holding again. Got water at yacht club in containers.

8

1

Aug. 3
At bis.

Moved to just off the town. Still good holding. Shopping adequate.

1

Aug. 4
To Cala de Algayerens

To Cala de Algayerens, the clearest water yet seen, we could see the anchor bite in 8 metres. Very popular with some 30 boats. Went on to Cala Morell for the night but it was buoyed out with restricted anchoring. Retraced our wake to Cala de Algayerens for a very quiet night as many boats had gone home..

18

1

Aug. 5
To Alcúdia anchorage

Back to Alcúdia. A good sail for most of the way - up to a mid F5 reach. One reef, 7-8 knots. Wind died as we approached Bahia de Alcúdia, then headed and came back at F4. Experienced large thunderstorm as we approached the anchorage. Anchored just by marina for Curt's last swim in water temperature 26/27 deg C (82 F in USA terms).

A very windy night until about 0130 with winds up to 25 knots. More anchor watches. Several yachts dragged anchors. Our CQR held well.

44

1

Aug. 6
Into Alcúdia marina

Alcúdia Marina. As before, exceedingly friendly and helpful. Checked EPIRB found faulty. The very helpful Náutica Mahón offered to take it to McMurdo in Palma.

Got text message from Jaime and Margarita who have arrived at Pollensa from Vilanova. Spoke on phone, will try to meet (probably at or near Pollensa).

6

35

210

Aug. 7
At bis

Curt returned to UK. And then there were three. A domestic day, provisioning, washing, cleaning. EPIRB needs service. Will have to await return to Barcelona.

Aug. 8
At bis

Stayed at Alcúdia intending to go to Pollensa tomorrow to meet Jaime and Margarita.

Aug. 9
At bis

Early provisioning before departure. Then discovered more water in bilge than normal. Traced to sea water pump, appeared to be round the shaft of the pump. Called out engineer from the excellent Náutica Mahón. Diagnosis confirmed. Serviced pump, used most of our pump kit - virtually rebuilt it.

Day deteriorated with thunderstorms. Spoke to Margarita, they are coming to Alcúdia as soon as possible/sensible. Decided to stay put. Plans of mice and men etc etc.

Aug. 10
At bis

Still very wet early. No reason to go and no sign of Jaime and Margarita leaving Bonaire. Hope they will come round tomorrow.. Man proposes, the god of the weather disposes.

Aug 11
At bis

A much better day. Jaime and Margarita arrived late afternoon in Aixoplug ( a Catalan word meaning little shelter). Had long chat and many drinks with them in the evening. It was their first venture "abroad" from mainland Spain.

Aug 12
To Cala Port Vey

Would have preferred to go north about Mallorca but several days mistral in Golfe de Lion must have created s significant swell. The DWD forecasts confirm this. Decide to head south around the east coast. Wind predominately NE 3-4. Fairly gentle sail.

First stop, Cala Port Vey (anchorage) confirms worst fears. Many jet skis, water skiers etc. Some swell gets in this (and most other anchorages on this coast) but most of the rolling in the early evening is due to the jet ski menace. The evening became quiet and the morning still quiet. A pleasant anchorage were it not for the evening disturbance.

25

1

Aug. 13

A short sail intending to swim and overnight in Cala Morlanda. However, this fairly small Cala seems to magnify the swell. We went back a mile or so to Playa de Sa Como, a very touristy type of beach. However, there were relatively few speed merchants and no jet skiers. The main aggro was a water towed para-glider that seemed to come unnecessarily close to our mast.

The evening became quiet on the water, much more so than Port Vey, but with more noise ashore. Although rolly, it was probably no more so than in any other Cala on this coast.

7

1

Aug. 14
To Porto Cristo

A quick swim then a short motor to Porto Cristo. Arriving late morning we got in with no difficulty. It was getting hot and the swimming pool for a pre-lunch swim was very welcome.

The marina charge was (surprisingly) no more than in June.

4

2

27

54

Aug. 15
At bis

A quiet swimming day. Lunch at the excellent club restaurant

Aug. 16
To Porto Colom

A slow sail to Cala Barcas for swim and lunch then to Porto Colom buoy.

8

1

Aug. 17
At bis

Shopped at SYP. Saw catamaran - Frank's Final Fling. Is Jennifer trying to tell me something? Got ear medication at chemists. Read instructions - said utilizado una pera de goma! Not having any pears on board nor, even, rubber ones am not sure what to do!! Emailed granddaughter doing Spanish at school.

1

Aug. 18
To Ensenada de Rápita

To Cala Mondrago for lunch and swim. Motor - zero wind. After lunch to anchorage south of Isla Gabina (Ensenada de Rápita). Starter motor again failed to work. Tapped it and hey presto! Am hoping that it is battery contacts.

24

1

Aug. 19
At bis

Cleaned battery engine terminals and changed switch. It started OK, but will it do so next time?

1

Aug. 20
At bis

No! It did not. Bypassed the switch, must be a dodgy switch. Changed switch back, seems OK. Motored into San Jordi for shopping and back to the anchorage, this time north of Isla Gabina. San Jordi is a rather delightful town, very much a holiday resort but quiet. The supermarket was small, rather cramped but very busy and well stocked.

Got email from Sophie. Could not find una pera de goma in the Internet translation sites. She then tried to imagine a rubber pear and realised it must look like the rubber ends to the pipettes that they use in science. Ergo a pipette or an ear dropper. Brilliant!

5

1

Aug. 21
At bis

Motored over to Puerto de la Rápita for water and fuel.

5

1

Aug. 22
To Bahia de Palma
(Las Illetas)

Left Ensenada de la Rápita with some regret. It really has become our favourite anchorage with great swimming and good holding. Large bays seem to attract the swell less than small Calas. A good sail to the Bahia de Palma, spinnaker reach then, across the Bahia the wind veered a little to give a fine reach.

Tried to anchor N of las Illetas but there was too much weed. Moved round to the Central anchorage inside the islands. Good holding over sand in a rather pleasant anchorage hoping that the forecast SW wind will not be more than the expected 3-4. Thundery showers.

24

1

Aug. 23
To El Arenal

Crossed the Bahia to Puerto El Arenal. A pleasant marina with good facilities - showers, restaurant, swimming pool. The town is crummy and food shopping is adequate rather than good. Had meal at club restaurant. Very good.

8

4

37

148

Aug. 24
At bis

Went into Palma by bus. Had the father and mother of a storm. Streets in Palma flooded. Cars stranded. Later found that Margaret on the boat at El Arenal had had to cope with some very strong gusts as well. Bright spot was cafeteria meal at club. Also excellent value.

Aug. 25
At bis

A better day but with more storms forecast for tomorrow. May have to stay longer.

Aug. 26
At bis

Spanish Met still expecting thunderstorms, decide to stay put. Storms there were during the morning but dry thereafter. Perhaps, we were too cautious.

Aug. 27
To Cala Portals

Thunderstorms still forecast but decided to cross the Bahia to Cala Portals. More boats here than last time, just squeezed in hoping some will go tonight. A dull day, a little rain. Humid.

11

1

Aug. 28
To Cala Fornells via Cala Egos

Wanting to see Isla Dragonera we part sailed, mainly motored up the west coast of Mallorca. The wind was funnelling between Dragonera and the mainland so we used Cala Egos for lunch and a swim. A small but unspoilt Cala just outside Andraitx. Then back southward to Cala Fornells for an early start tomorrow back to Ibiza.

19

1

Aug. 28
To Santa Eulalia anchorage

Departed just before 8 am. Promise of N 2-3 but becoming light and variable. So it was. But large thunderstorm ahead of us moving from N to S gave a waterspout. Too far and not enough contrast to photograph. I informed Palma radio but they could not hear me very well - or did not (or want to) know the term.

Used the spinnaker on a beam reach with top of F3, occasionally 4. Speeds often 6.5 touched 7 knots but often down to 4. Early afternoon the wind died and it became a motoring job. Anchored outside Santa Eulalia marina. Reasonably quiet in swell terms but some noise from the hotels ashore.

53

1

Aug. 30
To Santa Eulalia marina

Motored into marina, got berth with no problem. Even more expensive than before, but probably less than Ibiza or San Sabina and much nicer than San Antonio.

1

53

53

Aug. 31
To Espalmador

Woken by thunderstorms. Rain stopped in time to shop, pack dinghy etc before departure tomorrow for Dénia. Left Santa Eulalia for anchorage at Puerto del Espalmador. Motored most of way rather than beat in order to arrive for swim and leisurely evening.

15

1

Sept. 1
Back to Dénia

A disappointing crossing with little wind, mainly motoring and some slow sailing until about 16 miles out when the Spanish sea breeze got up. Approaching Dénia winds got up to a respectable F5 introducing thoughts of reefing.

64

4

21

84

Sept. 2 to 4
At Dénia

Heavy showers on the 2nd. Lazing, eating, provisioning. Watching the sea breeze come in. This is any time after midday (LT). It can be as late as 1600 LT and last until about 2100.

Sept. 5
To Gandia

It is very and deceptively sheltered in the Dénia marina. When we got out to sea there was a good W F4 that increased to F5 with a touch of F6. The wind eased, we tacked inshore approaching the coast near La Oliva, about 5 miles S of Gandia, the local sea breeze came in gently and lifted us right along the coast to Gandia. Classic.

22

1

22

22

Sept. 6
To Valencia

A reach with a wind quite pleasant at times and tedious at others. 28 miles in about 7½ hours. Valencia Yacht club marina is a desert. Bleak. About the only redeeming feature is a swimming pool. Even the restaurant is only open from 2 to 5 o'clock tomorrow (Saturday). There was considerable noise of ships loading overnight and a pervasive smell of fuel and large harbours. Not a nice place.

28

1

25

25

Sept. 7
To Siles

The day started well when a departing French yacht slipped his lines then turned back to come alongside to tell me how much he enjoyed my web site. Both skipper and his wife were profoundly deaf which made the accolade all that much more meaningful - and humbling.

A nice sail to Siles, largely under spinnaker in light winds. Late afternoon the sea breeze got up, as usual, to give a rather healthy F5. Siles still in administration. Still very helpful.

17

2

7

14

Sept. 8
At Siles

A quiet day. Lunch at the club. Good value. Met Spanish single hander now retired from working in Venezuela. Fascinating, especially about the Azores.

Sept. 9
To Oropesa de Mar

An odd wind day. Initially SW 4-5, one reef, decreased to 3-4 then light variable motoring. Then SW 3 with the sea breeze, a sudden veer to WSW 4. Entering Oropesa de Mar a 180 deg shift to NNE.

Oropesa is a small marina run by the yacht club. Quiet apart from the nearby railway line. Cheaper than two years ago.

29

2

15

30

Sept. 10
At Oropesa de Mar

A quiet day. Shopping, swimming, lazing.

Sept. 11
To Vinaròz

A slow sail that improved passing Peñiscola after which we could fly the spinnaker. At last met up with Aquila of Colne (Lindsay and Rosemary Chivers, CA).

29

5

15

75

Sept. 12
At Vinaròz

Odd jobs, shopping. Reg - Just a Tonic - single hander, came aboard for 'takeaway" (really a "bringin") pizzas from the Pizzeria, la Italiana (964 40 25 55), excellent value.

Sept. 13 and 14
At bis

Waiting for suitable wind to progress northwards. A persistent NE is right on the nose.

Sept. 15
At bis

Virtually zero wind. Have decided to go tomorrow come what may. Hoping for SW light to moderate.

Sept 16
To Taragona

Cloudy no wind at first. Off the Ebro Delta we ran into an enormous thunderstorm. Not much thunder and lightning But there were two waterspouts uncomfortably near and the heaviest rain ever experienced. Dropping the main, putting all loose gear away, putting on life jackets, battening down hatches - somehow forgot to take photos.

After that we had a nice reach to Tarragona. The charges are now high season and some 21/2 times the price in May.

57

2

23

46

Sept 17
At Tarragona

After a night of thunderstorms, the morning was wet with frequent storms but improved later. Had best ever menu del diaz at Pizzeria at the marina. Eur 10 + VAT, including wine (very vin ordinaire), water and bread. High class cuisine, nicely presented.

Went to travel agent to book return flights October 1. Few seats left - made reservations but computer failed. Will have to pick up tickets (and pay) at same firm but in Vilanova.

Sept 18
To Vilanova

The promised S wind was an E on the nose. Motored for 3 ¾ hours, then SE 2-3 gave short sail for last few miles.

Tickets collected and paid for. Can now relax.

24

2

27

54

Sept 19
At Vilanova

Non-members can eat at the club again at nearly twice the cost for visitors. We had lunch at club. It was very poor and very over-priced. On this showing we advise against. Would have had a far better meal at nearly half the cost at a local restaurant eg Icaro!

Sept 20
To Ginesta

Out of interest and thinking of possible future wintering ashore we visited Ginesta. Not impressed. No local food shops, poor and few showers and toilets for the size of the marina, Showers were cold with no apparent heating. There is a good sized hard standing area and good chandlers.

Yet more storms overnight led to a rude awakening, bringing towels down below and tightening of lines.

10

1

24

24

Sept 21
To Port Vell,
Barcelona

A reasonable sail but the wind died some 5 miles short. Port Vell marina, as usual, had good English on the radio. Met by marinero with minimum of fuss.

Paid for 6 months berth - Eur 1467

16
Cruise Summary
Total Miles 1,316
Total hours motor 140
Nights

Total

Mainland

Islands

In Marinas

87

46

41

Anchor or Buoy

56

0

56

Total cost (Eur) -
(includes some buoys)

2,239

826

1,413

Average cost (Eur) -
(for nights when we had to pay)

25.7

18.0

34.4
Note - Costs for the islands were for June, July and August. Those for the mainland were for April, May and September.
At Port Vell, Barcelona, 6 months afloat cost is Eur 1,467
General Comments
Abnormal Weather
The weather, on the whole, was surprisingly very mixed and a contrast with our previous two Med years. In 2000 we had had no rain from arriving at la Coruña until getting to Gandia. In 2001 we can remember only one day with any serious rain (at Monaco) but we did sail in some strong winds up to F 8. This year, we had typical Mediterranean days with wall to wall sunshine then cloud, strong wind and threats of rain. Our strongest wind while sailing was a F 6. During the last week of July and through much of August and well into September we had cloudy days with several thunderstorms. In a ferocious storm over Palma, streets were flooded with cars stranded. At El Arenal, the same storm gave some very strong winds. There were more storms in the same area over the next few days. On average, Palma has two days with rain and one with thunder during August. Clearly, this has been an abnormal year.
Perhaps symptomatic of the unusual year was the erratic output from the Deutscher Wetterdienst in its 5 day forecasts. Over the past two years these were excellent predictors for Mistrals. This year the success rate was less good.
Mistrals in the Golfe de Lion were a more frequent occurrence than I was expecting for much of the time but less so in September. Sometimes these winds or an offshoot of them can affect Menorca. In Mallorca the effect seems to be short spells of strong SW winds with cloud and a high humidity. The other effect is an increased swell which can make choice of good anchorages difficult.
See a general summary of Western Med weather here. - and Forecasting it
Navtex is widely used in the Mediterranean and is very useful. Spanish VHF stations, unlike the French, broadcast in English. However, the only Balearic transmission is from Palma with no repeater stations. Reception was often a problem. A Spanish language VHF broadcast from each of the islands was usually computer voice generated and virtually incomprehensible although quite clear when read by a real person. Various Internet pages could be used as back up in the case of no radio reception. The DWD site, very usefully, gives computer generated forecasts of wind and sea state for three grid points near the islands for two days ahead at 6-hourly intervals.
See sources of forecasts in the Western Med here. .
Swell Islands
The western Mediterranean is a sea very prone to swell. The whole sea just seems to slop around - as Galileo observed. There are many good daytime anchorages but at night the ever present swell can make it a moving experience - even with the flopper stopper reducing the rock and roll. The swell from any direction, and regardless of the local wind, is refracted by headlands into the Calas and then gets reflected off the surrounding sides. Similarly any passing craft causes swell that gets magnified similarly. For these reasons our favourite anchorage came to be the large, very open Ensenada de Rápita with an offshore wind.
Anchoring
There are many apocryphal stories about anchors dragging in the Mediterranean and, on several occasions, we did see boats dragging in winds of no more than F 6. There is much folk lore about anchor types and many, mainly non-UK sailors, decry the CQR. We have now anchored around parts of Spain, South France, Elba, Corsica, Sardinia and the Baleares. With care, the CQR held well on all but hard sand. True, we did try up to four or five times, occasionally. Over hard sand, the Fortress was marvellous. We did avoid rock or stone bottoms. My main conclusion was that, too often, not enough care is taken in checking that an anchor has set. On many occasions we saw the hook dropped either followed by inadequate chain or a great heap of chain was dropped right on top of the anchor.
and Mooring
Newcomers to the Med sometimes worry about going stern-to with an anchor over the bow. So far, everywhere in the Western Med, there have been mooring lines tailed to the pontoon or quay. Simply go in bow or stern first, as you prefer, pass lines ashore to the usual marinero, pick up the tail and attach to the stern or bow as appropriate. The only exceptions are the (very) occasional finger pontoons.
The Baleares?
We did not find the Islands impossibly busy in the high season although, around Ibiza, Formentor, near Palma or on the south and south east coasts of Mallorca it might well have been a different story in some years. We wondered whether this season was abnormal, possible because of the bad publicity following the introduction of a tourist tax, although this does not seem to affect migrant yachts. There was a noticeable increase in boats in anchorages within 20 miles of the Bahia de Palma. Anchoring seemed to be more the norm around Ibiza and probably, on balance, we did not give it enough of a chance to show its wares. However, its marinas are accepted as being the most expensive.
Palma hosts major regattas that take up marina berths in the peak season. However, we did get a place at El Arenal in the Bahia in August with no difficulty. On Mallorca, we used Alcúdia as a base and never had problems in getting a berth. With its excellent servicing facilities and good chandlers, I am not sure where else would have provided that role on the island at a not too exorbitant price. Even had a berth not been available the anchorage right by the marina has easy shore access by dinghy. Water and fuel are readily available.
Menorca is delightful with some lovely Calas for swimming and occasional nights in the right weather. It has three of the most sheltered Calas of all. The island is small and they are never too far away - given careful weather forecast watching. Mahón is the only place on the island for comfortable berths with easy and good provisioning - but it is excellent.
Marina fees, generally, were high, compared to mainland Spain, especially to Atlantic Spain and the South coast. Prices of food and eating out were also something of a culture shock after Barcelona, Vilanova, Tarragona and many others. However, meat was generally cheap while fish was expensive. Very much on the plus side, the swimming was by far the best we have had so far in the Med.
Would we go again? Yes. But, will we?
---
---
NOTE
The above makes no attempt at being a work of literature. It is a purely factual account of what we did and some of the attractions/problems encountered. (An everyday story of sailing folk?) It may be of some interest to others wishing to sail in the area. Of course, what we like and dislike may be different from other people. Situations change and someone else may get different impressions. More detailed comments can be found in notes on ports and anchorages over the whole of the Mediterranean, submitted to the CA by members.
---
---