On this page
A straightforward, day to day account of what we have done during the current year's cruise. What we found may help others.
---
Crossing Biscay
"%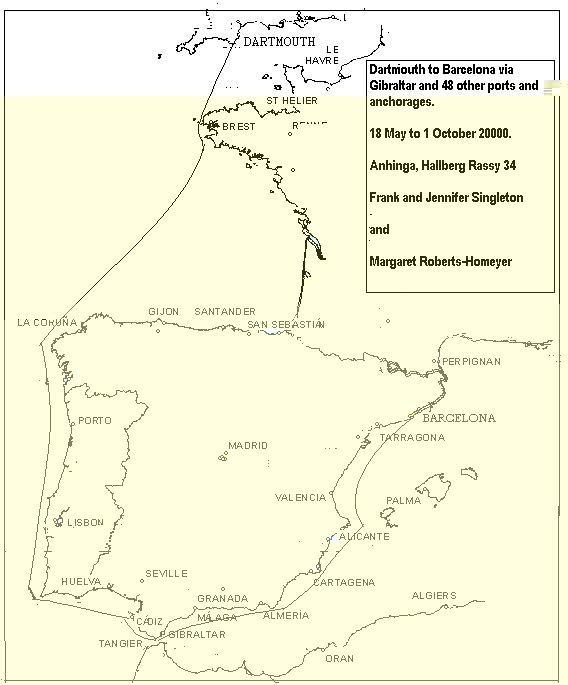 ---
Dartmouth, 18 May
Departed for the Mediterranean via Iberia. The game plan was to try to be ahead of Rally Portugal organised by Yachting World, and due to leave Plymouth on 4 June. The idea of trying to share a smallish Portuguese marina with 28 or so other yachts did not appeal.
It all started well with a good WNW to NW F 4-5 touching 6. This was slightly more favourable than expected and made a fool of my careful passage plan for our intended arrival at the Chenal du Four so we had to try to slow down. In the event, we were still too early approaching Grande Basse de Portsall, got taken east with the last of the Channel flood and had to motor hard up tide. We did, however, carry the ebb tide through the Chenal de Four, across the Iroise and through the Raz de Sein. You can't lose 'em all! (169 miles)
Having had a rather hectic crossing, our first major sail of the year, we decided to go up river to Audierne, probably my favourite French port. In retrospect, we should have gone on! The five day forecast from Bracknell received the day prior to our departure showed a slight weakening of the Azores high. The day after our arrival at Audierne, forecasts showed the high collapsing quickly followed by lows over Biscay. We spent two weeks at Audierne waiting for a good slot. Then it was a case of "after you, Rally Portugal"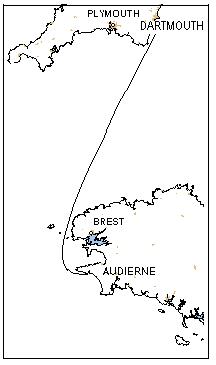 A near disaster at Audierne was when we found our favourite restaurant, la Goëlette closed. Quelle catastrophe! Salvation was discovering that it had only moved a short distance to a superb site overlooking the river mouth and sea.
At Audierne, new pontoons are being built to extend the marina. These are expected to have about 20 visitor's slots. The Harbourmaster is extremely friendly and helpful, he is very Anglophile. But, we do know him fairly well after several visits over the years.
We made great use of Radio Fax from Bracknell and Northwood. This was very important as the apparently unending succession of small lows were all very active. We met two yachts, coming northwards from la Coruña, meeting winds up to force 9 or 10. We congratulated ourselves on our prudence and patience. Radio Fax and Corsen Navtex were both good. However, we did not receive Niton in Audierne although we did have good reception, last year. further south on the Atlantic coast of France, but (I seem to remember) not at Audierne itself.
2 June
Finally left Audierne. It seemed a pity as we had become part of the scenery. The cost of our two week stay was not exorbitant as we only paid for 5 days for each week. Un bon marché!
The forecast was still a little uncertain except that no strong winds were likely. Initially our heading was good but, after a short while we had to tack to a SSE track - Santander here we come. However, following Bracknell, Corsen and Northwood instructions the wind slowly veered to NW giving a good passage to la Coruña. With our detour as the wind sorted itself out, we logged 335 miles, 71 hours, with only 12 hours motoring. We lost Corsen Navtex halfway across although well within normal range. We still did not receive Niton. We did not receive any signal from la Coruña at all, even when approaching from the north and with no intervening high ground.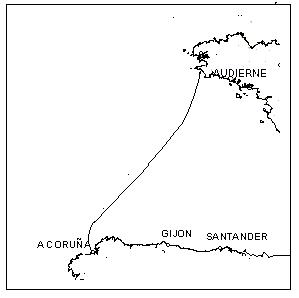 The highlights of the crossing were the dolphins who paid us several visits.. They seemed to delight in scratching their backs under Anhinga's forefoot. When they came at night the streams of phosphorescence were as good as any firework display. They just looked like under water Exocet missiles.
(335 miles)
The Atlantic Coast of Iberia
We had a very welcome three days in la Coruña, especially as we seemed to have brought the sun with us. The marina staff were as helpful as ever with very reasonable meals in the restaurant and good shopping in the town. The nearby Regata chandlery had limited stock but is good for spares such as shackles, light bulbs, fenders etc. with a delightful young lady in charge. What more could you ask for?
9 June
A good sail most of the way to Portosin in Ria Muros. The WNW wind made it too tight to sail fast enough on the 20 mile leg to Islas Sisargas, but thereafter we could free off and had a fast sail, dead downwind past Cabo Finisterre. It was too windy for the spinnaker and we were touching 6.5 kn with poled out Genoa. Again, there was still no la Coruña Navtex, even on the leg to Islas Sisargas when we could again see the Torre de Hercules light house. We had checked the Navtex aerial screen earthing at la Coruña and found it to be OK.
We arrived at Portosin just after a spectacular cloud free sunset. Apart from showers varying from hot to cold in the space of two minutes, Portosin was excellent with good shelter, good bar, excellent value dining at the club, wonderful evening views over the Ria at sunset from the club balcony, G and T in hand. There is limited but very adequate shopping nearby. As far as we could ascertain the produce market, that was so good on our last visit, only operates in the high season. (79 miles)
11 June.
Another fast downwind sail to Islas de Cies just north of Bayona. This was a beautiful anchorage overnight waiting for Rally Portugal to clear Bayona. Off Islas de Cies and at Bayona Radio Fax reception was usable.
This early in the year there were fewer yachts in the yacht club marina than we have seen previously. We found very helpful staff, and more English spoken than before. The club restaurant was still rather disappointing.
(46 miles)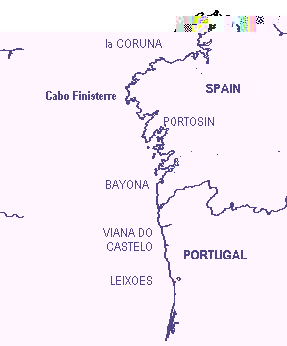 Here it was that the Laptop PC crashed, the lady members of the crew were hoping it was permanent. Phone call to Toshiba servicing agent in UK resolved the problem. Can live again.
Here, also, we met up with Terry and Margaret on Freya of Åsgard (HR 42 - made our little 34 look like T/T). They, too are heading south to the Med.
14 June .
To Viana do Castelo the wind was variable, zero to NW F 3. Viana was very hot on arrival; facing south with hills right behind it the town just seems to collect the heat. However, the streets are beautifully shaded and even midday shopping is, normally, not too much of a trial. This time, however, the town was in a state of repair - main street and tree covered walkway from marina into town were both virtual bomb sites. Still, we look forward to calling in on our return. As previously, it was good otherwise, excellent produce market, many good small shops, good cheap meals at the sailing Club restaurant. We still could receive no la Coruña Navtex nor Monsanto. Radio Fax good reception. (32 miles)
We made contact with David Lumby, the local CA representative (recovering, we were please to see, from a heart attack) and a mine of information - see web site which is his work.
17 June
Viana to Leixoes, with a variable wind, was a slow passage with some motoring. Leixoes was not, at first sight, as dirty as reported. On second thoughts, we changed our minds. Some noise from container port, dirt from oil refinery, much rubbish in the water, showers smelly. But, the staff were very helpful and obtained, at our request, up to date weather charts from the Internet. It appeared to be output from the NOAA Medium Range Forecast model. The, apparently, coarse resolution of the model (191 km) makes the output less useful than it may appear on paper (or screen). Never mind the quality, feel the width.
Bad interference on Radio Fax. (32 miles)
18 June
Tried to depart for Figueira da Foz on but the wind was just a little too much on the nose and getting strong. We turned back (with Freya of Åsgard).
(23 miles)
19 June
Tried again the following day, a dull one with less wind, but still in the SW and barely sailable. In the end we managed to sail for about 6 hours of the 12 hour passage - about one third in terms of distance. The last 4 hours were hard on the wind and we had to put in one tack of a mile or so to clear Cabo Mondego. Freya motored virtually the entire passage (sail area to displacement and displacement to water line length both in our favour). Portuguese Trades, where are you?
That evening, to much surprise, we began to receive la Coruña Navtex (2030 schedule) including a forecast. Ditto the following morning at 0830 and 1230 UTC. Still no Monsanto, even on passage. Why in Figueira? We then heard that la Coruña had been off the air for a while - apparently, we had missed the navigation warning.
Radio Fax OK.
Figueira da Foz has a well sheltered marina a little way up a river. The entrance could be difficult in a big swell against the ebb. The marina is of moderate size and the toilets were rather basic (that is being kind). However, there is a superb covered market close by that has almost everything that you could wish, good fish, meat, vegetables, fruit, dairy, produce etc. For beers, spirits and other such necessities there is a very good supermarket just a short walk away. We recommend Figueira da Foz. (66 miles)
21 June.
Left Figueira da Foz hoping to get to Peniche. Despite a promising start and a favourable forecast from la Coruña, this was another disappointing sail. After a touch of 6.3 kn, the wind died and we motored for an hour and a half. By the time the wind picked up it was too late for a sensible arrival time. Nazaré beckoned and the engine was again pressed into service. We were met by an ex UK Merchant Service Captain. now the "information officer" at Nazaré. He is very helpful and clearly trying to encourage people to come - and stay. Nazaré seems a pleasant place, the town a short walk away. We made note to take a longer look at the town on return.
The nearby town Leiria looks interesting, also monasteries at Batalha (Battle) and Alcobaça. A little further south, San Martinho do Porto, there is a delightful looking mini Ria but which could be impossible to leave if any appreciable swell although safe inside.
Radio Fax OK. (38 miles)
22 June
Left Nazaré after breakfast for Peniche, marginally too late to make Cascais. In any case, Rally Portugal was still at Cascais - a consideration. Wind top F 4 to 5, NNW. A very fast passage but we decided it was better to overnight at Peniche and make an early start to arrive at Cascais the next day, before the wind really got too strong. At last, we seem to have the seasonal wind - the Portuguese Trades.
At Peniche we found some new visitors pontoons with fingers, right by the root of the west mole, further in than the old "alongside" pontoon and away from the wash of fishing boats. Peniche is clearly a popular holiday resort. It has an easy entrance and is well sheltered. The town was a little smelly (drains or a fish factory?).
Radio fax OK.
There is a museum in a fort right by the marina that is well worth visiting. A meal in a local restaurant was quite good and very cheap. The service was a little ragged - but it was evening after a long day of what had been a local holiday.
We could receive la Coruña Navtex in Peniche but NOT Monsanto. However, Freya, right next to us could do so! Great mystery, i.e. our Navtex is clearly working OK. (21 miles)
23 June
An early start (well, 7 am) with a forecast N to NE F 5-7. The wind just outside Peniche was F 6-7. We used a boomed out Genoa only and made good if somewhat rolly progress with the wind dead astern, occasionally by the lee. The various headlands all gave extra spice to the passage by way of extra swell and rolling. Most lively was Cabo da Roca, the most westerly point in Europe, just before heading up towards Cascais. Arrived Cascais at 1500. The more prudent (cautious or wise?) Freya followed the next day.
Cascais is an extremely modern marina, very well organised and much English spoken. There is a reception building (not marked as such) with large waiting pontoons just by the entrance . We checked in and completed paper work in a marvellous marbled building, all very civilised, then proceeded to a designated finger pontoon berth where three pontoon attendants (marineros - "sailors") met us to take lines etc. (43 miles)
There is a rather limited chandlery, with several restaurants, bars, ice cream shops, milk shake bars and a very good supermarket (buy ice here) all on site. The only criticism is that the showers are a little smelly. But, they are hot! Also, it was very noisy at (a weekend) night with late night (or early morning) carousers. These resulted in the disgusting condition of the loos in the morning.
We eventually were able to receive Monsanto Navtex! But, we lost la Coruña, at last. With the SSB receiver, Radio fax was good and also RTTY from Offenbach.
We intended to leave on the 25th but, once again, the Portuguese Trades had failed to establish themselves. The Azores High was nowhere to be seen and a small low was forming off the SW of Portugal. The Bracknell midday forecast for the 25th gave southerlies - confirmed by Monsanto Navtex the following morning. On Bracknell's forecast for two and three days ahead, we hoped to leave Cascais on the 28th with an outside chance of the 27th.
Cascais is a smallish town, pleasant enough with a house and gardens, now open to the public, but once the seaside home of royalty. A guided tour was free; the gardens are now much used by the locals.
While waiting, we went into Lisbon. The city seemed to be one big construction site with many buildings being renovated and some new ones underway. Walking around the city was a little disappointing, moderate shops, moderate restaurants, difficult to take a photograph without having a crane in frame. Next time we will take one of the bus tours with commentaries in English. Freya of Åsgard reported that the area known as Belem seems to be the most interesting part - coach museums, the Gulbenkian planetarium, marinas etc.
The only VHF forecasts that we heard along this coast were in Portuguese, a difficult language. I think that these are from Portuguese Navy stations. On one occasion, just south of Leixoes I was able to call the transmitting station and get a translation. In general, however, our only English language forecasts were on Navtex. When at sea, we could hear the broadcasts in French and English from Monaco on 13,152 kHz USB at 0930 UTC. We could also receive the French language forecasts on Radio France Internationale on 15,300 kHz at 1130 UTC.
27 June
Cascais to Sines with a forecast W to NW F 3 to 4. It started well but the wind soon dropped and the mechanical topsail had to come into operation. Sines was a rather nice, quiet marina, much as David Lumby had indicated. There are finger pontoons. The oil tanks and refineries were not obvious from the marina nor (according to David) from the town either.
The marina is well laid out, showers were basic but hot. The Guardia Fiscal seemed to double as the marina attendants - at least they took the money. There was a watchman on site and easy fuelling. On the whole, much nicer than the pilot indicated.
Radio Fax OK. (54 miles)
Round Cape St Vincent
28 June .
Left Sines early with a forecast of NW F 3 to 4 to Cape St Vincent and North F 3 thereafter. In reality, we had calm or nearly so for 6 hours of motoring, a little over 2 hours of spinnaker with the wind increasing to F 5 Just after Cape St Vincent the wind increased to a top F 6 just touching 7. A three hour, 2 reef, broad reach round Cape Sagres to Lagos gave us 19 miles in under 3 hours and generating between 5 and 10 amps from the Aerogen. (79 miles)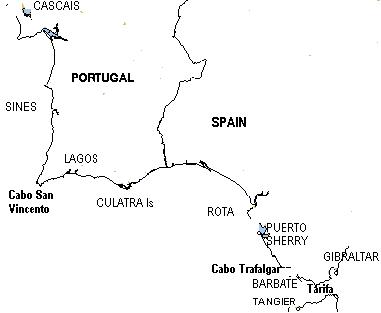 A Little Meteorology
The Vente Nortada is a regular Summer occurrence in the area and is, in effect, the Portuguese Trade wind pepped up by the diurnal heating of the Spanish Summer heat low and the wind descending from the mountains. The katabatic effect makes it a very dry wind. Perhaps, F 3 to 4 was a good average for the whole passage although there were some harsh word said about the Portuguese Met Service Navtex forecast.
Lagos
Lagos is the best marina so far found in Portugal. It was also the most formally, and surely unnecessarily, bureaucratic. It has excellent showers and toilets, good finger pontoons, a supermarket right by the marina. On site, there are washing machines and dryers (not really necessary, given the heat and wind whilst we were there), a reasonable restaurant plus a Chinese and a Pizza Hut, an electronics shop (Blue Water Yacht Services).
The local CA rep, Fiona Dransfield and her husband, John, are a good source of useful advice. John is a marine engineer and offers various boat services including boat minding for boats left at Lagos. There are no lift out facilities here but John takes boats to Mazagon (Spain). We had no Navtex reception while in the marina (Freya did, so perhaps our set lacks a little in sensitivity). Radio Fax and radio teleprinter reception were very varied as was the BBC overseas service. Buildings, extraneous sources of electromagnetic radiation were the main reasons, I suspect.
We found the town very congenial and laid back with many restaurants. There is a covered fish, meat and fruit/limited vegetable market daily plus (reportedly - we did not see it) a very good Saturday produce market.
Calor Gas refilling can be achieved by taking the bottles to Blue Water Yacht Services, on the upper floor of the block right by the marina - it takes two working days for them to take and return the bottles. There is a small chandlery, not very well stocked, by the fishing harbour.
2 July_
Left Lagos for the Ilha da Culatra anchorage. The Vente Nortada never set in and the wind was S becoming a reasonable W'ly as the sea breeze effect kicked in. We deduced that there was some disturbance to the west of Iberia weakening the northerly Portuguese Trade Wind. (We later heard that there was bad weather in the Bayona area - indicating a low or frontal system.) At least we were able to fly the spinnaker for a few hours. (38 miles)
We anchored to the south of Ilha Culatra, behind the channel entrance eastern mole and to the south of the Santa Maria LH. The sea breeze had created a significant swell and the anchorage was rather rolly although the wind did back to an offshore direction. We had hoped that the backing wind would kill the swell. Freya of Åsgard went through the passage between Cabo de Santa Maria and Ilha da Culatra to a quiet anchorage. We should have done so but were concerned about the strength of the tide between the islands and wanted to be able to leave early the following morning. Freya of Åsgard was right! We heard from others that the lagoon behind the islands is delightful.
Also, from old friends, we heard that Faro is an exceedingly cheap place to have a boat out of the water to do work on it. Costs quoted to us were £1 a day and £40 for lift out and power wash.
3 July
Left at about 5 o'clock for Cádiz - 80 miles. The wind started light but nearly astern so we got the spinnaker up at first light. Speeds varied from 2.5 to 4.5 kn, not a good omen for a daylight arrival at the Bay of Cádiz. Shortly after midday. however, the wind increased and we were soon clocking up to 7.5 kn and more. By late afternoon the wind was hitting the top of F 5 so down with the kite and back to main and Genoa but still with speeds of around 6.5 kn.
For much of this passage, there seemed to be a northerly set but approaching the Bay of Cádiz the current seemed to turn southerly. With the increasing wind the entrance to the bay and the marina at Puerto Sherry were both exciting and interesting. Still, we did the 80 miles in a little under 15 hours. Patience during the light wind/slow speed spells was amply rewarded. We did get a fleeting glance of Freya of Åsgard's splendid spinnaker, but too far away to photograph. Perhaps I should have tried the telephoto lens.
Entering the Bay, we spared a thought for Drake singeing the King of Spain's beard. He must have been both a great seaman and a lucky one. (77 miles)
On this leg we heard very useful forecasts every 4 hours in English from both Cádiz and from Huelva. [Later, we heard Tarifa and Algeçiras, also in both languages.] All seemed to miss broadcasts from time to time, or we did not hear them.
Of the three marinas and one Club Náutico at Cadiz, John Dransfield had suggested Puerto Sherry, a marina village type of complex started in 1985 but still not completed. The marina was, we heard on arrival, in receivership. Many of the buildings nearby were in a state of partial completion. This is a great pity since the place is, potentially, very attractive. It is quiet, with good pontoons, water and electricity (you have to borrow a plug never seen elsewhere), showers, supermarket about 1.5 km away, a good chandlery, engineers etc., restaurants on site. A supermarket is planned, also on site.
However, after two nights we had had no water since the previous afternoon and no firm promise of its return. Clearly Puerto Sherry is currently to be avoided although it could be very good.
The Strait of Gibraltar
As departure for Gibraltar was not possible because of the Levanter, we moved across to Rota, one of several marinas run by the Junta de Andalucia. Prices (about 1700 ptas a night all inc ) are considerably less than those at Puerto Sherry. Even though just coming from across the Bay, we still had to complete all the forms (or, rather, the marina did). Although somewhat noisy with aircraft and noise from the US Navy base at Rota, the marina is pleasant enough.
There are excellent (the best, so far) toilets and showers all marble walled. Ice can be obtained at the small cafe/bar on site. There is a good morning fish, meat, and a rather limited produce market right by the marina. There are small supermarkets close by. There is, now, a boat hoist. It must be a good place to leave a boat (Terry and Margaret did so, having to return home for a while). We did not look for, or see, chandlers or any sign of engineering or shipwright facilities. These might entail visiting Puerto Sherry.
The ferry to Cádiz from Rota, right by the marina, costs 1,000 ptas day return, departs 1115 and returns early evening. From what we have heard about the marina in Cadiz, itself, Rota is probably the best of all the marinas in the Bay of Cádiz.
Radio Fax OK. (6 miles)
6 July .
When we left Rota the Levanter was blowing through the Strait of Gibraltar but, according to Gibraltar Met, not very strongly. The Cádiz forecast on VHF talked about Variable 2-3 off Cabo Trafalgar. In reality, we picked up the E'ly winds a little over 10 miles south of Cádiz. Wanting to get to Barbate, that meant a hard 8 hours motor sailing with a very disturbed sea around Cabo Trafalgar due to the very uneven bottom. How on earth did Nelson manage to fight a sea battle there?
Tunny nets are a well advertised hazard on the approach to Barbate. Unfortunately, nobody tells you the best way to get around them. From the west, after rounding Cabo Trafalgar, the best tactic is to head straight for the harbour wall, thus going inside the nets. Leaving to go east, keep to the shore side of the nets before heading out to sea to get around some more nets a little to the east of Barbate. On first arrival it is not that obvious. Barbate (also Junta de Andalucia) itself is a little uninteresting at first sight and not very attractive as a harbour but is well sheltered. If no berths are available (or for a brief, cheap stop) there is plenty of anchoring space in the outer harbour, still with good protection. Arriving at about 9 pm the office was closed but a very helpful security guard helped by a friend/marinero (we were not really sure) met us and showed us to a berth. It is a good place to wait for the tides and winds through the Strait. (49 miles)
The walk to the town is longish but (perhaps) not too great a problem - with a trolley. The toilets and showers are few in number but very clean and the water is hot. Ice is available from an on site cafe/bar which also serves reasonable looking lunch time snacks and has a good evening menu. The local Gibraltar Pilot gives it high marks. The town is not at all touristy and, probably, worth visiting for that reason and the good local beaches.
7 July
Left Barbate late afternoon for the evening east-going tide through the Strait. Winds were basically favourable but very variable from between NW, strong (one reef) initially, falling light, then N, light again but, then SW F 5 to 6 sending us rip-roaring across Gibraltar Bay. Arriving at Gibraltar in the dark is no problem until inside the harbour when identifying meaningful lights becomes difficult. We went to Queensway Quay. (31 miles)
The lights on the end of the entrance were blindingly bright and it was impossible to read any signs. We asked to raft up against a large, rather splendid Dutch yacht that seemed to be on the fuel/waiting pontoon. They agreed, took our lines and then, seeing our relief, offered us G and Ts. Their boat had more accommodation than many houses - they even talked about going downstairs!
Queensway Quay is very handy for the town and inexpensive (£7 a day). Showers and toilets are good, ice is available at the Marina, water and electricity are both metered. Water is not in short supply on the Rock but is costly, being obtained by desalination. Mooring is Mediterranean style, with (double) stern pick up lines on the pontoon. On the whole, the staff were very helpful.
Perhaps not surprisingly with the Rock, its buildings and installations it was impossible to receive Radio fax or RTTY. We did receive Tarifa Navtex.
Sheppards Marina has a good chandlery and comprehensive servicing facilities. The marine, itself, is a little unprepossessing. Marina Bay, right by Sheppards, has very high pontoons with Mediterranean style mooring. With a plank on the pulpit of Anhinga we could have walked straight onto the pontoon. Stern-to, we would have needed a ladder! Despite being near the town centre and having restaurants on the quay, Queensway was very quiet. On the whole, we preferred it although it is slightly more prone to swell, especially on the outermost, primarily, short stay pontoon.
Gibraltar is interesting rather than attractive. We did the customary tour of the Rock, well worthwhile, including the fabulous caves with their stalactites and stalagmites, some of the siege tunnels and the famous Barbary Apes. Fuel and spirits (duty free) are particularly good buys here - Larios gin (Gordons lookalike?) was about £3 a litre. Food shopping is not particularly good and at UK prices. Many locals cross the border.
Lessons in Meteorology
I made contact with former colleagues at Gibraltar Met Office and learned some of the local peculiarities from the horse's mouth.
A major weather problem at Gib is whether the wind through the Strait will be W, (Poniente) or E (Levanter) - and, of course, how strong through the narrowest part opposite Tarifa. The predictor is the pressure difference between the east and west of Gib. If pressure is higher near Sotogrande or Estepona than near Tarifa, then the wind will be easterly. Conversely, if it is higher near Tarifa, then the wind will be westerly. The bigger the pressure difference the stronger the wind.
Armed with the Bracknell or Offenbach five day forecast charts it is possible to predict winds through the Strait. Alternatively, pay your £17, or so, and take advice from Gibraltar Met Office, they have a great deal of collective experience and are good at interpreting the Bracknell forecast charts. However, even Gibraltar Met will be far from precise - it only needs a slight error in the prediction of the pressure difference for there to be a marked error in the strength of the predicted winds.
We stayed a day too long and awoke to very strong winds around Europa Point. Prudence dictated another day on the Rock. In fact, we could have left because winds east of Europa Point are usually significantly less than those in the Strait. Also, in a Levanter, winds in the harbour are anomalously strong and very gusty.
One curiosity of the winds at Gib itself is that, especially during the Levanter, the winds increase at night. This is the converse of what we normally experience when night time cooling causes a stable layer near the surface and inhibits mixing with the air higher up moving at gradient speeds. Surface friction slows down the lowest level of air. Heating during the morning causes convection which increases the depth through which mixing occurs. This results in the surface wind increasing.
At Gibraltar, the same night time cooling and the subsequent stable layer cuts off the mixing effect. This allows the surface air to be accelerated by the topography of the Rock and prevents any slowing down due to the slower moving air higher up. During the morning, the sun's heat creates greater mixing and, so, slows down the air movement at the surface.
Into the Med
The Costa del Sol
13 July
After a very windy night, the winds quietened down somewhat during the early forenoon and we left Queensway Quay without any problems. As expected, once past Europa Point, the winds settled down to a nice E F 3 - 4. One short tack after Europa Point and we were able to lay Duquesa, or nearly so. The current flowing into the Med gave a nice little lift. Duquesa had been highly recommended and certainly met expectations. It was pleasantly cool and quiet in the marina, there is a smallish supermarket (no fresh meat), a butcher (we did not check this out) good, if rather limited toilet facilities, chandlers, restaurants and bars.
It is a popular, if rather small, marina for winter lay up. Advance booking is essential. (21 miles)
14 July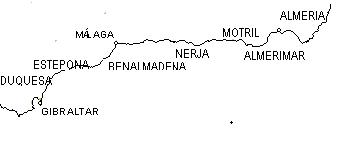 Motored the 5 or so miles to Estepona because, rumour has it, Calor gas bottles can be refilled here. Find rumour to be correct - Holland Yachting - very near to the marina. The only problem is that it is now Friday and the next working day is Monday. Still, Estepona is not a disaster by any means. It is run by the firm that runs Duquesa. Well organised, a little noisier, good if rather few loos and showers. There are restaurants to meet a range of tastes - but not those of anyone wanting real Spanish cuisine. We could smell the deep fat from the boat on an outer berth! With a sailmaker, two chandlers (one is very good indeed) and a (very limited) supermarket all on site and more shops a little distance away this is could be another good place to overwinter. It is near to Malaga airport and not that far from Gibraltar also. (6 miles)
At both Duquesa and Estepona, the nearby supermarkets are very limited and we did not find local shops or a produce market. The result was that we had to do a big shop at a (good) Carrefour outside Estepona (the far side of the town). This meant getting a taxi back to the marina. On a Saturday morning, in July, we had about one hour to wait before the taxi appeared.
We were beginning to get the flavour of the Costa del Fish and Chips. Being used to the flavour of the Atlantic coast of Spain we were finding the anglicised, bland version not very appealing. We hoped to find better but, having taken the bus along the coast and seen yet more examples of soulless, featureless holiday accommodation, seen the local small supermarkets with their bottles of HP sauce and "English" bread, our hopes were not high for the immediate future.
Another apparent minus point, so far, is that along the Costa del Sol, all the possible, recognised anchorages are exposed to any swell so that marinas are virtually the only overnight option.
The highlight of the stay at Estepona was a trip to Ronda, a historic town inland to the north of the Sierras Bermeja and de Nieves. Ronda is a hilltop town, built on a rocky plateau. The old town is divided by a deep cleft. It has the oldest bull ring in Spain and it is where bull fighting on foot was started. This entailed a ½ hour local bus to San Pedro then an hour coach ride up a spectacular road climbing to about 700 metres. Total cost about £8 a person. Well worth every penny - even though the name of the bus and coach company was PORTILLO!!.
Estepona and Duquesa charged some 1700 ptas a night plus a small charge for water and electricity.
17 July
Left Estepona for Benalmádena which had been recommended to us as a good place to leave a boat. The wind was a light E'ly. We managed to sail a little but had to motor more. Entry is fairly easy, the bank just south of the entrance is now marked by an East Cardinal beacon - although it is to the west of the bank. There are some small yellow buoys that seem to mark the east of the danger.
The marina is very large but is divided into small units. It seems to be a place to which some liveaboards gravitate. We could not see why. The complex includes an area which seems to encapsulate all that we do not like about the Costa del Sol - restaurants with indifferent food, canned music, electronic games parlours, masses of people.
The marina was virtually full and it took at least half an hour for them to identify a slot for us. It was not very salubrious, we seemed to be among a number of boats in a poor state of repair, much neglected. It was a fair walk to an ill ventilated toilet block which had cockroaches.
There is public access to the pontoons and car access also (through barriers). Security is via video surveillance. Charges seem to depend upon where you are in the marina i.e. whether you are metered for electricity or not. One nighters tend to be on the outside wall with no meters. We paid about 1600 ptas.
We did not see them but we were told that there are two supermarkets very close to. One is reportedly very good. The other is open 24 hours a day.
Radio Fax reception was OK but no RTTY. (38 miles)
More Meteorology
We were discovering an oddity of the sea breeze. On apparently good sea breeze days it was either non existent or very feeble. I put this down to the relatively near coast of north Africa. I suspect that the African sea breeze sucks all the air away from the Costa del Sol and prevents marked sea breezes on that coast. A similar effect occurs on the south coast of Jersey where the sea breeze forms but is then reversed by the sea breeze into the Bay of St Malo.
18 July
Left Benalmádena as soon as possible, destination originally Puerto Caleta de Vélez but telephoned ahead to find that the marina was full. As there seemed little swell, we decided to head for the anchorage at Nerja. We sailed for a little over three hours on the sea breeze but then had to motor for another three hours to get to the anchorage in sensible time for a swim and G and Ts. Nerja is one of the more civilised looking places on the Costa del Sol, quite delightful. But, even with a slight swell we used the flopper stopper to give us a comfortable (really, a less uncomfortable) night. (35 miles) !
19 July
Motril was the next port of call. Partly to see what a small Club Náutico had to offer. Partly because with the very light SW'ly it was just sailable i.e. 18 miles in about 8 hours with about one hour on the engine.
Motril is a working port and a large ship alongside nearby had generators running continuously, so it was hardly peaceful. Nevertheless, the club has much to offer with a swimming pool, a pleasant bar, good genuine Spanish cuisine. Loos and showers were clean but no hot water. Still, a hose on the pontoon is very effective and quite warm enough. An oddity was the electric sockets. The "live" and "neutral" were both live at 110 volts above ground giving 220 volts in total. This just blows our RCD and is unusable for us. (Real Club Náutico, Santander is the only other place we have found like this.) Curiously, a Swedish and a German Yacht had no problems. I cannot explain this.
Cost was about 1500 ptas all inc. (18 miles)
20 July
Although we would have like to have stayed, the need for a lavendia automatica, usable power supplies and promise of nearby shopping took us to Almerimar. With virtually no wind, and mainly on the nose, it was a motoring job in the main. By contrast to Benalmádena, Almerimar had plenty of space. Although purpose built, it is quite pleasant and a lot quieter than Benalmádena. At 1500 ptas a night all inc it is a good buy. Where in the UK or France can you get such a berth for under £6? They even apologised that we were at the bottom of a price band.
Like Benalmádena it is built in several basins. Our main problem is that being in among the surrounding flats it is a bit airless and hot at night. A berth just a few places further out could have been very pleasant. We had no Radio Fax or RTTY, not surprising considering the enclosed environment.
There was a small supermarket (alimentation style) near us and two others within the complex. Al Arbol (No 3 on the plan provided) was fairly well stocked with good meat and fish. (NB Supermarket No 4 on the plan was closed.) In addition, there are at least two bread shops, a fish shop, three chandlers, each fairly limited in stock but with a good range of useful items taken as a whole. There are hairdressers, various tourist shops, a bank and a laundry.
22 July
The wind had at last gone round to west so we had a pleasant little spinnaker run for most of the 21 miles to Almería. Here the marina is run by the Club de Mar housed in a most impressive looking building. The entrance to the marina is quite narrow, immediately to the east of large metal structure itself just east of Dique Levante. A large yacht in a strong wind found entry very difficult. In the end he anchored to the west of the Dique Levante.
Even without calling ahead, we were met by a marinero who showed us to a berth and took lines. It seems that visitors normally go bow (or stern) to the wall immediately to starboard upon turning into the marina. The marina looked very sheltered so we cannot understand the comments by CA members about swell getting in. (21 miles)
The club is very upmarket. There is a swimming pool (400 ptas per person per day, 1000 ptas for three people), a pleasant bar with outside but shaded seating and a restaurant. Ice can be bought from the club gateman. As suggested we visited the secretariat as soon as possible. It clearly is the right procedure although, when closed, the man on the club gate will deal with the minimal paperwork, take payment and provide a key for the good loos and showers. The club restaurant is franchised out but is excellent, if somewhat pricey for Spain.
At 1600 ptas a night, this was very good value.
Almería is a working town, not very touristy, and a welcome change from the resort type places seen so far. The Alcazaba a Moorish Fort) is certainly worth seeing. (Taxi there and walk back.)
We met Arno and Maureen, (German/New Zealand) in their Aphrodite 42, Tohora (the whale that took the first Maori settlers to New Zealand). They are on their way around the coast in the same direction as us.
The Costa Blanca
25 July
Leaving the Costa del Sol we chose San José as our first port of call with anchoring off in a fairly sheltered bay being the fall back. The wind, initially light increased around Cabo Gata to give a fast broad reach with the sea breeze effect. We got into San José - just. The harbour is a small one, visitors places are right at the entrance and the only vacant space was the first. This we overshot not seeing the marinero in time. Turning round in a confined space with the strong sea breeze blowing directly into the entrance caused some entertainment for the onlookers and some angst for us. The wind held up for much of the night.
With minimal facilities, only about 4 places for visitors in season, and a not very interesting place, the cost of 4,400 ptas was distinctly exorbitant. It would have been much more sensible to use the sheltered anchorage in the bay or that just to the west (Puerto Genovés). (22 miles)
Poor Radio Procedures
We have now heard R/T calls between ship and shore through all the Traffic Separation schemes from Off Casquets to Cabo Gata. Most strikingly, we continually heard shore stations calling ships on Ch 16. We have heard ships calling each other on Ch 16. We have heard ships calling shore stations on Ch 16. We have heard calls repeated in under a minute on many occasions and other examples of bad practice by professionals. Will DSC ever come into operation? Many of the ships that we heard must have had DSC radio equipment but nobody seemed to be using it. Ships in close proximity are not using Ch 13.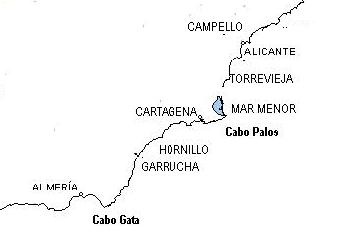 26 July
We left San José early with a force 2-3 SW. Concerned that the wind would again increase we hesitated to fly the spinnaker. He who hesitates ..... In fact the wind dropped away and, eventually, we had to fly the spinnaker until within spitting distance of Garrucha. After anchoring for a swim, we entered the harbour. A working port with a marina, Garrucha is a Spanish town as yet largely unspoilt by the package holiday trade. There is a nearby reasonable supermarket and a small but quite good produce, (good) fish and (good) meat market. The marina staff were not very helpful, others found them distinctly unhelpful. (33 miles)
We met Dick and Beverley (from Seattle, US) in Mistral, a 1976 Hallberg Rassy 33 (I do not know what was the model name). Dick and Beverley were in the twelfth year of a round the world venture and had spent 5 years in the Med. They were doing it on a shoestring, had had a great time but were now hot footing it back to the US.
28 July
A short sail took us to the bay of Puerto do Hornillo. We anchored on the east side of the bay and swam or generally lazed around. After the day trippers went, it was a delightfully quiet spot. The next bay - Cala Bardilla looked another good anchorage. The only possible drawback being a large fish farm structure right in the middle. Very obvious by day, the farm is lit at night. (19 miles)
29 July
From Hornillo to Cartagena is about 28 miles sea miles but the wind was right on the nose, F 3-4 initially, strengthening to 5-6. The tack out to sea was fairly fast but tacking to head for Cabo Tiñoso looked like bad news at first. A very lumpy sea made this tack very difficult and an anchorage south of the Cabo looked inevitable. However, the wind lifted us and the sea eased just enough. We made it on that tack to Cartagena. (38 miles)
Cartagena is absolutely rolling in history. It is just a pity that bygone city fathers did not realise the extent and value of the remains from the Phoenicians, Romans, Berbers etc.
The marina area, like many that we have seen is another building site, yet again with European money. The sailing club, with its magnificent new building, makes no attempt to welcome visitors. Toilet and shower facilities were sparse, one for each sex. The keys hang by the marinero's office (a very small prefab). You just collect a key on your way - and hope that it is there, if desperate. The gent's loo got blocked and the marble washstand was broken. There are insufficient power points on the main visitors pontoon. I counted 16 for over 30 boat slots. Ice had to be bought at a nearby restaurant and was expensive. We were not favourably impressed by Cartagena.
The cost was 1800 ptas a night,light dues are no longer payable.
The entry to Cartagena is very impressive. How ever did Drake get in there? Let alone get out again with the guns which he took to the West Indies?
(39 miles)
31 July
Shopping was not easy near to the marina. We walked some considerable distance to a Continente supermarket for a big (and very expensive) shop followed by a taxi ride back. We were glad to leave Cartagena for Tomás Maestre and Mar Menor. The wind was E to SE F 3-4 but increased to 4-5. This meant a beat to Cabo Palos making use of the wind bends round the headland. We sailed most of it using the engine for the last half hour as the wind dropped and headed us a little.
After Cabo Palos it was a fast reach for the remaining 7 miles into the nice quiet anchorage in the outer harbour.
The amendment in Supplement 1 to the Pilot implies that the Baliza Poniente has been replaced by a tower on the Dique Sur. As far as we could see there is a concrete tower (more a large pole really) in the place shown on the charts as the Baliza Poniente and no light on the Dique Sur which we take to be the "low breakwater". (29 miles)
The following morning we entered Mar Menor via the swing bridge (the warning about strong currents in the canal should be heeded) and motored over to Isla Perdiguera, for another anchorage off a beach used by local sailors and motor boaters. Mar Menor has many jellyfish and is quite dangerous for swimming. At the anchorage there is a netted swimming area, nearly jellyfish free. Also, there seemed to be fewer of the creatures around the anchorage.
If we ignored the high rise buildings on the sand spit, we felt almost like being on a Caribbean anchorage.
We can now receive Offenbach RTTY. Starting to think about weather further north, it is very clear that the Deutscher Wetterdienst 5 day spot forecasts for the Golfe du Lions, the Balearics and the Ligurian Sea would give useful early warning of Mistral, Tramontana and Maestral conditions. For several days ahead, I would not like to take the forecasts too literally. They should not be taken as necessarily applicable to the whole area. They would , however, be useful warning of when to keep a weather eye on the shorter term Navtex, VHF and Monaco SSB broadcasts. (6 miles)
3 August
A gentle sail, part motor sail to Torrevieja which is very much a yachtsman's marina. Although not very inspiring, the town is pleasant enough and rather quiet, the holiday/high rise type accommodation being sufficiently far away. The marina is well run with very helpful marineros. They needed to be since there was little manoeuvring space and we needed help arriving and leaving. There are good loos and showers, ice from the marineros, restaurants (one quite high class) on site, and two chandlers right by the Marina (the better one owned and staffed by UK ex-pats). (21 miles)
It is still possible to anchor in the harbour but we were informed that the holding can be unreliable. Long stay people sometimes put down ground tackle.
The nearby covered market is air conditioned and excellent. The very good Mercadona supermarket is walkable although you do need a trolley but there is a smaller supermarket nearer and a Carrefour a bus or taxi ride away.
A resident liveaboard has very good radio equipment and an array of aerials on his yacht (mast down, clearly long stay). He seems to get better RTTY than I do, with less interference. I cannot decide whether my reception problems are the aerial or the set.
We liked Torrevieja, especially since we met Tohora again. Cost about 2000 ptas.
6 August
The wind was ENE F 4 giving a beat to Alicante. The initial tack, some 10 miles out to sea got us out of the rather rough water inshore. The next tack was not good initially but the sea breeze effect set in to lift us clear of Isla Tabarca. Then it was a nice freeing wind. (39 miles)
Alicante had the obligatory new marina building but more resplendent than anywhere so far seen. The whole was very efficient and well run. There are good showers and loos in the Capitania plus two DIY washing machines. The two chandlers on site are a little limited but there is an excellent chandlers at the yacht club - a longish walk or take the dinghy across.
The town was far nicer than we expected, despite all the package holiday people. The covered market is excellent and there are supermarkets (Mercadona and Cortés Inglés) all walkable if you are reasonably fit. Take the trolley!
Here, again, we met Tohora. Cost was a bit higher than of late - 2800 ptas.
We began to realise that we must think seriously about a harbour for the Winter. Arno and Maureen mentioned Barcelona which we had not considered seriously to date. For family reasons, any further (e.g. Port Napoleon) would seem out of the question. We telephoned and then faxed Port Vell at Barcelona and got a berth organised. Port Vell is very central, near to airport buses, has good shops etc. The only drawback is that they have no lift out facilities. However, Ports Olimpico or Ginesta, not far away, do have liftouts and, we understand, are not expensive.
10 August
With little wind this was a motoring job for the 10 miles or so to Puerto Campello. This is a Yacht Club marina, fairly small but excellent. Good loos and showers, ice from the bar, good repair facilities although only rather limited chandlers. There is an excellent, small supermarket very near that includes a superb wine cellar. A little further there is the obligatory Mercadona. Apart from two fish shops we did not see much else for food.
The club restaurant is very good and there are many other eating establishments.
As we seemed to be at the bottom end of a price band it was not cheap for us at about 2800 ptas for 10.3 m. A yacht 11.95 m might have thought differently!
(10 miles)
12 August
Initial ideas were just to go as far as Villajoyosa. However, the wind was a good broad reach so we decided on Altea. Then it went wrong. The wind dropped and then came almost on the nose at a top F 4. We passed Benidorm which looked as bad as we had always imagined. A beach holiday there must be like being on Broadway or 5th Avenue.
Then, Altea was full so on to Calpe, also full but with a good anchorage outside, once all the day trippers had gone home. Here we had our first real experience of great numbers of inconsiderate motor boaters, water skiers and jet skiers who seemed to think it fun or, perhaps, just normal practice to make those moored yachts roll violently. (30 miles)
13 August
The bay at Calpe must have been lovely before the developers got there. The marina is right under a mini Rock of Gibraltar - very impressive. It is also, probably very hot as a result. It was still full on the following morning. Needing washing facilities and some shopping, we called Altea and found they had a space - so back it was. (7 miles)
Is There Anyone Out There?
On this passage we heard a Pan Pan relayed by Alicante Radio, followed by a Mayday on behalf of a yacht on fire with 10 people on board. The location was the southern end of Alicante Bay - way out of our reach in sensible time. Even though it was a Sunday in August and there must have been many pleasure vessels near, there was not one reply offering assistance other than from ships on passage and all too far away. Was anyone, other than us (also too far away) maintaining a listening watch?
Altea is a lovely town, perhaps the nicest along the coast since Rota. The marina is excellent with DIY washing machines, good loos and showers and helpful marineros. There is now a Mercadona very near and a market (Tuesdays only?) in the town. Getting costlier at 3800 ptas (still only £15 in UK money, we reassure ourselves).
Here we met HR42 owners Maurice and Terry who have a house at Altea and keep their boat there. We had afternoon tea aboard Aloha, all very civilised. Maurice kindly gave us a standing invitation to ask help if we ever had any problems whilst they were inresidence.
15 August
We had heard that Moraira was worth a visit so a short sail, one tack got us there. The marina was full but we had intended anchoring anyway. The anchorage is very good although the swimming area off El Rinconet has taken a fair amount of space. We found a reasonable spot but by early evening could have moved almost anywhere. We had two nice lazy days there swimming, reading, writing etc. There is a small supermarket near the beach and ice from the shop next door so there really is no need to go into town except for fresh meat. Moraira itself did not strike us as very interesting. Nor did the shopping seem to be particularly good. (12 miles)
18 August
The day of disasters - as usual, troubles came in threes. First, early in the morning we realised that we had filled the holding tank and had to get out to sea quickly to empty it. While doing so it became painfully obvious that the last pump of the heads had flooded the holding tank air filter. That meant an unpleasant job later.
We then sailed round to Ensenada de Jávea looking for a daytime anchorage. Probably we should have used the one off Isla del Portichol but it seemed a little rolly. The anchorage just east of the harbour wall would have meant going very close in to get a sensible anchoring depth. We should have used it nonetheless. We finished up off the swimming area outside Cala de la Fontana. This was fine except for the incessant stream of motor boats that seemed to think that we were a mark of a course. Rock and roll was the order of the day over lunch and our swims.
The second trouble was after we had left the anchorage. We motored off with nothing untoward, cut the engine, sailed across the bay rather slowly, around Cabo de San Antonio. We called Dénia to check that there was a berth as promised. Going rather slowly we decided to hoist the mechanical topsail. The engine started. Gear was engaged but no forward movement! A check down below confirmed that the prop shaft was turning. A look under the boat from the stern ladder confirmed our worst suspicions. No propeller! We had inspected it underwater at Moraira and not been aware of any problem or anything untoward. I had even cleaned off a few barnacles and, in doing so, had handled the blades quite firmly. Great mystery. A call to Dénia got a small boat organised to meet us in the harbour (the wind having increased again) and get us to a berth. That same evening an engineer arrived and arrangements put in hand for a lift out to check for any damage to the shaft, sizes and taper etc. It was, of course, a Friday evening and no hope of any action before Monday. Never mind, we had planned to stay at Dénia for two weeks or so with elder son, his family and Margaret's husband, Curt. In the circumstances, we had chosen the best possible place to lose a prop. (16 miles)
The third trouble that day? This came to light when I tried to use the laptop. It had crashed and my back up discs were a few days old leaving me to reconstruct several days of my computerised log. Will I never learn?
Dénia, at least the new marina and yacht club end, is quite a good place to be. The north end is a jungle of holiday flats, cheap restaurants, funfairs and so on. Near the marina are two small supermarkets. Further away, in the town there are a fish market (evenings only and, we found, expensive), a daily covered market, several medium size supermarkets and other small shops. There is a large Mercadona in the town - walkable with moderate determination.
The new marina is still very much under development but has many good points already.Ice is available at the marina fuel berth. Security was pretty good, with marineros and security guards always on site. There will be building work in progress at the new marina over the next two years. At present the showers and loos are in Portacabins, water very hot and well kept, The marina fuel berth has 4 metres. Water on the pontoons is potable.
Cost was about 3000 ptas a day. We were told that the Yacht Club Marina would have been much more expensive.
Monday morning - lift and hold for the engineer to check prop shaft condition, size, taper etc. Wednesday - told new prop has arrived. Lift out to be organised at Yacht Club. Thursday afternoon - lift out. Find prop is wrong (problem with pitch of thread on prop shaft) and have to stay on hard overnight. At least we get a different view and any breeze that is going at night. We also polished the topsides and serviced the heads sea cock. Friday late morning new prop fitted. Back in Friday afternoon - seems OK..
Arno and Maureen had to return home to the UK leaving Tohora for a couple of weeks. Will we see them again?
For a commissioning sail with the new prop, we took the grandchildren to Cala Sardinera. A run there during the morning, then a run back with the sea breeze late afternoon. Up to 7.5 kn under spinnaker alone. Cala Sardinera is a popular day time anchorage. Near the shore there were some large rocks. Judging by the number of yachts and motor boats there are few anchoring problems. The under water rocks mentioned in the Pilot are probably all close in around the sides and deep into the bay.
Another day with the family was to the anchorage off the Playa de Portichol. Very pleasant but a bit rolly, it is unlikely to be other than a day time stop.
(Day sailing - 34 miles)
With the children we visited the waterfalls at Font del Agur for a refreshing swim in fresh water and to explore the stream (we had to swim to get up some stretches). We then went on to the hilltop town, Guadalest. Both are good excursions.
Yet More Meteorology
Wanting shortly to go further north we are taking great interest in the Offenbach RTTY forecasts for 5 days ahead. Their (28 August) Monday forecast predicted a Mistral on Thursday - which did occur. The Tuesday forecast had the Mistral weakening over the Golfe du Lion on Saturday with the winds over the Balearics becoming westerly on Sunday. By Saturday, the Offenbach forecast was keeping the Mistral until Wednesday and winds for the Balearics generally E-NE F 2-5.
Having been here for two weeks we had ample time to observe the sea breeze behaviour. Almost regardless of the morning wind, the sea breeze usually set in around mid afternoon, typically after about 1600 or 1700 local time. However, in terms of "God's" time (i.e. GMT) this is only about 1400 or 1500 hours, 2 or 3 hours after solar noon. This may seem late by UK standards, but the sea is very warm and the land has to get hot to create the required pressure gradient.
Sometimes the breeze lasts for an two or three hours and reaches a good F 6 or even 7. The effect of Cabo San Antonio is quite important in strengthening the breeze locally. At other times it dies out fairly quickly and only just gets to a F 4. There seems no way to know which will occur.
The Costa del Azahar
3 September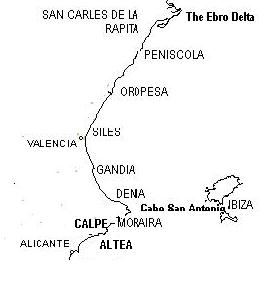 Family having returned home, on our way again with a gentle little sail to Gandia where the marina is run by the Club Náutico housed in a 1970's building that looks a little like late 30's. The wind was a very gentle ESE but increased as we anchored outside Gandia for a swim and increased further once we were inside. Again, the sea breeze really got going at about 1600 or 1700 local time and got quite strong, probably up to a F 5 or 6.
That night we had some very heavy thundery showers, the first rain since leaving Audierne three months earlier. At last, the mast and rigging look clean!
The club has good showers/toilets, ice at the reception, swimming pool (free) and a good inexpensive restaurant. There are sufficient shops nearby (one reasonable supermarket, an alimentations, meat, fish, bread, fruit/vegetables). The area near the club is touristy and grotty. Gandia, itself, seemed to have little of interest, except for the palace of the Borgias.
About 3800 ptas. (17 miles)
5 September
Initially we decided to go to Valencia but the Yacht Club marina is a long way from shops and other facilities. The sea breeze filled in around 1500 LT so we went on to Siles. At Siles the marina seemed to be in liquidation. We only paid 2516 ptas for three nights! But we had 30 days to go to a bank to pay the money into the Provincial Government Department for Urbanisme and Transport bank account!
Siles (better known locally as Canet), like many places that we have seen, is being developed but , in this case, in a very well planned and restrained manner. Any really high rise buildings are set well back, there is a delightful promenade along an extremely good, sandy beach. It is pleasant and quiet now and, hopefully, will be in the future.
Shopping is limited with only one small supermarket nearby but Sagunto is only a short bus ride away. In season the Puerto Sagunto - Valencia bus service is extended to Canet. Out of season, either a bus to Puerto Sagunto (a longish walk to the bus stop) or walk (about the same distance) to Puerto Sagunto. Valencia (or, at least, the old part) is a very fine city, one of the most pleasant we have ever seen. We had an excellent meal (inexpensive) at a restaurant recommended by the Tourist Office. The central covered market was the largest and best ever, in a fantastic building. All building renovation work in the city centre has been done well and sympathetically. (40 miles)
9 September
The wind started NE F 3-4, Burriana or Castellón de la Plana were the immediate possibilities. However, the usual sea breeze effect developed and Puerto Oropesa de Mar became the target. Apart from some light and flukies off Castellón, all went well. Oropesa responded to my call in good English and a berth was organised when some 5 miles or so off. Contrary to the Pilot, the marina is just to the south of Cabo Oropesa.
Apart from the main line trains this is a quiet port with a small sandy beach. It is a longish but easy walk to the town for a Consum Supermarket and, a little nearer, a Spar. The plus is that the railway and the hill have prevented development near the marina. At the marina there is a limited chandlery, and a small store that sells beer, a few wines, bread and a few tins. Maybe a little more in season.
Cost 3400 ptas. (28 miles)
The Costa Dorada
10 September
Another light wind sail to Peñiscola to one of the few anchorages on this coast. Just off the Espigon, theholding was good in mud (not sand), for the first time in the Med the anchor bit at the first asking. Depths seemed a little less than on the chartlet in the Pilot. We probably should have gone ashore.
(21 miles)
11 September
Yet another quiet but not tediously slow sail to Sant Carles de la Rápita, on the south side of the Ebro Delta. On entry, there is now a control tower by the fuel berth on the Muelle Poniente. We checked in here. There are very good showers and loos and moderate meals at the club restaurant.
This is a very busy fishing port with one of the largest fleets that we have seen anywhere from San Sebastian round to here. Although a popular holiday resort, it is a fairly non-touristy town with no high rise buildings and the larger ones set fairly well back. There are several small supermarkets (2 Spars) and a good covered market very close to the marina. Two larger supermarkets are within easy walking distance.
For the second time on this trip we had odd electrics - i.e. we measured 130 volts between "live" and earth, and 130 volts between "neutral" and earth, therefore 260 volts AC between "live" and "neutral".Is this a two phase supply? It tripped my RCD and, again, I could not use the shore power.
Cost 3200 ptas. (18 miles)
13 September
The passage around the ill-famed Ebro Delta was uneventful. With calm winds we motored for 4 ½ hours then sailed gently past Cabo Tortosa to an anchorage, Ensa de Cartapacio, just to the south of Ampolla. Nearly 37 miles logged but only about 13 miles from our starting point as the crow flies across the Delta. Here the plough anchor just seemed to bounce across what felt like very hard sand. We tried the Fortress which held at the first asking and felt really secure.
(37 miles)
14 September
A half mile or so motor into Ampolla for shopping. Ampolla is a yacht club marina with a good restaurant, good loos and showers. There are a few small shops nearby. Cost was 4100 ptas.
Charts show shellfish beds between Ampolla and Cabo Tortosa. We saw many buoys in lines out to about 7 miles E of Ampolla. These probably mark the beds. It seemed safe to pass between the buoys although we did go outside all. At night it could be a little stressful.
15 September
A frustrating sail which started as a light wind beat, became an even lighter wind spinnaker run as the sea breeze caused the usual veer, then a virtual calm and two hours motoring to Cambrils. Here the proposed new yacht harbour has not come into being. Anchoring in the harbour, as shown in the Pilot did not seem to be an easy or obvious option. You would certainly feel very vulnerable to vessels leaving at night. The anchoring area is smaller than shown in the Pilot and there were boats moored all around it. (26 miles)
The marina is quite large and it was a fair old hike to get to the very good showers and toilets. Rather curiously, the club seemed to close down or go very quiet in the evening with no restaurant.
The town, itself, has by far the best collection of all types of shop that we have so far seen anywhere in Spain, apart from major cities. These include fish, meat, vegetable, bread and patisseries, clothes etc. plus a small but good produce market, a Mercadona supermarket and a Spar all very near to the marina. It is just a pity that the marina is not cheap as promised in the pilot (5800 ptas a night - the record, by far to date).
17 September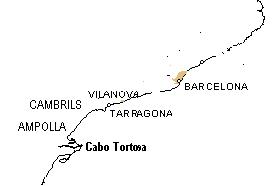 Before leaving Cambrils, we had our first day time rain since leaving France. Sadly, it was not enough to give the sails the washing that they really need.
The short sail to Tarragona was initially a brisk beat in a wind that increased to a SE F 4-5. After Cabo Salou we were able to bear off towards the yellow pillar buoy (according to the Pilot) which turned out to be a substantial yellow platform. We called the marina on Ch 9 and got an instant response in English. Entering the marina in a big swell would be difficult, we rolled a good deal in a swell only a little over one metre. With a big swell it might even be necessary to go into the old harbour (this is only possible under stress of weather or other major problem).(14 miles)
We subsequently found that the Club Náutico had not been in the old harbour for the past four years. Furthermore, there is a lifting bridge that, unless open, would make entry to the old Club area impossible for yachts. The Pilot makes conflicting statements and the Imray 1999/2000 Almanac is badly in error in indicating that it is possible to use the old Club Náutico. The marina said that they had informed the publishers.
Tarragona is a fine and interesting city for a day or two sightseeing. There are plenty of food, other shops and a market all near to the marina. The Club Náutico, now at the marina has a swimming pool. Temporary club membership is on production of the marina receipt. Cost was 4060 ptas.
19 September
After early morning rain, we set out for Vilanova with a wind that varied from a nice brisk E'ly to virtually nothing then to another brisk F5 SW just before entering the harbour.
A New Light House?
On the way we observed a new (presumably) light house on Cabo Gros, just to the south of Puerto de Torredembarra. It is not on the chart, in the Pilot nor in either the Imray Almanac or in the French Livre de Bord. It is some 60 m high (my guess), white with a black top and lantern. It could be seen very clearly from just outside Tarragona (about 7½ miles). Only seeing it by day, we do not know what are the light characteristics.
Another, less important, correction to the Pilot is the distance of Vilanova from the power station which is nearer 4 than the 2½ miles quoted. Approaching from the south it is not easy to see the Vilanova light house by day. It may be a little more visible from the north.
Vilanova marina is fairly large, it has an easy entrance, nearly all weather. Showers and toilets are excellent and ample in number (rare on these coasts). The town is not particularly appealing although there is a excellent market a gentle but not short stroll away. Nearer are several small supermarkets. The sea front, however, is very good. Buildings are well set back, the beach looks good and clean, any high rise buildings are well away from view.
At 3600 ptas, we are slowly returning to reasonable prices. (24 miles)
Meteorology Again
Along the Costa del Azahar and the Costa Dorada going northwards it seemed to pay to leave early to mid morning even though the wind was not particularly favourable. The sea breeze on most days often led to a light spell but then it would come in on a broad reach/run. Theory says that sea breezes veer. Experience confirmed the theory. Going south would be a different matter. Probably it would be necessary to make a very early start, make the most of the land breeze and hope to find a suitable port or anchorage before the sea breeze got going.
21 September
We had decided to stay here for another day and that was as well because the port was blockaded by fishermen as part of the great outcry against fuel tax. We check with Port Vell to find that Barcelona is now open.
22 September
Blockade lifted, so leave Vilanova for Barcelona, Port Vell at 0900 LT. The wind started light NNE, dropped and then came in from the sea breeze direction, still very gentle to give us our last spinnaker run of the trip. We just hoped that Barcelona would remain open, otherwise it would have to be Port Olimpico, just outside the main harbour. We were told that Vilanova was to be blockaded again on Saturday, so, perhaps, they might co-ordinate action and close both at the same time.
In the event, no problems, we got in to the harbour and the marina with no hassle, the marina looks good, the only problem being what seemed like a mile walk round to the Marina Office. Perhaps it was just the heat. (23 miles)
There are some truly amazing motor boats and yachts here. Some are virtually small cruise liners. On Saturday we started trying to arrange passages back to the UK. However, not only is it a weekend, but it is the Barcelona Fiesta, la Mercé. One (English) travel agent will not be open until Wednesday. Another cannot provide information on the Santander-Plymouth ferries, but advises us to go to Cortés Inglés. It seems that ferries are out because of the rather long, tedious journey to Santander. Flight to Heathrow or Gatwick it will have to be. On Tuesday we booked flights to Heathrow.
La Mercé is a big, noisy affair with concerts, pop music festivals, swimming in the harbour (a 2 mile race), air displays, folk dancing, many other events including, of course, the inevitable and excellent firework displays.
Barcelona is a fine city with many impressive buildings. For 2000 ptas for one day (or 2500 for use on two consecutive days) you can have unlimited travel on two tourist bus routes. Get off and on as you wish. It is an excellent way to see the sights.
Near the marina there is a produce market, a small supermarket and various other small shops. However, the main market in the Rambla is far larger and much better. It really is worth the longer walk.
At Marina 92, a short walk away, there is a very comprehensive general chandlery cum engine spares (Volvo agent), a specialist paint shop, sail makers, sail laundry, life raft servicing, engine and outboard servicing etc. For rope, wire and rigging in general, Livemar, Ample 35 (SW from Post Office) is excellent.
We are getting confusing noise about Calor Gas refilling in Spain. Some people have said that it is no longer allowed to get your bottle refilled - as from 1 July 2000. We got ours refilled at Estepona on !8 July. I must check with Calor Gas in the UK.
After very heavy thundery rain a great deal of garbage got washed into the marina as well as what smelt like raw sewage. We informed the marina staff who said that this should not happen - they would report to the relevant authorities. There is also a problem with the drains in parts of Barcelona. It may have been because of the dry weather.
Port Olimpico may be a functional marina and OK for a liftout. However, it is not very appealing. For the Spring liftout (anti fouling etc.) we may go to Ginesta or to Vilanova. Our neighbours for a couple of nights at Port Vell were Jaime and Margarita, who live in Barcelona but keep their Beneteau 317 at Vilanova. They have kindly offered to keep an eye on Anhinga. They also spoke to a boatyard at Vilanova re costs of liftout etc.
A sad, sour moment in Barcelona was Margaret having her purse stolen while getting on the tourist bus. It was a very professional job, we think that three people were involved. The scout, a young lady at the bus stop who kept getting up and going behind the bus shelter to make phone calls on her mobile. There were two young men, one created a diversion while the other opened two zips on Margaret's hand bag and took her purse. Luckily there was not much cash. We stopped the cards very quickly. We live and learn, but will it be different next time? I doubt it.
Anhinga has been put to bed. A taxi has been booked for the morning. All that remains now is to plan for next year....................
PS - While waiting at the coach station at Heathrow for the bus to Paignton, there were two instances of people having their pockets picked. Perhaps Barcelona is just like any big city.
Summary for the trip
Total mileage since leaving Dartmouth 1974
Total hours motoring since Dartmouth 122
Days from leaving Dartmouth to Barcelona 137
Number of Ports and overnight anchorages 49
Number of nights on passage 4
Number of nights at anchor 11
Number of nights in port 122
Between Dartmouth and Barcelona mooring fees were a little under £800 (just over £6 a night on average).. The cost of 6 months at Barcelona is about £805.
---
---
NOTE
The above makes no attempt at being a work of literature. It is a purely factual account of what we did and some of the attractions/problems encountered. (An everyday story of sailing folk?) It may be of some interest to others wishing to sail in the area. Of course, what we like and dislike may be different from other people. Situations change and someone else may get different impressions. More detailed comments can be found in notes on ports and anchorages over the whole of the Mediterranean, submitted to the CA by members.
---
---