On this page
A straightforward, day to day account of what we have done during the current year's cruise. What we found may help others.
----
Why did we do this trip? First, we wanted to see the Gulf of Genoa which we had previously bypassed. Secondly, we wanted to visit Florence again and see more of Italy. Thirdly, we wanted to winter Anhinga out of the water and we had heard that Fertilia, just outside Alghero had good steel cradles and is very safe.
There are many places in the Western Mediterranean where we would not like to leave a boat ashore because of storms. We did not achieve our second objective partly because of taking rather longer in the early part of the trip. It also became a very hot year and sightseeing ashore would have been bad news In any case, we do like Sardinia and had a great time in the Maddalenas, a truly superb sailing area. Due to the Bonifacio Strait, there is often a good wind that verges on the exotic at times and plenty of good anchorages which, almost without exception, are scenically delightful. Not surprisingly, sailing schools abound.
Date

Log

Miles

Nights

Eur
Night

Total Eur

Port

Anchor or Buoy

Apr 26 to May 2

Port Vell, Barcelona, fitting out. Fit new RCD electricity box.

6

12. 75

76. 5

May 2 to 6

Port Olimpic, Barcelona for lift out. Cost for lift out and in Eur 123 total. Very noisy at night with night club noise midnight to 0500. Yard helpful and pleasant but rather small and crowded. Very dusty for painting.

4

19. 4

77. 7

May 6 to 10

Port Vell for washing, cleaning boat (necessary after Port Olimpic), provisioning. Last chance to buy cheap gin for a while. Ditto, beer.

4

12. 75

50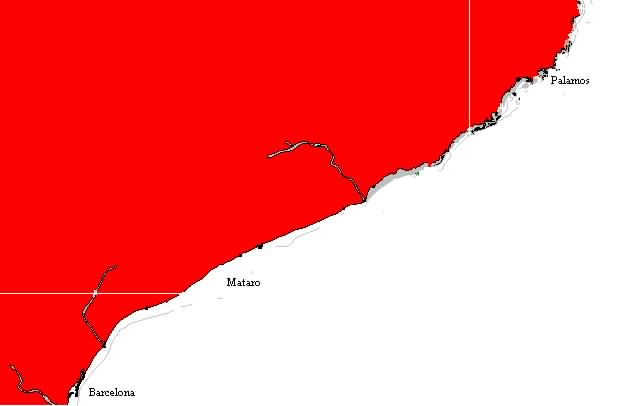 Date

Log

Miles

Nights

Eur
Night

Total Eur

Port

Anchor or Buoy

May 10

To Mataró with very light wind. About 4 ½ hours for 15 miles. Mataró very helpful, replied instantly to call on Ch 9. Little English but minimal Spanish helps An unexciting town but with everything that you need. Good supermarket quite close and an excellent market further away. At the marina - several toilets/showers, chandlers, ATM etc.

15

1

26. 4

26. 4

May 11

Mainly motoring to Palamós. Seemed as dreary a town as last time we were here. Showers not very good and out of action following morning.

37

1

25

25

May 12 to 13

Marginal forecast for Golfe du Lion - NW 4-6 becoming SW 3-5 then NW 4-6 with "menace de grand frais or coup de vent" later on Tuesday (13th). Option was to remain in Palamós but DWD and US GRIB forecasts indicated Mistral winds for next few days.
Not liking Palamós, took the plunge. After light winds for 11 ½ hours we got winds as forecast - even the grand frais. Two then three reefs, and the storm jib saw us to Sanary sur Mer without too much bother.

141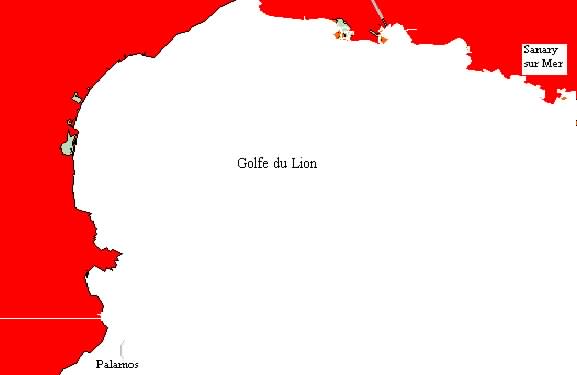 Date

Log

Miles

Nights

Eur
Night

Total Eur

Port

Anchor or Buoy

May 13 to 16

New harbourmaster at Sanary sur Mer, speaks excellent English (2 years secondment to US navy). Showers still limited - 2 Eur for access to the (only one) family shower room. Nearby public loos, closed overnight.
Sanary a delightful place and well worth a return visit. A good place to be mistral bound. Daily market and big market on Wednesdays. An easy place in which to stay too long.
A first for us in France was to see aircraft practising picking up water in the bay by Sanary. Last seen near Ajaccio - les Canadairs.

3

13

40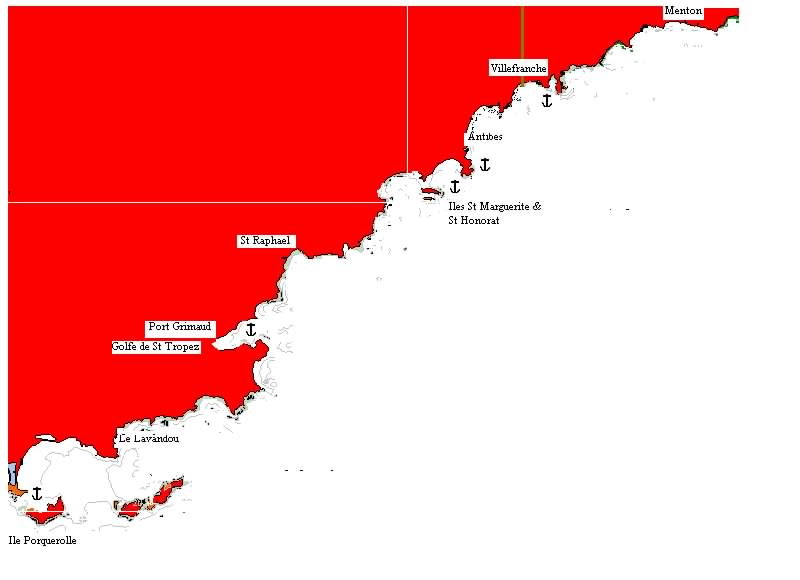 Date

Log

Miles

Nights

Eur
Night

Total Eur

Port

Anchor or Buoy

May 16

A slow sail, beating, (eventually had to use un coup de moteur) to an anchorage off Ile Porquerolles. Had an adverse current of about 1 to 1. 2 knot around Cap Sicie. The CQR would not set, tried the Fortress which also did not set - until the skipper realised that he had constructed it incorrectly. Red face day.

33

1

May 17

A dull day with a little rain and little wind - NW rather than the promised SW - but very light. Just about managed to spinnaker for 8 ½ miles then motored the rest to le Lavandou.
Here the marina is surrounded by fairly tatty restaurants and boutiques. However, just a short walk away is le Lavandou village which is delightful and very Provençale. Several good boucherie/traiteurs, boulangeries, a small Casino supermarket and many very enticing restaurants. For the ladies there are some good looking dress shops/boutiques.
Having used Bormes-les-Mimosa previously, le Lavandou, as a place, is far superior. The downside is the cost - a little higher than Bormes but Eur 1.9 for a shower and Eur 0.32 just to go to the loo. Spending a penny takes on a whole new meaning. Showers were free at Bormes.

12

1

22. 5

22. 5

May 18

A brisk sail from le Lavandou to Anse des Canébieres, just outside St Tropez. A (forecast) W 3 - 4 increasing locally 5 became a 4 - 5 increasing to 6 with a touch of 7. An exciting run with several gybes. The wind died as we rounded Cap de St Tropez and came back from the NE - a sea breeze, presumably. Good holding in the anchorage which rapidly depopulated as G & T time approached.
Despite a gentle swing as the wind died and shifted, we managed to use the satellite radio to hear the original Under Milkwood. Richard Burton at his best.

24

1

May 19 to 21

Strong winds being forecast decided to try Port Grimaud. A fascinating pseudo Provençale village, but good pseudo. A sort of Port Meirion with yachts. Marina costs are not exorbitant but food in the local shops was horrendous. A poulet roti, Eur 6 in Sanary sur Mer (and Eur 4 at Jávea, Spain) was Eur 15 here. Better was at the nearby les Virines du Soleil at a rotisserie where the price dropped to Eur 7.5. There is a good boulangerie here and a vegetable stall. Come and enjoy a day ot two at Port Grimaud but stock up well first.
Showers in the Port Grimaud central marina area (le Lac Intérieur) were controlled by a Madame and cost Eur 3.30 with toilets at 60 cents. However, back at the Capitainerie a shower was Eur 2 with sharing possible and loos free, thus encouraging the crew to exercise.
The mistral was strong even in the port giving a noisy day and night.

3

2

20

40. 5

May 21 to 22

Despite forecasts of moderation and the wind dropping off overnight, the day started with a brisk wind, marginal for leaving and very gusty to give a very confused sea. However, the wind obeyed instructions from Météo France and obligingly let us leave shortly after midday.
On the short passage the wind switched from a fairly brisk NW to a sea breeze SE. Worryingly, CROSS broadcast a gale warning for many areas from Languedoc-Roussillon to St Raphaël. This was completely out of keeping with all the forecasts that we heard before and after. I think that it must have been an old warning picked up in error by CROSSMED.
St Raphaël, (Marina Santa-Lucia) was pretty full but they took considerable trouble to find us a place for two nights and, possibly a third.
Santa-Lucia is large and well organised. There are good restaurants, chandlers, croissanteries and, above all, an excellent (but not cheap) Spar supermarket with a very good delicatessen counter. Some of the staff in the marina office have very good English, others none at all.

12

2

26

52

May 23

Left St Raphaël late morning to get the sea breeze to the Iles de Lérins just south of Cannes. Very pleasant anchorage north of Ile St-Honorat. Many boats there when we arrived but most left by evening.

14

1

May 24

Hoped to be able to get into Antibes - just to see this famous watering hole. A slow sail, beat to a very light E wind, motored around Cap d'Antibes. No room at the inn. Anchored in Anse de la Garoupe, 2 M south of Antibes. Full of weekenders.
The sea breeze did not set in to any marked extent so stayed the night.

7

1

May 25

After a very light wind yesterday, This was a nice fine reach to Anse de Villefranche in a wind that gradually increased to a good top F4. Anse de Villefranche was fairly full on arrival but rapidly thinned out towards evening. With a NE 5 forecast overnight we tucked into the anchorage in Anse de l'Espalmador as soon as the day boats departed. Further out we had been swinging violently.
Worryingly, CROSS forecast in the morning was for winds increasing NE F5, the midday forecast said up to F6 au large. The evening one (at 2003) said up to F7, a bit late to do much other than hope.

13

1

May 26 to 27

At about 0415, after the wind had increased markedly, we set an anchor watch just in time as we began to drag at 0430. Got up the hook after much effort. Looked at all the possible areas, none seemed very satisfactory. As dawn was breaking we went into Villefranche and tied up to a grockle boat (a welcome sight for once). A disabled motor boat and its rescuer were using the fuel berth.
Great excitement as there was a yacht on fire in the marina with fire crews in attendance. At about 0800, we were wakened - the grockle boat had to leave - toute suite, monsieur, cinq minutes!
Got a berth when the Capitainerie opened. This was on Pontoon D which is a very solid quay. There was a most impressive surge into the harbour and, being on the seaward side, it was exciting to get on and off the boat.
Provisioning in the town is limited but adequate. The Internet access at the Capitainerie is very unfriendly with a keyboard unlike any other known to (this) man.
(Later we met several others who had dragged that night. Most agreed that it was due to the excessive swinging as the wind came round the hills from all directions.)

2

26. 2

56. 4

May 28 to 30

While re-fuelling at Villefranche, we were hailed by Réné and Dani Legal, two deaf French sailors we had met in Valencia - last September. They were just leaving in their Dehler 35, Keranna.
Motored to Menton-Garavan in zero wind. Menton is a helpful marina with good toilets and showers. A good, well stocked supermarket very close - right by the western end of the marina. . Good shopping in a delightful old town.

13

2

19. 5

39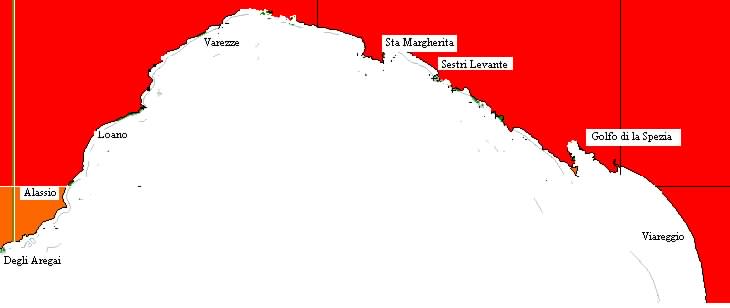 Date

Log

Miles

Nights

Eur
Night

Total Eur

Port

Anchor or Buoy

May 30

Little wind. Motored to Marina degli Aregai (NB longitude is 7 deg 55,2'E and not 7 deg 58' as in Pilot). My halting Italian seemed to work on the VHF. Helpful, multilingual lady in Capitaineria. Curious electric plugs. Huge, and an intelligence test to connect to your own wire.
A good chandlers right by the marina sold us a piece of carpet for the foredeck when in harbour..

19

1

17. 6

17. 6

May 31

A very slow sail (3 miles in 3 hours) then the sea breeze set in very late. Thought about anchoring south of Diano Marina or north of Andora but the wind was good and we went on to Alassio. Again, halting Italian was answered promptly. Helpful on entering and in the office, little English but with a modicum of French and a little Italian all was well. Just to check your navigation, they have painted the name on the rock face around the marina.

16

1

13. 9

13. 9

June 1

Walked into the town. Pleasant and well kept.
A late start after lunch in the marina. Then we saw all the local boats anchoring off Isla Gallinara - where we should have been. A very gentle sea breeze and the spinnaker got us very slowly the very short distance to Loano. Again very helpful on entry. Well sheltered.
Electric plugs same as Aregai, am getting quick at the rewiring.
A very pleasant and well kept town. Visited the caves at nearby Toirano. Well worth it, fantastic stalactites and stalagmites. Good value (Eur 7 for OAPs, 1.10 on the bus.
The marina works have not yet been completed and are now expected (more in hope than anger) to be late in 2005

7

3

19

57

June 4

Another slow sail, with a brief sea breeze late afternoon, to the anchorage off Varezze. Not the most picturesque especially as they are doing work - probably to enlarge he marina. For the record, there is now an apparently large supermarket about 5 minutes walk from the marina. Did not go ashore.

17

1

June 5

Part motor part sail past Genoa to the anchorage off Santa Margherita. When the sea breeze came it did all the right things - set in onshore then veered to SSW. Past Genoa, the wind dropped then came back from the east. Probably, the Genoa heating pulling in air from both directions and the wind being forced along the coast by the hills between Genoa and the Santa Margherita peninsula.
We had no response from Santa Margherita to calls in Italian or English. On arrival we were turned away, rudely, from the marina - they were not taking any boats for 3 days! There were plenty of spare slots on the quay. There was no attempt at an explanation in English or Italian.
All became clear the following day, when we were departing the anchorage at about 1330, boats were arriving obviously having booked for a regatta over the weekend. Nevertheless, we could have spent the night there and left by noon.
The whole impression was unfriendly and unhelpful. Our somewhat jaundiced view was borne out by a professional skipper who said that Santa Margherita had a bad reputation for high handed and unhelpful behaviour.
Rapallo was full. Lavagna was full. Chiavari telephone number in the almanac only gave a computer or fax tone. We advise others to give this area a miss.
The anchorage at Santa Margherita was very disturbed by fishing boats and an unpleasant swell with a gentle SE wind. The water was too dirty for swimming, with garbage, and worse.

30

1

June 6 and 7

Jennifer and Margaret went ashore in Santa Margherita for shopping. Good market and other small shops. No supermarket found.
Departed for the anchorage at Sestri Levante. It looked sheltered from the SE. Quite delightful with church bells (or was it a clock) with the most musical chimes ever. Very tuneful. (Later realised that musical bells are a rather delightful Italian custom.)
The town of Sestri Levante is very pleasant with good shopping, there is a supermarket (near the main police station). In the harbour it is very easy to approach the fuel and water pontoon where there are very helpful attendants. Swimming is good in the anchorage.
Much more pleasant than the pilot implies and far better that Santa Margherita.

8

2

June 8

Left Sestri Levante with some regret, had to motor partly because of no wind but also because the domestic batteries were flat. A little wind got up and we spinnakered slowly. When we reached the passage N of Isla Palmaria the wind increased as the sea breeze sucked us into the Golfo di Spezia, a big naval area with many prohibited areas.
Depths in the passage were rather less than the pilot says, barely over 2 m.
We anchored in Seno delle Grazie. The wind slowly died.
Having packed the dinghy away, we did not go ashore. A pity because the village looked a good place.

25

1

June 9 to 12

Some motoring then a gentle spinnaker run to Viareggio. A call on Ch 12 was answered promptly with some English. The English was quite good when we were shown and helped to a berth. All very welcoming and friendly. After Santa Margherita, our faith in Italian marinas has been restored.
There are new (Portacabin) loos, an improvement on two years ago. The market seems also to have improved and the whole town given a slight but welcome facelift.
Viareggio with its extensive boat building is a good place to get work done or do it yourself. We bought a new battery (brand name at a good price). Having checked that I could replace the fresh water pump, I stripped ours down and dealt with leaks and some malfunctioning. We got the backlight to the VHF radio repaired. The Raymarine agent repaired the wind indicator. He was particularly helpful. He came when he said he would (and promptly), he did not charge exorbitantly.
All in all a successful stay and a very pleasant one.

20

4

16

64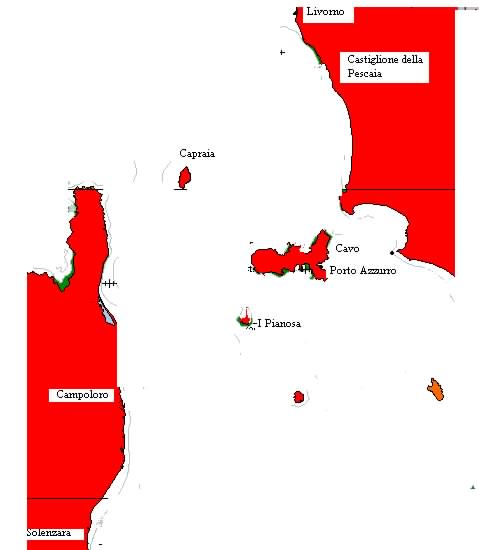 Date

Log

Miles

Nights

Eur
Night

Total Eur

Port

Anchor or Buoy

June 13

First thoughts were Livorno but the harbour, we know, is uncomfortable and not cheap. We carried on and finally anchored off Castiglioncello. A nice enough spot (if you do not look south at terrible buildings and an oil terminal). The water was surprisingly cold for swimming, several degrees colder than at Sestri Levante.
A ground swell developed giving a somewhat disturbed night as the cutlery and crockery went clunk-clank as we rolled.
A new marina is just opening immediately south of Castiglioncello. We did not explore but there seemed to be yachts of moderate size entering.

30

1

June 14

A better day sail than some of late. Intentions were to go to Capraia but the NW predicted did not materialise. So Elba became the target. The wind initially fairly fine on the bow gradually veered with the sea breeze effect to a spinnaker reach. The anchorage at Cavo on the East coast seemed a sensible option. The anchor took some persuading to hold due to a layer of weed. Most of the moored vessels disappeared (as usual) by early evening.

33

1

June 15

Swimming and lazing then a gentle run under Genoa to the Porto Azzurro bay. Tried to anchor off Barbarossa beach but all the reasonable overnight anchoring area is buoyed for swimmers. Anchored between Pte delle Cannelle and Capo Bianco. OK for settled weather.

9

1

June 16

Motored round to Porto Azzurro marina for provisioning etc. Much more expensive than we paid two years ago. On reflection we realised that there are two sets of pontoons with very different prices. A very pleasant town with a very good Co-op supermarket and some reasonable eateries is the side streets.
We later learned that Italian harbours can be divided up into concessions. The owners sometimes vie for business and, if not careful, you can pay more than is necessary - as we did here.
After hand washing clothes, we found a lavenderia automatica very near the port.

2

1

44

44

June 17

Motor round to Golfo Stella with a lunch time stop E of Pta Calamita Golfo Stella was delightfully quiet and unspoilt.

13

1

June 18

A short sail to Golfo di Campo. The small harbour and town look very attractive. There were many boats in the anchorage - presumably for good shopping plus being the nearest bay to Corsica.

7

1

June 19 - 20

The forecasts (DWD, US GRIB, Météo France and Italian Navtex) all, more or less, agreed on the wind direction but differed on forces from 3 to 5. Campoloro, Corsica, was the obvious choice.
A gentle (NE'ly) spinnaker run to the S end of Isla Pianosa (a prison island). Shortly after the wind died for about 5 minutes then, very obligingly, came back NW to give a good fine to beam reach to Campoloro.
A sleepy place with few facilities. A small alimentation was only just thinking about opening on the Saturday, for the season. There is no laverie - despite all the pilots and almanacs. There is very good swimming off the unspoilt beaches. The Cinderella restaurant (about 1 km) is still good value and the owner (despite having the appearance of a Corsican bandit) offers to drive you back to the harbour.
Met Guernsey yacht, Sophie. Heard about skullduggery and worse with incomers new houses being blown up. It is Corsica.

40

2

26

52

June 21

Looked like being a beat to Solenzara with not enough wind. However, after dying, the wind, surprisingly, came back to give a good spinnaker reach/run until 5 M out.

30

3

19

57

June 21 - 24

At Solenzara for the usual shopping, washing, swimming off the beach. It is a very pleasant little village with reasonably good food shopping and good chandlers.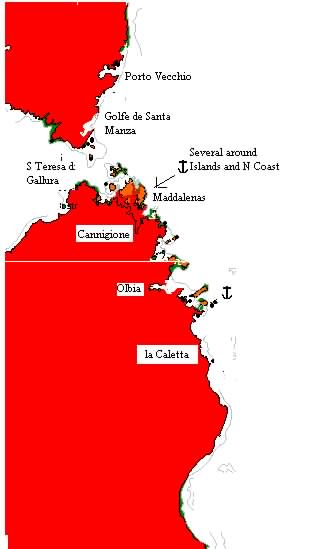 Date

Log

Miles

Nights

Eur
Night

Total Eur

Port

Anchor or Buoy

June 24

Had hoped to be able to get to Golfe de Santa Manza but there was not enough wind - it would have meant motoring or a long slow sail with a sloppy sea. Decided to anchor in Baie de Stagnole in Golfe de Porto Vecchio. A good anchorage cooled by a pleasant but very local sea breeze. Noisy for a short period late afternoon with water skiing and fast motor boats. Otherwise, pleasant and quiet
Saw CA boat Riot of Blue, a Nicholson 35, swam over to them to say hello.

19

1

June 25

Not enough wind to sail so motored to Golfe de Santa Manza. Undeveloped certainly (sauvage, according to la Pilote Cotière) but there were a fair number of camper vans ashore so that it was not especially quiet. Intended staying the night but the midday CROSS forecast decreased winds for today through the Bouches de Bonifacio to 4/5 and increased tomorrow to 6/7. Hard to believe after the morning forecast but. . . . .
Left the anchorage after lunch, wind still light. Motored the first 8 miles sailed the remaining distance to Maddalena, - La Gavetta (Cala Maddalena). Where was the 4/5? Will we have a 6/7 tomorrow? Next instalment to follow.

35

2

22

44

June 26

With strong winds still forecast stayed at La Gavetta. The wind was quite strong, it could well have been F7 in the Bouches. Disappointing food shopping and an equally disappointing meal out in the evening. We put it down to being an island since shopping around Sardinia is normally OK.

June 27

A short motor across to Golfo delle Saline, a large bay with plenty of good anchoring room. Unspoilt despite campsites and holiday chalets. Also a very active sailing school. Good swimming. A good place to laze around - which we did.

5

2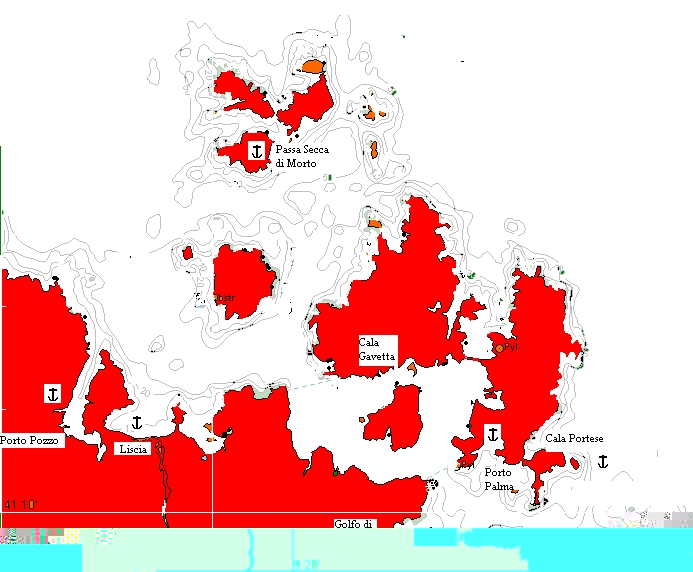 Date

Log

Miles

Nights

Eur
Night

Total Eur

Port

Anchor or Buoy

June 29

A vigorous beat in a NW 3-4, touching 5 between the Maddalenas and the mainland to Liscia - a large bay. Anchoring was more difficult here than at Saline, The bottom shelves steeply, with only a few boats already there it was necessary to anchor in about 12 m. To find the 3-5 m quoted in the pilot would mean being too near the shore for peace of mind overnight. But the bay is pleasant and again unspoiled.

13

1

June 30

A gentle sail to Porto Palma for lunch and then to Cannigione to re-provision, meet Curt (Margaret's husband) and to be in harbour for an expected F7. In Porto Palma we were asked to pay for being in the Maddalena national park. Said we were just going and escaped.
In Cannigione, we met Roger Lunn with Golden Fleece, a CA boat. Roger's wife was on the same aircraft as Curt. The bus from the airport was cheap and efficient - less than 1/10 of the taxi fare.

16

1

36

36

July 1 and 2

At Cannigione. Curt duly arrived on the second. Provisioning and laundry was done. Good restaurant in the town and an excellent ice cream parlour.

2

48

96

July 3

A brief but vigorous sail under Genoa only in a F 4 to 5 back to Golfo delle Saline for a day and night at anchor. The wind is forecast to be up to F7 in the Bonifacio Strait so will stay here with good shelter and a safe anchorage.

6

1

July 4

An even more vigorous sail in a F 6-7 under half Genoa along S of Isola Caprera then back to Golfo di Arzechena Tried anchoring at the head of the Golfo, beyond Cannigione but it was very gusty and close to a lee shore. The Fortress had not held but the CQR did.
After lunch moved nearly a mile, half way between Cannigione harbour and Ilot Ziu Paulu. . Much less gusty, clearer water, CQR held well in sand.

12

1

July 5

Still windy, with 3 reefs in the main and a scrap of Genoa we returned to Gavetta (Cala Maddalena) on the promise of lighter winds tomorrow to spend Sunday in the Maddalena National Park. Plenty of space in the harbour but considerably more expensive than a week ago.
We were directed to the quay on the E side of the harbour. Convenient for shopping but bad news otherwise. Very noisy through the night with traffic noise and drunks. On the Saturday there was very loud music until the early hours.

10

1

35

35

July 6

The wind having dropped we sailed to an anchorage in the Maddalena National Park - Deadman's Passage off Isola Budelli. Glorious mooring/anchorage. Good swimming, very popular. Very good moorings. Although in the Park, we were not approached to pay.

7

1

July 7

A gentle sail around to Cala Portese, a most delightful and completely unspoilt bay. Good swimming, more substantial buoys for mooring.
Met Paul and Liz, who had bought a Bavaria while working in Europe and now on their way, slowly, back home to Oz.
Again, we did not see any one wanting to check on park permits or charge us. Then a good brisk sail back to Cannigione for Curt to return to the UK.

17

1

48

48

July 8

Curt departed, we provisioned and left for Golfo di Saline which seems to have become our favourite anchorage. A good sail in a W, top of F4. In the anchorage, finally solved the problem with the second reef (single line). One of the in-boom blocks was disintegrating. Put a temporary replacement on and intend to get a suitable replacement ASAP.
Saw and waved to Riot of Blue again (last seen in Porto Vecchio)
Great interest here was a fire on the far side of one of the hills around the Golfo. First, helicopters came and dropped water then a fixed wing aircraft - similar to les Canadairs of Corsica. These flew down low, scooped up water from the sea and dropped it many times. An excellent flying display.

6

1

July 9

A good brisk beat in a F4 touching 5 to Porto Pozzo, another quiet bay, deep with gently sloping hills. Another opportunity to sunbathe, laze and swim. Reasonable shopping ashore, a sleepy little holiday resort.

15

1

July 10

We really cannot think about leaving the Maddalenas just yet. A short and gently sail got us back to the mooring off Isla Budelli - Deadman's Passage. Despite many other boats, just delightfully clear water, good swimming. Again did not have to pay.
Saw Walkaway, Nicholson 31, with Tony Smith a CA member last met on Ile de Ré some years ago. Rowed over to say hello.

7

1

July 11

Decided to have a look at Santa Teresa di Gallura (Longosardo). A pleasant "one reef for comfort" beat got us there by lunch time. No problems on entry. After a call on Ch 9 were met by two inflatable dinghies and helped to a berth. A quiet marina but opposite the ferry port.
Crossed the Cala by boat for shopping, reasonable rather than good. Enjoyed some very odd sculptures in a local exhibition round the harbour.

14

1

43

43

July 12

Yet another short sail back to Porto Pozzo for two nights at anchor soaking up the sun and sea. Two small alimentations/supermarkets ashore and a good coffee house.

9

1

July 13

Stayed at Porto Pozzo. Decided this was RIB alley for the area. More small motor boats than anywhere else but they all go out early and return in the evening. None of the dreaded jet ski, one water skier who only practised in the evening and early morning.

1

July 14

A slightly longer sail to Porto Palma. This time we got charged in the Maddalena National Park area. Eur 2 per metre per calendar day! Strictly, Eur 40 for an overnight stay. Like most we paid one day and went before the officials came back the following day.
Odd, really, we had already had two nights in the park and another part day on a mooring with no sign of anyone wanting money. Later we found that others had not been as lucky as us and had to pay more often.
The system has obviously been dreamt up by a non-sailor. Yachts usually arrive somewhere late in the day and leave early. To be supposed to pay two days (Eur 40 for us) for an overnight anchorage or mooring is ridiculous.

12

1

July 15

With SE winds forecast, we had a good excuse to stay in the area for another few nights. Needing provisions and a replacement block for the single line reefing, Cannigione was the best option.

6

1

48

48

July 16

Depending on which forecast to believe we shall be leaving the Maddalena area for Olbia tomorrow, Friday or Saturday. Météo France began with a Grand Frais tomorrow and Friday. At noon they decreased this to a F 5-6. Went back to Golfo delle Saline for possibly our last night in the area. Glorious swimming and a very good anchorage. Started as a lee shore but, as predicted, the wind soon went round to W.

4

1

July 17

Wind still brisk - a good excuse for another day at anchor in Golfo delle Saline.

1

July 18 - 19

A little less brisk but enough wind to use the Genoa alone. Sailed 21 miles to just outside the entry to Olbia in 4 hours. Called YC, said they were full. Went on the wall but again met Paul and Liz who were in the YC marina. There were spaces, we went in. A very friendly club but there seems to be some lack of communication between pontoon staff and the office.
Stayed two nights for domestic reasons. Reasonable supermarket fairly near. Few food shops nearby otherwise.
The museum to house the Roman boats found during an underpass construction was still not open. A great pity.

25

2

40

80

July 20 - 21

To Cala Cavallo, a delightful anchorage. The trouble was that it was a Sunday. It was full of the world, his wife and his motor boat. Two of the latter rafted up to be joined by three more. A riotous party fuelled by Asti Spumante ensued and the whole anchorage was treated to pop music, noisy shouting and what passed for singing. Every country has them.
It was quiet overnight
The Monday was rather quieter although a good number of boats arrived. There was a general escalation in motor boat size from the Sunday, obviously the day for the hoi-poloi.

13

2

July 22

The day started with a light NE wind. Forecast was for SE 4. It veered, got to F4 but then continued increasing to a 6/7 on the nose. OK until we got to la Caletta where they gave us an exposed downwind slot. Stern first would have been difficult, went in bows first. The wind was a little across the berth and we caught up on the anchor of the next boat and have one slightly damaged stanchion and deck fitting.
We should have refused the slot and indicated the need for an upwind berth.

21

1

34

34

July 23

By contrast a no wind day. Stayed at la Caletta hoping for more wind tomorrow. Good supermarket in the town but little else to attract one.

1

34

34

July 24

Confusing forecasts. Left more in hope than anger. Used spinnaker for about 2 hours but had to motor the rest. Noted a good anchorage just N of Capo Comino, just N of a small rocky outcrop. Good shelter from the SW-NW and good from the S to SE in moderate winds.
Before entering Santa Maria Navarrese we anchored off Isla delle Ogliastra for a much needed cooling swim - several. Entering the marina were met by rubber boat, as helpful as before. The Port captain is charming and determined to attract visitors. Good toilets and showers, also a DIY washing machine!! Plenty of space in the marina.

40

2

35

70

July 25

At Santa Maria Navarrese. A pleasant little village with all the necessities. The marina is a good one for transit yachts. Travelling apart, it could be good for long stay. Good hard standing, 40t hoist, good security, safe in the water and out.

July 26 and 27

At anchor off Isla Ogliastra and then off Arbatax. Good swimming. The Santa Maria regatta took place so we were able to watch two rather slow races. Many cormorants on the islands - perhaps they recognised Anhinga as a cousin.
Very clear water, could see the anchor in 10 m.

2

2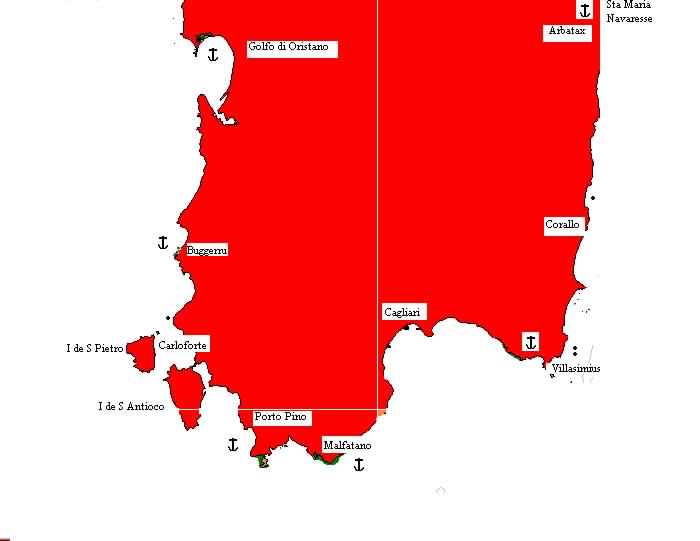 Date

Log

Miles

Nights

Eur
Night

Total Eur

Port

Anchor or Buoy

July 28 - 29

Into Arbatax. Very welcoming, plenty of space. Good facilities, good restaurant at the club. Nicer than expected. Shops close. Loos good.
The fly in the ointment is the construction of facilities to deal with nearby oil drilling. The locals are worried.

2

27

54

July 30

To Porto Corallo with a motoring wind initially then a gentle E'ly turning SSE with the sea breeze. Corallo is a very new and underused marina. Apart from very limited provisioning it is a good place to spend a quiet day or two at low cost.

33

1

20

20

July 31

Left Corallo with a nice NW 5, one reef for comfort. At about 1045 the wind went light, veered N then further to SE as the sea breeze came in. First a nice fine reach , then a beat to Cala Pira for a late lunch. A very pleasant bay with very clear water. Considered staying the night but used the Internet to get the French INMARSAT-C text. NW increasing 5-6 overnight, veering N 6-7 tomorrow.
Up anchor, quick dash to Villasimius marina. Arrived about 1930. Met by rubber dinghy, very helpful. Wondered also why the Italian Met had given no warning at all.

25

3

38. 5

115

Aug 1 - 2

Stayed at Villasimius. Good shopping at the local campsite supermarket. Good swimming by the marina. Could have gone and anchored but Italian Met (just about the poorest service of any yet encountered) still had a F7 although Météo France had F 4-6 decreasing F 2 - 4. We just worry that some day the Italian Met will get it right.

Aug 3

Moved to anchorage outside marina. Very pleasant. Good holding and good swimming.

Aug 4

Mid afternoon decided to look at Marina di Capitana. A rather odd marina. Helpful in the office with good English but the ormeggiatori were not much in evidence. We had to move our berth, they disappeared - most Italian ormeggiatori would have stayed and helped with lines. Reasonable restaurant/pizzeria. A good, small supermarket nearby. Very good showers and loos. Quiet during the day, a little noisy at night.

13

1

34

34

Aug 5

Wanting washing etc and to be near Cagliari, decided to try Marina Piccola-Poetto. Very helpful, met on entry after a somewhat inconclusive call on VHF. Loos and showers rather basic to poor. The area nearby rather run down. It is a fairly long and unpleasant walk to shops. It would have been better to have stayed at Capitana.

7

3

40

120

Aug 6

Time for oil change and to decalc the loo pipes. Using a holding tank, these do not get flushed through as much as normal. In changing the engine oil, we discovered a loose bolt in the engine mounts. Clearly, the reason for some vibration. Luckily there was a Volvo mechanic nearby. He said that he will come back tomorrow morning to fix.

Aug 7

Unluckily, the next day, after finishing work on a nearby boat, he left for lunch and did not return, leaving us in limbo for the rest of the day. However, with the help of the CA Honorary Local Rep, Enrico, the job got done by another engineer the same evening. (At a price!)
We will be glad to leave Piccola-Poetto which cannot be recommended as a passage port. One saving grace is a rather up market restaurant (as well as a greasy spoon snack bar and a pizzeria).
Our last night here was very hot, humid and noisy with a distant disco broadcasting the bass beat several miles around.

Aug 8

Motored round to Cagliari to Enrico's pontoon. Met Enrico. Organised storm jib repair. Inevitable shopping. We prefer Enrico's very solid pontoon to the nearby marina, despite no electricity. The latter has rather rickety pontoons that swing with a strong NW.
Enrico has the concession to build another marina close by. His plans look good, if all comes to fruition ot will be a real bonus for the area.

6

4

20

80

Aug 9, 10, 11

Stayed at Cagliari, a delightful town. Washing etc. Found DIY washing machines. Explored Cagliari. Took Enrico's advice and had very good meal at self service restaurant in Department store (Qaeto) in the Via Roma.

Aug 12

Finally left for Porto Malfatano. Two hours motoring as the wind got up. Then a fine reach along the coast. The wind veered and we went out to sea. Should probably have taken the unfavourable inshore tack. The continuing veer was taking us round our destination. When we tacked the veer pushed us back down the coast. Had to resort to an hour under engine to reach the anchorage. Bad news as the stern cabin gets very hot.
Few boats in the anchorage. Good for a quiet swim. But several more arrives after us. Some left before we were up in the morning.

37

2

Aug 13

Stayed in Porto Malfatano, really a great anchorage with a number of options depending on the wind. Sea temperatures of 29 deg C are not to be passed up lightly.

Aug 14

Decided to have a look at Porto di Sant' Antioco. Not very attractive sounding but seemed to have some quiet, good points (according to the Pilot). Motored to Capo Teulada. Started up the Golfo di Palmas. But the wind increased until it was a good F5 right on the nose. Ideas of anchoring off Sant' Antioco were looking rather optimistic. The place, as seen from seaward, was losing attraction rapidly.
Having seen an anchorage way back down the Golfo, we turned tail and ran under Genoa to Porto Pino. The wind dropped to a more modest F4. This was a real find. Great holding on a good sand bottom, well protected from the N - the local sea breeze direction. In the bay the sea breeze seemed to have got up again. It was probably the effect of the headland.
A good beach but thickly populated from local camp sites. The drawback was the noise at night - right through until well after dawn - caused by yobbish sounding people. When did they sleep? Surely not in the heat of the day?
A lovely bay, but bring ear plugs for an overnight stop.

27

1

Aug 15, 16, 17

By contrast this was a day of little wind. We part motored, part sailed to Carloforte on Isola di San Pietro. No ormeggiatoro in sight so we just picked a place with a pin where there were no lines left by other boats.
A rather up market, quiet place. Since two years ago they have increased the number of marina berths. Over a weekend, it does pay to arrive early as the place rapidly fills up. But, you can always anchor in the far SE of the harbour or, perhaps, use the yacht Club pontoon at a reportedly lower cost..
Two problems, the two Bancomat machines ran out of cash by Saturday AM and had none on Monday AM (1000), secondly, this is virtually a tonic free zone!

20

3

35

105

Aug 18

Part motor part sail to Buggerru - hoping to get in this time. Saw another yacht anchored off, probably for a swim. Good idea, did the same. Swam over to ask if they knew about depth in the harbour. Lo and behold! Our old French friends René and Dani, who are both profoundly deaf, with Keranna, a Dehler 35.
They put us to shame with their Summer cruise this year to the islands in the bay of Naples, the Aeolian Islands, among others, Tunisia, back to Sardinia, on their way back to France. Formidable.
Had a drink on their boat and then evening drinks on Anhinga. A hilarious conversation mainly via written notes in French and English. Few people are as enthusiastic about sailing as René and Dani.

16

1

Aug 19

Took the dinghy into the harbour to check depths. The lady harbourmaster confirmed 1.3 m, very prone to silting. The village of Buggerru is quite delightful with everything necessary - two small supermarkets, several smaller mini markets, a produce market, restaurants, bars, Bancomat etc. Everything? Apart from tonic which is getting a serious matter. This area certainly seems to be a tonic (Schweppes) free zone.
Late morning set off for the Golfo di Oristano. After an hour on the engine then had enough wind and nearly favourable - only one short tack - to get to the delightful anchorage under the Phoenician (or Roman Punic, depending on your source) town of Tharros (just N of Capo San Marco).
This must surely be one of the best anchorages on the west coast.

30

1

Aug 20

Motored across to Marina Torre Grande. Quite impressive, plenty of room, reply to my broken Italian on VHF. Good reception, good facilities. Only slight snag is that provisions are in the town 1½ M away. However, there is a good bus service (1.4 Eur return) Will go tomorrow AM.
Met René and Dani again and were invited aboard that evening. Another great time, drunk a large amount of Pineau (they live near Vannes in the Vendée). Discussed a wide range of subjects. They are getting used to our way of speaking and were lip reading even my French. We were comprehending their speech more easily but pencil and paper were still much used. Economy of phrase becomes vital . René is particularly expressive and great with gestures. Dani also is very expressive. I am learning to articulate my French carefully - showing a slight improvement.

3

1

35

35

Aug 21

The bus worked well. In Torre Grande, we found one very good bread shop with a few groceries and a small but quite well stocked supermarket. But no fresh meat.
Then back out to the Tharros anchorage. Went ashore to see the ruins, not a great deal to be seen but outlines of some buildings visible and the walls of a few.

3

1
Date

Log

Miles

Nights

Eur
Night

Total Eur

Port

Anchor or Buoy

Aug 22

A gentle sail to Cala Saline, just E of Capo Mannu (S side of the isthmus). Good anchorage, good swimming and reasonably quiet ashore.

13

1

Aug 23

Little wind, motored out to Isolotto di Mal Ventre. No clue as to why the name, but a very popular day time anchorage. Back to Cala Saline for the evening. Found two small supermarkets and a basic but good greengrocers. Best was to find some Schweppes Tonic (albeit in small bottles)! It was a noisy night with a nearby disco.

10

1

Aug 24, 25,26

A slow sail to Bosa. The marina was empty - one yacht on the main pontoon and one anchored in the bay but another 5 came in. Had a swim off the beach.
A rather laid back marina, the very helpful Capitain meets you in his swimming trunks. He is ormeggiatoro, Capitain, part time bar man, he works the crane among other functions. Shopping is quite adequate in season. Many restaurants and pizzerias, we had a good pizza.
Some disco noise but not too bad.
A fairly moderate swell brought quite a surge into the harbour leading to much tightening of lines. A big swell must concentrate the mind somewhat.
Météo France (and US GRIB) forecasts kept us here on the 26th. Italian Met also agreed.

17

3

30

90

Aug 26

To Alghero. Météo France forecast W 3-4 becoming SW. The US GRIB agreed. Italian Met said NW 5 increasing locally. We left in the hope that Météo France would be correct. In fact the wind started NNE light ( remnants of the land breeze but died. We motored most of the way to Alghero finishing with about 5 miles sailing. Had we waited a while we might have sailed the whole way - but, might not.
At Alghero we were met by a rubber dinghy which led us to a privately run pontoon - SER-MAR. Hopefully, a little cooler than the public quay if with less ambience.
The main problem was due to two nearby discos. One was of the worst type of electronic music, 99% incessant and uninteresting rhythm and 1% the most trivial melody. About as musically charming as a pneumatic drill with the same effect on your sleep pattern (or lack of it). One has to wonder at the mental state of those who go to such affairs and the state of their hearing,
There were showers (expensive) but no toilets.

21

2

27

54

Aug 29 to Sep 2

Went across the bay to Fertilia to see Anhinga's winter home and to touch base with the people there. Looks good. Very quiet. Friendly. Had an undisturbed night's sleep! After the rigours of Alghero, that was wonderful.
Met CA Member Geoff Hitchcock with Andrea Jensen, an 80 footer, ex-fishing boat, gaff rigged ketch used for day chartering..
The town of Fertilia is very pleasant with a wide main street colonnaded on both sides. Apparently built by Mussolini who must have had some good points. There is a small but well stocked supermarket (Schweppes in big bottles, sometimes), a good butcher and an excellent bread shop cum patisserie (up to French standards).
Bill and Rona Musker, CA members with Dawn Bird (a Coaster 32) came across from Mahón. We had drinks when they arrived (after 2200) and a long chat.
Saw a boat come out of the water - using a trolley into which you drive the boat. Getting out is very quick. Once out the boat is then moved to its resting place and put onto a cradle using a crane and slings.
We then saw a boat of about our size lifted with a crane. It all looked pretty good.
September 1 is the owner's (Cesare Usai) birthday. A party was held with all invited. This was a splendid occasion with a barbecue and much wine. Bill Musker upheld the honour of the British with his accordion and apparently inexhaustible supply of sea shanties. Luckily, I had a spare, new in its wrapper, CA Med Group T shirt that more or less fits Cesare.

2

4

25

100

Sep 2, 3 and 4

After recovering from the party, doing some shopping, booking a hotel for after lift out, coffee on Dawn Bird (just an average quiet morning) we left for Porto Conte, a glorious bay a few miles away, for our last nights at anchor this year.
The wind got quite strong on the first night but quietened down afterwards.
While there all the anchored boats had to move about 1/2 M away s the area was declared a "military zone" The compensation was to watch the Italian Naval helicopter practice rescues from dinghies.

9

3

Sep 5

Preparing for the Winter, decided that 2 days in Alghero would be useful for the nearby chandlers, mainly antifoul, and, also (possibly) to refuel.
Leaving Porto Conte we met and had a chat with Diatonic, A CA boat member, ex Dartmouth, a Moody 34. Also saw CA boat Cleopatra, Nikita, a Nicholson 48 ft ketch, but not near enough to speak.
The only fuel berth that we could use easily between Cagliari and somewhere on the N coast was Torre Grande. Carloforte is difficult; we cannot enter Buggerru. At Bosa fuel has to be brought by the harbourmaster. At Alghero the depth is 1.8 m at the berth. At Porto Conte marina it is 1.5 m. At Fertilia, they will have fuel in a tank for us to draw off but we are not sure what is involved. Even at Torre Grande the depth near the fuel berth is a bare 2m. We draw 2 m, laden for cruising.
We were hoping to be able to arrange a delivery to the boat, but this seems not to be possible. Will have to get fuel at Fertilia.
In the event, we used the trolley to carry fuel the 200 m or so with our 10 litre can and a borrowed (from the pumps) 20 litre can.
In Alghero, from the public quay (Banchina Sanità) we found the produce, meat and fish market quite close, a good supermarket (with Schweppes Tonic water (in big bottles), and many small shops and Roticerrias, all in the old town.
Met Diatonic again also Flying Cloud - CA member going to winter at Fertilia.

8

2

23

46

Sep 7

Odd jobs on the boat and then back to Fertilia for laying up. Dawn Bird still moored here, claims to be storm bound. Suspect that he just likes the place. Met Walkaway again, he intends wintering here also.

2

Sep 8 - 16

Cleaning up boat. Stripping all gear, cleaning ropes, blocks, sails off and checked - small repair needed to Genoa, servicing engine, o/b etc etc
Saw Cesare wearing his CA T shirt!
Met yet another CA boat - Cat Fisher, Silurus with Alastair and Elizabeth Ramage who had bought the boat at Fertilia and stayed here.
With Flying Cloud and Andrea Jensen, that will make at least five CA members in this rather small, out of the way yard.
Had some convivial evenings with Dawn Bird, Walkaway and Silurus. Much in common with them all despite very different previous lives.
Dawn Bird (eventually) left and missed the excitement of our lift out. All went well, apart from a slight but very obvious list to port. Cesare says that it is only like being at sea. But, you do not stay on the same tack for 6 months! However, we need not have worried, Pietro (the general factotum) came along with a tiny hydraulic jack and hey presto, we were on an even keel.
Met Ken and Ginni Allen with Bouba, a Neptune 13.5 m, drop keel, French built yacht.
Cruise Summary
Total Miles 1,176 Total hours motor 130
Nights

Total

In Marinas

78

Anchor or Buoy

48

Total cost (Eur)

1,901

Average cost (Eur) -
(for nights when we had to pay)

24.3
At Fertilia, 6 months ashore plus lift out and in, cost is Eur 1,000
General Comments
Abnormal Weather
It was a very hot Summer. However, there was usually a wind so that it was only occasionally unpleasantly hot. Nevertheless, our thoughts on any sightseeing were severely curtailed.
See a general summary of Western Med weather here.
- and Forecasting it
Navtex is widely used in the Mediterranean and is very useful. Unfortunately, the Italian Navtex service is very poor. Texts are over long, they contain too much irrelevant detail and are unnecessarily repetitive. They have all the appearance of being computer generated with little or no attempt at human interpretation of the output from weather prediction computer models. Similarly, for their VHF broadcasts which use the same text (precisely) as Navtex. We used the French Navtex from Toulon (W) whenever possible.
Various Internet pages could be used as back up in the case of no radio reception. When not receiving Toulon or out of their Navtex areas, I used the links on mywebsite to get texts of Navtex or INMARSAT-C broadcasts.
The DWD Radio Teleprinter broadcast was very useful. So also was the GRIB output from the US NWS. See sources of forecasts in the Western Med here.
Anchoring
There are many apocryphal stories about anchors dragging in the Mediterranean and, on several occasions, we did see boats dragging in winds of no more than F 6. There is much folk lore about anchor types and many, mainly non-UK sailors, decry the CQR. We have now anchored around parts of Spain, South France, Elba, Corsica, Sardinia and the Baleares. With care, the CQR held well on all but hard sand. True, we did try up to four or five times, occasionally. Over hard sand, the Fortress was marvellous. We did avoid rock or stone bottoms. My main conclusion was that, too often, not enough care is taken in checking that an anchor has set. On many occasions we saw the hook dropped either followed by inadequate chain or a great heap of chain was dropped right on top of the anchor. Sometimes the boat would reverse so fast that the anchor had no chance to settle..
and Mooring
Newcomers to the Med sometimes worry about going stern-to with an anchor over the bow. So far, everywhere in the Western Med, there have been mooring lines tailed to the pontoon or quay. Simply go in bow or stern first, as you prefer, pass lines ashore to the usual attendant, pick up the tail and attach to the stern or bow as appropriate. The only exceptions are the (very) occasional finger pontoons. Whenever possible call ahead on VHF. Try some Italian to ask for a berth. Or, even English. Even if you are not understood or do not understand the reply - if any, it will serve to warn them that a boat is approaching.
Did we like the area?
Yes is the simple answer. We have seen most of it before and liked it enough to come back.
The French coast is great, especially when not in the height of the season.
We liked the Gulf of Genoa when west of Genoa. to the east, our impressions of the Santa Margherita area were dominated by one bad experience. We saw different parts of Elba this time, especially the South Coast where there were several good anchorages. On Corsica we like Solenzara.
Sardinia is a great cruising area. There are plenty of anchorages although in some parts it is necessary to use marinas. The coastal scenery is magnificent. the people, Sard or Italian, are very welcoming and hospitable. We enjoyed the area two years previously and even more this time - despite the heat.
---
---
NOTE
The above makes no attempt at being a work of literature. It is a purely factual account of what we did and some of the attractions/problems encountered. (An everyday story of sailing folk?) It may be of some interest to others wishing to sail in the area. Of course, what we like and dislike may be different from other people. Situations change and someone else may get different impressions. More detailed comments can be found in notes on ports and anchorages over the whole of the Mediterranean, submitted to the CA by members.
---
---